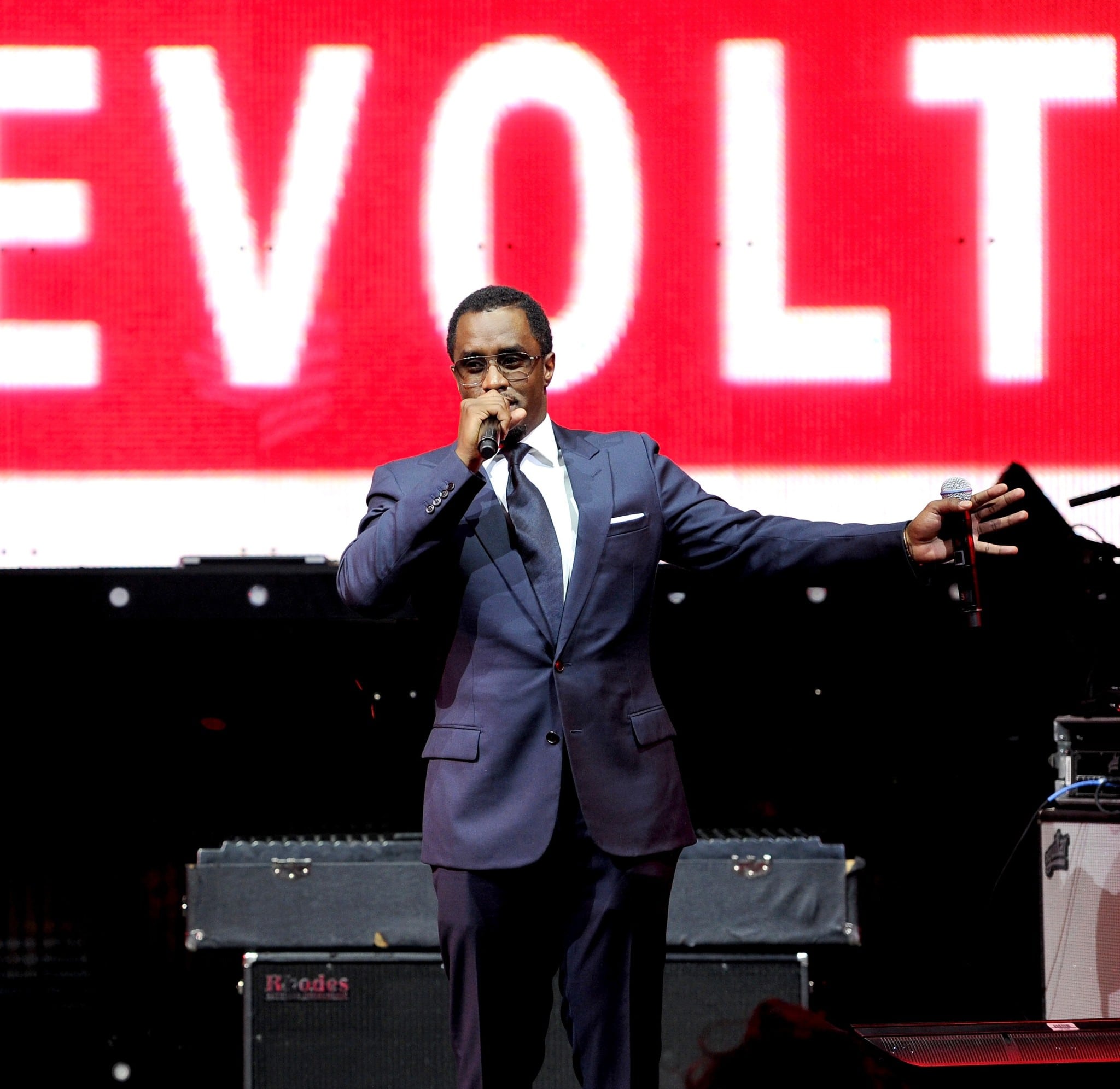 Sean "Diddy" Combs addresses advertisers at Revolt TV's first upfront.
It's not an upfront, or a newfront. It's not even an allfront (Weather Channel's reinvention of the term this season). It's an omnifront! That's what Sean "Diddy" Combs called Revolt TV's first upfront presentation, which took place at Marquee in NYC Tuesday evening. We get it. It's all about multiplatform. Social, digital, television. Every network with a linear channel is likely to spout the same pitch.
Semantics aside, however, the Revolt chairman's presentation—made just five months after network launch—was actually a refreshing, heartfelt plea to advertisers and marketers looking to target multicultural Millennials. He had clearly been media trained (after a pause to have a drink of water: "My speech coach told me, always take your time"). And he was visibly nervous—even apologetic—for any slipups that might occur: "Excuse me for my mistakes, it's my first omnifront." Someone told him to use words like "disruption," which sounded odd coming from the hip-hop mogul's mouth. But the word Millennial, forget about it. That's "wack." He even vowed to come up with a new name for it before the night was over (he didn't), which prompted execs following him with drier presentations to apologize for the term's omnipresence.
Combs' message was one of authenticity, and his speech helped to drive that home. For one, he confessed that of all the things he's done in his life, launching a network has been the hardest. (You're not alone, Oprah!) The evening was a milestone for him, he said, and he was proud to be "the first network built from the ground up," meaning with digital and social platforms preceding a linear launch. "We're going to be on over a billion devices in five years," he claimed. "And I'm inviting you to the party."
We also learned a little bit about his strategy and inspiration for the network. When told by music industry leaders that his entrance into television was limited to "Dancing With the Stars," Combs decided to go his own route and follow his two "heroes" in the media space: CNN and ESPN. CNN's election coverage—particularly its attention to detail—is something he wants to emulate. And ESPN (the former company of Revolt CEO Keith Clinkscales) for its "top 10 hits" mentality and incessant sports reporting. ESPN tells you "who's next to look for" in sports, like Revolt intends to cover music. But it's "something even more fearless," he added, calling the network "multi-genre" and catering to the "festival generation."
Another thing that sets the network apart, according to Combs, is its brand recognition. "There are networks that have over 50 million homes, and you don't know their names," he said. Most importantly, he intends to stay true to the network's mission of serving music fans and artists. "Brands can get cocky," he said. "I promise you that we'll never get cocky." The goal is to have "a two-way street where the advertiser can have authenticity." And the artist a platform.