TV Production Progresses in Cuba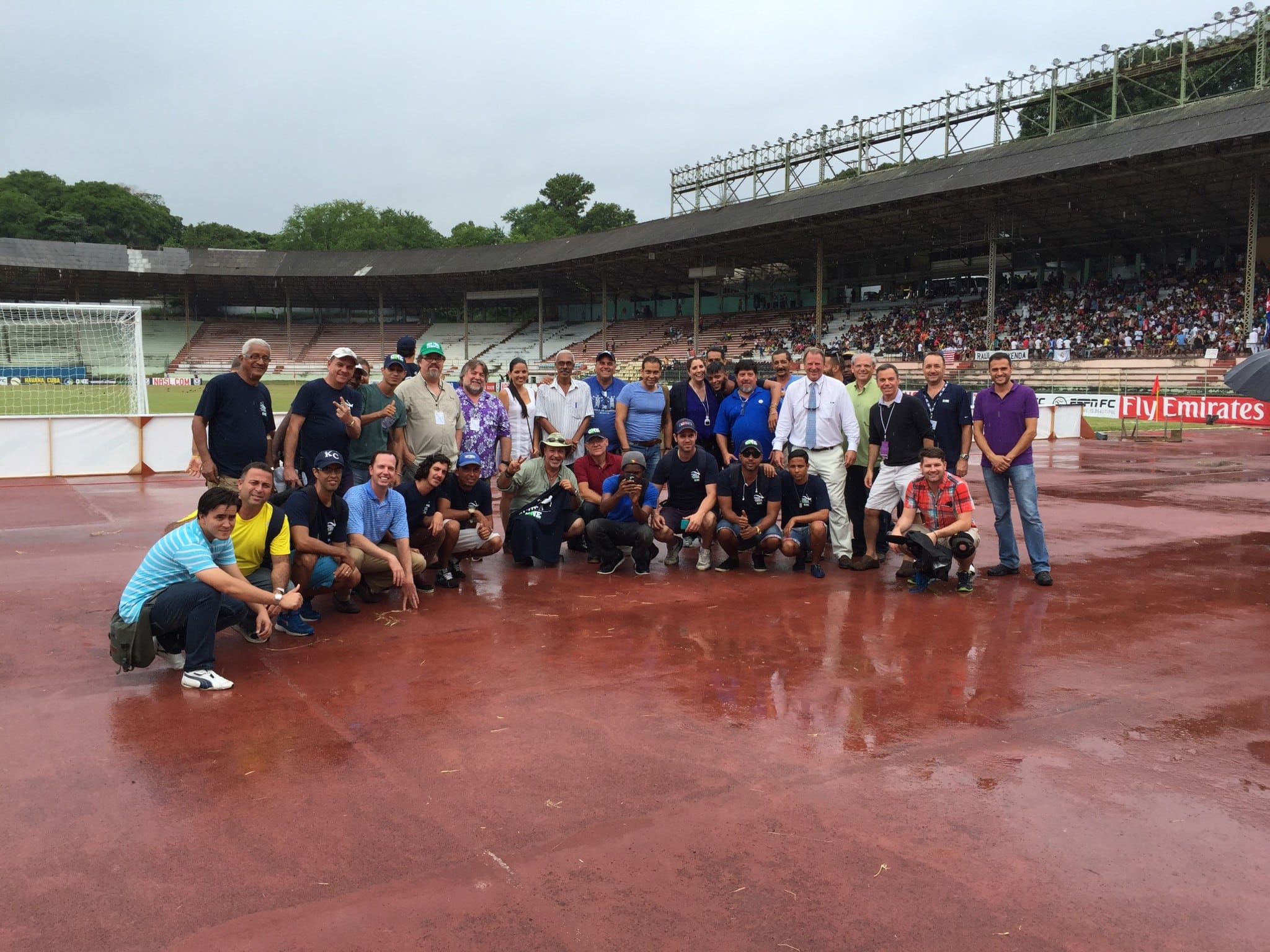 Just 6 months after President Obama announced he would be taking steps toward restoring diplomatic relations with Cuba, one independent network saw on opportunity. ONE World Sports made history last week with its telecast out of Havana of the New York Cosmos pro-soccer team versus the Cuba National Team. It's the first time a team from the U.S. has gone to Cuba since the 2008 FIFA World Cup qualifier game versus Cuba, produced by ESPN.
ONE World isn't the only network venturing into Cuba to create television for global audiences. Even before Obama's announcement Discovery Communications was entrenched in Cuba shooting the reality show "Cuban Chrome." Havana is getting increased attention from TV. TBS ' "Conan In Cuba," which marked the first time a late night host did a show in the country in more than 50 years, logged a record 3.7mln viewers in March.
The stories behind these Cuban telecasts all vary. For ONE World, it started with a conversation between Cosmos head coach Giovanni Savarese and his counterpart on the Cuban team. And then the country's respective governments got involved. "The Cubans thought this would be a great way to do a few things," said ONE World Sports president and CEO Sandy Brown. "First and foremost, to advance the game of soccer in Cuba, but at the same time, in light of the fact that relations between our two countries has been normalized for the first time in 50-plus years, the Cuban government thought this would be a great way to develop a bridge between our two countries."
As TV rights holders for the Cosmos, a team well-known globally as the former side of Brazilian soccer legend Pelé, ONE World saw this as an opportunity to shine on a global stage. "This is what we do. We specialize in broadcasting international events and bringing them to this country," said Brown. "Being able to have an opportunity to bring something like this… as historic an event as this is, this is a great feather in our cap."
The major challenges, the team quickly learned, would involve the state of Cuba's telecommunications infrastructure. ONE World Sports evp, programming and production Joel Feld, a 20-year veteran of producing sports events for ABC, said they visited a month prior to get the lay of the land. There were a number of ways they could have approached the production, he said, but it was important to collaborate with the Cuban crew on the ground. "We are not only using Cuban facilities, but also three quarters of our crew are going to be from the Cuban broadcast group," Feld said prior to the match last week.
That kind of collaboration hasn't always been possible for sporting events. Recalling the 2008 match, ESPN senior coordinating producer Amy Rosenfeld admitted that "things have come a long way in 7 years… in terms of their abilities operationally, logistically, personnel, equipment." ESPN simulcast the Cosmos' June 2 match on ESPN 2 and ESPN Deportes and was impressed with the progress. Back in '08, "we had a lot of debate about what we would try to ship from the United States and what we would try to source locally." They opted to float a production truck, based out of Maine, from Florida to Havana. "We had an American mobile unit, but we sourced the generator and the uplink from Cuba." With mixed results. In fact, at around the 80th minute of play the lights went out in the stadium, she recalled, inspiring some to shine lights on the field with their cars so the teams could finish the qualifier.
"It was one of those nail-biters… where our head of operations was constantly running out and checking on the generator," Rosenfeld recalled. There were challenges with the uplink as well. "We were taking an SD feed and upconverting it in Bristol. ONE World used straight HD. Right then and there you see the improvement in terms of facilities in Cuba… They didn't have that 7 years ago," she said.
During the Cosmos telecast, Feld's prediction that telecommunications would be the major challenge came true. Getting telephone service out of Cuba wasn't easy. "It happened, but it took a little bit longer than we had hoped," Feld said. "And there was no WiFi. Doing a production of this scale in this era with limited telephone service and no WiFi required us to do a fair amount of workarounds—all of which turned out to be successful, it just requires you to reengineer your thinking."
Collaboration between the American and Cuban teams was a true highlight, ONE World execs agreed. For a few, key positions, for instance, ONE World brought in bilingual crew members from Miami, which helped with communicating about technical aspects. "We believe they definitely learned a few things from us, in terms of what we do on a production of this magnitude, and vice versa, they did a few thing differently that we learned from them," said vp, operations Bob Brown. For example, the Cubans' production mobile unit was HD-equipped with high-quality cameras and incorporated an audio booth to do voiceovers on the fly, which Brown found to be an innovative solution for smaller venues and different areas where technical capabilities are challenged.
The opportunities for Cuban programming don't all center on sports. Discovery's series "Cuban Chrome" offers a look at Cuba's passion for classic cars and the lengths to which owners must go to preserve them given that auto parts are so scarce. "People hold on to [the cars] like they're treasures and pass them on to their families," said executive producer Craig Coffman.
Given that it wasn't a government-sanctioned collaboration between pro sports teams, the red tape required to actually get to Cuba was extensive. "We were thinking it was going to be a long shot, and it was. After a year we got permission," he said, but they had to guarantee that it wouldn't be political, or an exposé, and that it would really be about the cars, Coffman said. Remarkably, the team learned of Obama's announcement in the middle of shooting the 8-part series, which allowed them to catch the reactions of Cubans on the street. "We have footage of people in the show in a bar of people watching Obama on television," Coffman said. "It becomes part of the story, though not heavily… because there aren't big changes in Cuba right away… but it's a big deal." The series is meant to be finite. But that was before Obama's announcement, Coffman said. "This is an unusual show for Discovery, because it's going to have Spanish in it, some subtitles… and typically for us that can be a stretch, and difficult for us to get an audience to watch it. So we have to see how it does."
Meanwhile, Shark Week is dipping its toes in Cuban waters for the first time with the show "Tiburones: The Sharks of Cuba." Permission to shoot in Cuba took about a year and a half for natural history photographer and conservationist Ian Shive, who brought the series to Discovery with permission already granted. Executive producer Howard Swartz believes Shive's relationships and reputation in the science community helped him secure access. But once granted, the challenges were more related to the science of it. "It was the same type of challenge any natural history filmmakers endure, which is, are the animals going to be where we hoped they're going to be." The appeal of Cuban waters is that they are largely untouched, Swartz said. "Scientists have been dying to get in these waters for a long time, and Cuba's done a remarkable job with their conservations efforts… it's very much like the Bahamas was 70 or 80 years ago before it became so accessible."
In terms of future programming shot in Cuba, execs say it remains to be seen how soon the process of gaining permission to shoot there will improve. Feld is one who's looking forward to it if the opportunity should arise. "If certain Cuban events become available in the U.S. market for production we'd be happy to have that conversation with the Cuban Sports Federation," he said. "Now it's in the government's hands, not in our hands."
– Kaylee Hultgren