Cord-Cutters Hang on For Food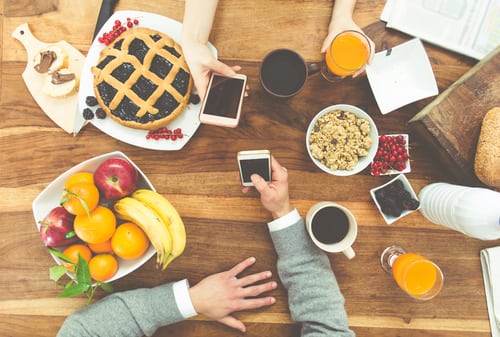 In a time when cutting the cord on cable is a more popular choice than ever, Food Network has emerged as the top draw for customers choosing to hang on to their subscriptions.
The data comes as a result of the Beta Research Basic Network Evaluation Study, a study asking adult cable subscribers to score basic networks and rate them on their overall value. 44 basic cable networks were considered by the 1,100 adult cable subscribers included in the national sample, which were all rated on a scale of 1-5, with 5 meaning "it's a must have channel on cable channel line-up."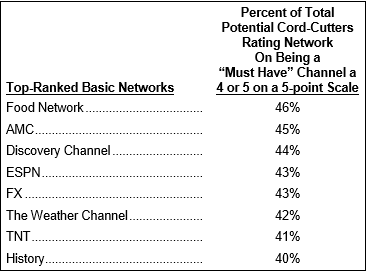 Of all the channels considered, Food Network emerged as the favorite for those likely to drop cable TV, with 46% giving it a 4 or 5. However, Beta does note that small differences are not statistically significant.  Other high scoring nets with cord-cutters included AMC (45%), Discovery Channel (44%) and ESPN (43%).
Beta classified 33% of the adults surveyed as potential cord-cutters after they expressed they were "extremely or very interested" in dropping cable TV.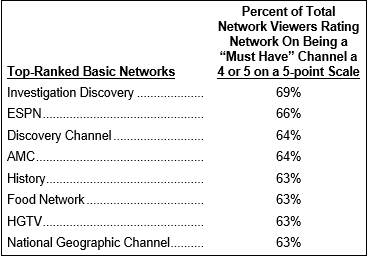 Investigation Discovery (ID) proved itself again as being a "must have," with 69% of total viewers giving the network a 4 or 5. This reinforces results from a Beta Research Corporation study released in June, which showed that 70% of those losing interest in cable still gave it a 4 or 5 rating.
And with greater viewer interest, the more customers were willing to pay for the nets. ID's perceived value reigned supreme at $1.85, with Nickelodeon ($1.80), Disney Channel ($1.77), ESPN ($1.76) and Food Network ($1.70) all following close behind.