CMT, MTV Pre-Release Episodes Prior to Linear TV Debut
Earlier this week I wrote about Disney Junior's app-first distribution strategy for its new Western series for preschoolers, "Sheriff Callie's Wild West." Today, Viacom announced that following MTV's release of an entire season of the show "Wait 'Til Next Year" on its app prior to the linear premiere, it's taking a similar approach with CMT. Seemingly, more and more networks are hopping on the (authenticated) bandwagon.

Viacom's metrics show that the strategy appears to be working. The pre-release of "Wait 'Til Next Year" helped increase the app's streaming downloads 47% week-over-week, and the TV premiere posted an 8% increase in the P12-17 demo. Viewer familiarity with the app combined with a ratings increase is a good result.

According to Kristin Frank, EVP of Connected Content for Viacom Music and Logo Group, the apps "strengthen and extend our brands' awareness and reach fans everywhere they are, while simultaneously monetizing at a premium CPMs. In the coming months, we'll continue to work closely with our ad and cable partners to explore and test new ways to deliver content to our audiences."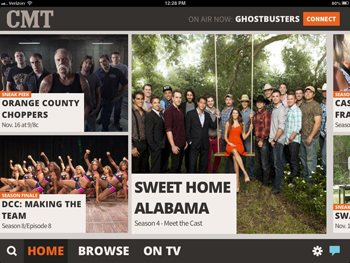 CMT's new video app launches concurrently with the 1st ep
of "Sweet Home Alabama," 1 week before the TV premiere.
While MTV released a series of eps, in CMT's case its dating reality series "Sweet Home Alabama" will air on the app a week before it's on TV. The app itself is debuting along with the episode, so the goal is to get viewers excited about the app, too, which includes co-viewing capabilities and a "best tweet" filter. CMT is also launching a music app experience called "CMT Artists" that will improve discovery of and connection with fans' favorite artists.

A big part of the strategy is word-of-mouth. "We see the apps as a springboard to television viewing," Frank told me. "Our goal is for fans to sample shows and content on the app, then discuss and advocate for it across social, which ultimately leads for them as well as their friends (who follow their social feeds) to check out the shows on television," she said.

It remains to be seen whether this kind of pre-release will spread across the entire cable network landscape. It's difficult to conceive of say, a "Breaking Bad" premiere being released early on an app. But these examples do indicate that for some, the experiment is working.