Cable's Place on Pluto TV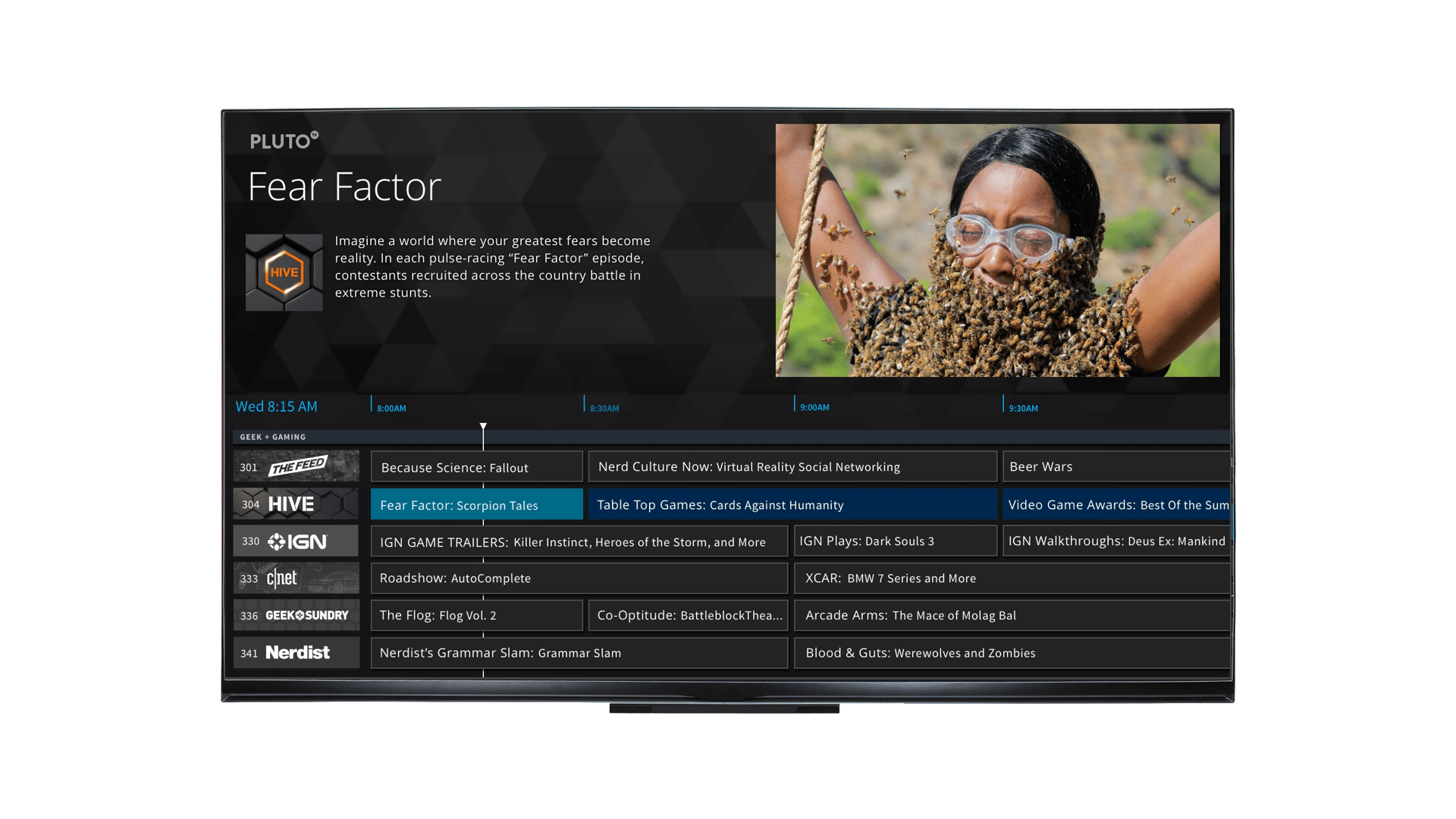 As cable operators drop video subs at an unprecedented clip, networks are exploring new ways to get their content in front of cord-cutters. One of the more out-there avenues, as its name might imply, is Pluto TV, a free virtual MVPD that allows users to flip through about 60 TV-like linear video channels grouped in categories like News, Sports, Comedy, Entertainment and Movies, along with 35 music stations.
Available on a wide range of devices, Pluto boasts 6 million active monthly users, up from 500,000 in early 2015. For context, Turner CEO John Martin last week estimated the total number of paid virtual MVPD subs in the US is close to 2 million. To attract as wide an audience as possible, Pluto doesn't require viewers to sign up, and the company declined to share how many of its monthly users are registered.
Exec Chair Kenneth Parks, who in his previous role was Spotify's first US employee, said Pluto's growth indicates that TV-like linear content does appeal to a young, cord-cutting audience.
"The fact that we've been able to attract millions of millennials to our platform, which is curated and linear and lean-back, proves our thesis," he said. "If you give that audience the kind of content they want to watch, they're not programmed differently to older people in terms of fundamentally not wanting to work to be entertained."
At its launch in 2013, Pluto's channel lineup consisted of topic-based streams of curated content from places like YouTube and Vimeo. That mix has since evolved through partnerships with a wide range of content producers.
It currently features channels branded for popular digital-first outfits (The Onion, Newsy, PopSugar), underserved sports properties (Glory Kickboxing, World Poker Tour) and legacy media brands (People, Entertainment Weekly). Warner Bros., Lionsgate, MGM and Paramount are also providing both films and TV series.
Cable's presence on the platform is also growing. NBC News and MSNBC have operated a co-branded 24-hour news channel on Pluto since 2015. Since then, CNBC, Bloomberg TV, Sky News, RT America, NewsmaxTV and The Weather Network have partnered with Pluto to create their own channels on the service. A&E and Scripps Networks – the latter is an investor in Pluto—also contribute content for curation on other non-branded, themed channels.
Parks' pitch to content providers is three-pronged. First, he insists it is crucial for brands built on traditional TV to follow consumers to new platforms in order to maintain relevance. Second, he points to "very healthy" incremental ad revenue, which is shared between Pluto and the programmer.
Finally, Parks insists the most valuable thing Pluto offers is data that can help content creators in both marketing and distribution strategy.
"We don't have the size of the checkbook that some others have, so we're not in the business of writing silly guarantees, but instead we do share back something that's viewed in a lot of cases or by a lot of content providers as more valuable, which is data insight," he said. "This is exactly how people are going to be consuming your content in the future. Take that data that's hugely valuable and use it to inform your whole OTT strategy."
Pluto's business model is still evolving. The company is currently in the process of rolling out a complimentary on-demand offering, and Parks anticipates Pluto moving toward a "freemium" model, similar to the one Spotify has had tremendous success with. He says a number of niche subscription-based OTT services have already approached Pluto about integrating into its platform for greater exposure.
As Pluto grows and evolves, network execs would be wise to keep their telescopes pointed in its direction.