Cable Summer Ratings – 4 Patterns in Viewership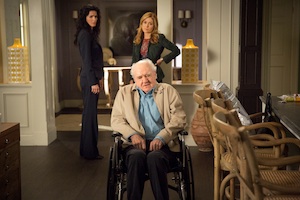 TNT's "Rizzoli & Isles" was a popular drama this summer.
—
Summer used to be the land of TV reruns—and then came cable. Cable networks' slate of originals eventually was met by broadcasters launching their own summer original fare—mostly reality, but there are some scripted shows out there, too (see CBS' "Under the Dome.") As a whole, cable still rules the summer months, with household share for ad-supported cable at 76%, up more than 5 points from last summer or 3 times the combined 4 broadcast networks' share, according to an analysis of Nielsen data from Turner. When you look at the top 100 programs on cable this summer, a few patterns emerge…
We Love Drama: TNT knows that. "Rizzoli & Isles" accounted for 9 spots in the top 100, including #7 (9.4mln total viewers). In fact, dramas made up 68 of the top 100 programs on cable this summer. The Aug. 11 final of AMC's "Breaking Bad" grabbed 17th place (after several Rizzoli eps) with 7.9mln viewers. Other dramas well represented this summer included TNT's "Major Crimes" (11 spots on the list), A&E's "Longmire" (10 spots), TNT's "Falling Skies" (7), USA's "Royal Pains" (7) and "Burn Notice" (6). Other dramas in the top 100 include: HBO's "Game of Thrones," and "True Blood," as well as USA's "Suits" and TNT's "Perception."
Reality, Not So Much: Maybe it's because there's plenty of reality to choose from on broadcast during the summer, including CBS' "Big Brother" and ABC newbie "Whodunnit," but reality doesn't have much of a presence in the top 100. New eps of "Duck Dynasty" didn't debut until Aug. 14, otherwise it would most definitely have more than 2 spots on the list given that both eps are in the top 5. History's "Pawn Stars" had the most spots on the top 100 for the genre, with 15.
Kids Rule: The younger set's influence can be felt in the top 100, starting with the most-viewed program of summer, Disney Channel's "Teen Beach Movie," which netted 13.5mln total viewers. But it's not just typical kid network fare that signals this. In fact, only one other traditional kids' net show to crack the list was a preview of upcoming series "Liv and Maddie" on Disney (#32). A&E's "Duck Dynasty," the #2 show on cable this summer (11.8mln viewers) and #5, draws family viewing. Discovery's "Skywire Live", #4 with 11mln viewers, is another example of programming that families watch together. MTV's VMAs is on the other end of the spectrum, but that doesn't mean it doesn't pull younger viewers, recording a 7.8 rating in the 12-34 demo. It ranked as #6 on the top 100 list (10.1mln viewers).
Sports Matters: Probably no surprise that the remaining spots in the top 100 went to sports. The most-watched sports program was TNT NBA playoff coverage (11.6mln), at 3rd place. More NBA playoff match-ups made the list, as well as ESPN's "Home Run Derby" (#26) and pre-season football. The Sprint Cup on ESPN and Turner (both of whom are walking away from the race as it shifts to NBC Sports and FOX in 2014) also had several entries in the top 100.