An Interview with David S. Goyer of Starz's 'Da Vinci's Demons'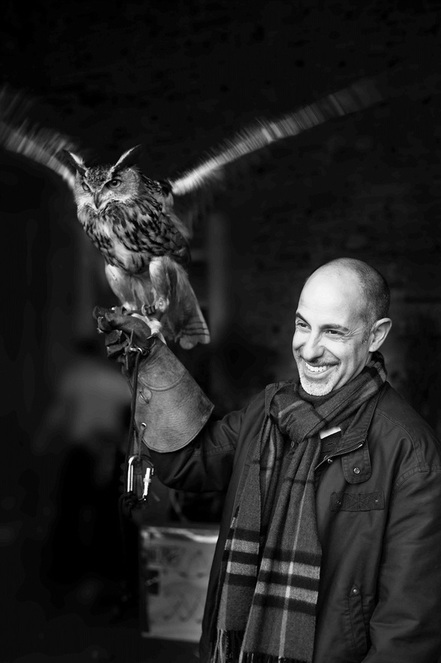 If you haven't heard of David S. Goyer, you must not live in Hollywood. He's one of the top screenwriters in town, and whether working with Christopher Nolan on his Batman trilogy, honing ABC's then-critically acclaimed series "FlashForward" or writing the screenplay for the upcoming Superman reboot Man of Steel (uh, no pressure, right?), Goyer is just one of those go-to guys. That's why it was such a coup when Starz greenlit his unique take on Leonardo Da Vinci, a serialized show called "Da Vinci's Demons" that premieres Fri and presents a younger, hipper and even swashbuckling version of the original Renaissance Man. CableFAX Executive Editor Michael Grebb sat down with Goyer recently to discuss why he likes cable, the wonders of CGI and, of course, whether he thinks Da Vinci ever really built a robotic bird that flies.

CableFAX: You're one of the hottest film screenwriters in Hollywood, especially after your work on the critically acclaimed Batman movies. What appeals to you about cable TV?
David Goyer: Well, with a movie, you work all this time on it, and it comes out, and it's over. You have to bring everything to a satisfying conclusion because usually you can't plan on there being another movie. I think that typically with movies, it's harder to depict flawed characters.
CableFAX: Because you don't have enough time?
DG: Yeah, but also the studios want to go with the safe bet.
CableFAX: So they want more of a black-and-white landscape?
DG: Yeah, and with cable TV at least, it seems that their bread and butter is flawed characters. Occasionally, you'll get a feature that deals with flawed characters, and luckily we were able to do that with the Batman films. And hell, I was able to do that to a certain extent with the Blade films as well. But I think that it's also a luxury to have the ability to tell 60 hours, like it's a 60-hour movie or something like that. You don't have the opportunity to do that in features. It's more of a novelistic approach.
CableFAX: You obviously did a lot of research on Da Vinci, and you've said you tried to stay about 85% accurate. But you've also said you embellished a lot for dramatic effect. So let's talk about that flying mechanical owl in the pilot. Was that really something he created?
DG: OK, look. There is an account of Da Vinci having built what I can only describe as a robot—a life-sized metal lion that they presented to the king of France—that walked into the room, roared, its chest opened, and then a fleur-de-lis came out of its chest. Did that happen? I don't know. But somebody wrote that that happened. Somebody wrote that he did that. There's no drawing of it, but I figured if he could do that then he could make this bird fly.
CableFAX: So you basically made that up, but based it on other things he had built.
DG: And also, more than half of his drawings and pages are gone, so…
CableFAX: But how do we even know that?
DG: Because there was a man—we haven't met him in the series yet because he came in later as his assistant—who inherited them. He was potentially going to sell them, and I don't know. The record is that there were 13,000 pages, and then something happened: And then there were 6,000.
CableFAX: They're probably in the Vatican library.
DG: Exactly. Were they suppressed? Did he himself destroy them? Who knows?
CableFAX: The pilot premiering April 12 is really the set up in which you're establishing all the characters of the series, but what specifically do you want to convey about DaVinci in that first episode.
DG: I wanted to just bombard people with images and stuff, and let people know that there was a lot of stuff that's still coming. Even in that first, strange scene with the Turk where he's talking about time being a river, there are a whole lot of glimpses of things that are going to happen all throughout the season. Characters are going to appear. I just wanted people to feel like this isn't a dry, historical drama about the old guy with the beard painting the Mona Lisa. This is a vibrant, action-adventure, mystery show that deals with secret societies and codes and riddles and all of these things.
CableFAX: A little like Batman as well: Father issues. Secret societies. There's a lot of fodder there for drama.
DG: Well, secrets and mysteries are synonymous with Da Vinci, but he really did embed a lot of coded symbols in his paintings. Nobody knows why. He really did write in mirror writing. He really did write in code. Nobody knows to this day who his mom was. Nobody knows where he was between the ages of 27 and 31. Some people say he was in Syria. He himself wrote some letters saying he was in Syria, which other scholars have disputed. For somebody that famous, there's a lot of fodder, yeah.
CableFAX: So you could obviously go in a lot of different directions with this series. Do you know exactly where you want to go, or are you going to wait and see how long of a run the series gets?
DG: Before Starz greenlit the show, Chris (Albrecht) and Carmi (Zlotnik) said to me, 'Can you take us through roughly where you think it would go if the show was on for five years?' So they did hold my feet to the fire. There's a basic story we're telling in season one, and I know where season two ends, and where season three ends. Some of the things in between I might not know, but the big goal posts, I know where they are.
CableFAX: You even slipped a short couple lines into the pilot that seem to suggest Da Vinci was bi-sexual.
DG: We will not being shying away from anything. Without giving too much away, we will be dealing with that subject head-on in the first season.
CableFAX: Well, you'll certainly have plenty of latitude on Starz.
DG: Which is great.
CableFAX: Let's talk about the CGI. Apparently, you were using some new technology on that front?
DG: Yeah. My visual effects supervisor was the only other American on the show, and he did "Flash Forward" with me—and "Lost" and Cloverfield. A lot of visual effects, and many more than I think people realize, which is good. There were about 300 visual effects in the pilot. But even the stuff with Vanessa, the girl with the glider at the beginning when she's topless. That was shot in a parking lot.
CableFAX: Wow. It looked like a hillside.
DG: Which is great. It's all visual effects, green screen in the parking lot… Even when they release the bird at the end of the episode, we only had 40 extras. We did crowd replication, we had digital people and stuff like that.
CableFAX: Does that give you freedom as a writer? Obviously, you're used to it from the big feature films you've worked on. But you have a lower budget on TV.
DG: Sure. Obviously, I don't have Man of Steel budget.
CableFAX: So let's assume you get a 2nd season. Can you give us any hints about where the series will go creatively?
DG: Something happens at the end of the second episode that points to what we'll be doing the second season. One of the biggest characters in the whole show isn't even introduced until episode three—the guy whose finger was in the box.
CableFAX: Is it hard to know how to roll out these characters throughout the season?
DG: Yeah, and I also think it's fun… It's cool when major characters emerge a little later or at first they're just in the background, but they become really significant later. I think that's fun too. The thing about a serialized show is that you don't have to do it all right away.