Aggregating Social Key to Second Screen Experiences
There is no shortage of second screen applications consumers can access while watching television—and the landscape is likely to become even more cluttered with start-ups. Indeed, a
recent Mashable article
cited the second screen "revolution" as the number 1 tech trend to watch in 2013.
Many have already arrived. For instance, zeebox, an app which focuses on discovery and social interaction with users, recently became available in the U.S. after enjoying some success in the UK [check out the
CableFAX On Demand webinar for more info from zeebox's head of marketing
]. The company has already partnered with NBCU and HBO to enhance content and is working with Comcast to allow synched features like remote control capabilities.
Then there's the TV check-in app GetGlue, Miso, Viggle, and now even
Dish has created its own second screen application
, which syncs up automatically to the show you're watching and allows you to schedule future viewings. And last week, ConnecTV, an app that calls itself a "social network," unveiled a "SocialTV Timeline" (note the nod to Facebook) which combines trivia, polls, stats, guest star chats and social media about the TV show you're watching.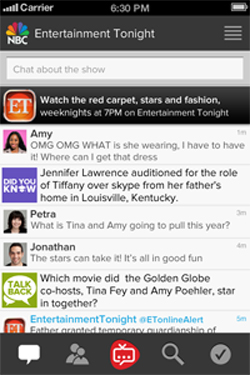 ConnecTV Favors Social Interaction
What's different about ConnecTV? And what will it take to succeed in the second screen world? The app previously focused on content more than social, according to ConnecTV CEO Ian Aaron. "We thought content was going to be weighted 70/30," he said. But through research they discovered that "chat was weighted heavier than content." Conversation surrounding the shows are integrated within the touch-enabled timeline, and that timeline lives for an entire season. Additionally, the aggregated chat can be syndicated into a website or TVE app. Rather than working with production, "our goal is to work with marketing people at the networks," he said. Currently, ConnecTV has partnered with 10 broadcasting groups that make up the joint venture known as Pearl and have an undisclosed stake in the company. But Aaron said it's currently piloting with MSOs.
One App Fits All?
So what will it take for one app to rise above the rest in a world in which fragmentation is so prevalent? "I don't think there is going to be one," said Aaron. "The whole sector is a big amalgamation of a lot of different things, from people who are providing technology, a remote… we're a social network." Do they see themselves as competitors to zeebox? "We're not trying to be that immersive content experience." With 415 channels, ConnecTV's goal is discovery and engagement, he said, with the app's "one-touch engagement" designed to be an enhancement rather than a distraction from the first screen.
Zeebox co-founder and CTO Anthony Rose told TechCrunch
his app achieves scale by allowing networks to insert branded content and experiences within a single platform. But some networks would rather control the social experience themselves. IFC, for instance, has its own web-based companion experience dubbed IFC Sync.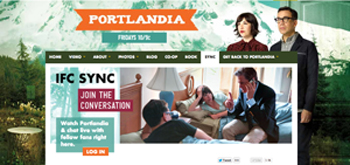 Aggregating the Chatter
Like ConnecTV, IFC's goal was to focus on highlighting social interaction. According to Colin Moore, VP of Digital Media & Alternative Content for IFC, the net's fans really enjoy chatting about the series. "When we looked at a second screen experience, right away it made sense to focus on the conversation," he said. Take "Portlandia," whose engagement rate on Facebook sometimes hits 20%. "[Fans] like to be witty and funny… They want to react and go deeper, make jokes and comment," he said. So the net created a space in which to do so.
Fans can join in on the conversation or simply observe and digest the chatter. "A deeper dive for us is providing talent to do Q&A's," Moore said, including "Portlandia" stars Fred Armisen and Carrie Brownstein, an event that adds an extra layer of conversation. Uniquely, the network has also engaged fans by handing over its Twitter handle for days, even one week at a time, to super fans. Currently, the real-life Feminine Bookstore parodied in one of "Portlandia's" recurring skits is running the show's Twitter feed. The pro ice hockey team the LA Kings has run it as well. Though relinquishing your Twitter feed might seem a frightful prospect, Moore insists the net's social media manager vets potential twitter takeover candidates. They're all super fans, he said, and "their love for the show shines through."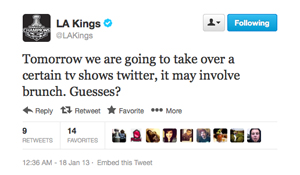 For the moment there are no ads in IFC Sync. Zeebox, ConnecTV and others offer opportunities for advertisers. Moore said IFC is "certainly looking into it… the idea of a bigger sync experience." It's considering launching an app, which would include video and possibly the sync experience. As far as partnering with more complex second screen experiences, Moore says it's also a possibility, but the important part is "creating a great IFC experience," whether or not that includes ads. "At the end of the day whatever we offer, it will be an environment we need to control," he said, one that allows the network to "curate the conversation in the right away." The focus is engaging those people who are super fans. "We champion the comedians that are on the air," he said, but also other comedians who support the net's brand of comedy. "They, in turn, champion our content."