Advice for Female Journos from SportsNet LA's Alanna Rizzo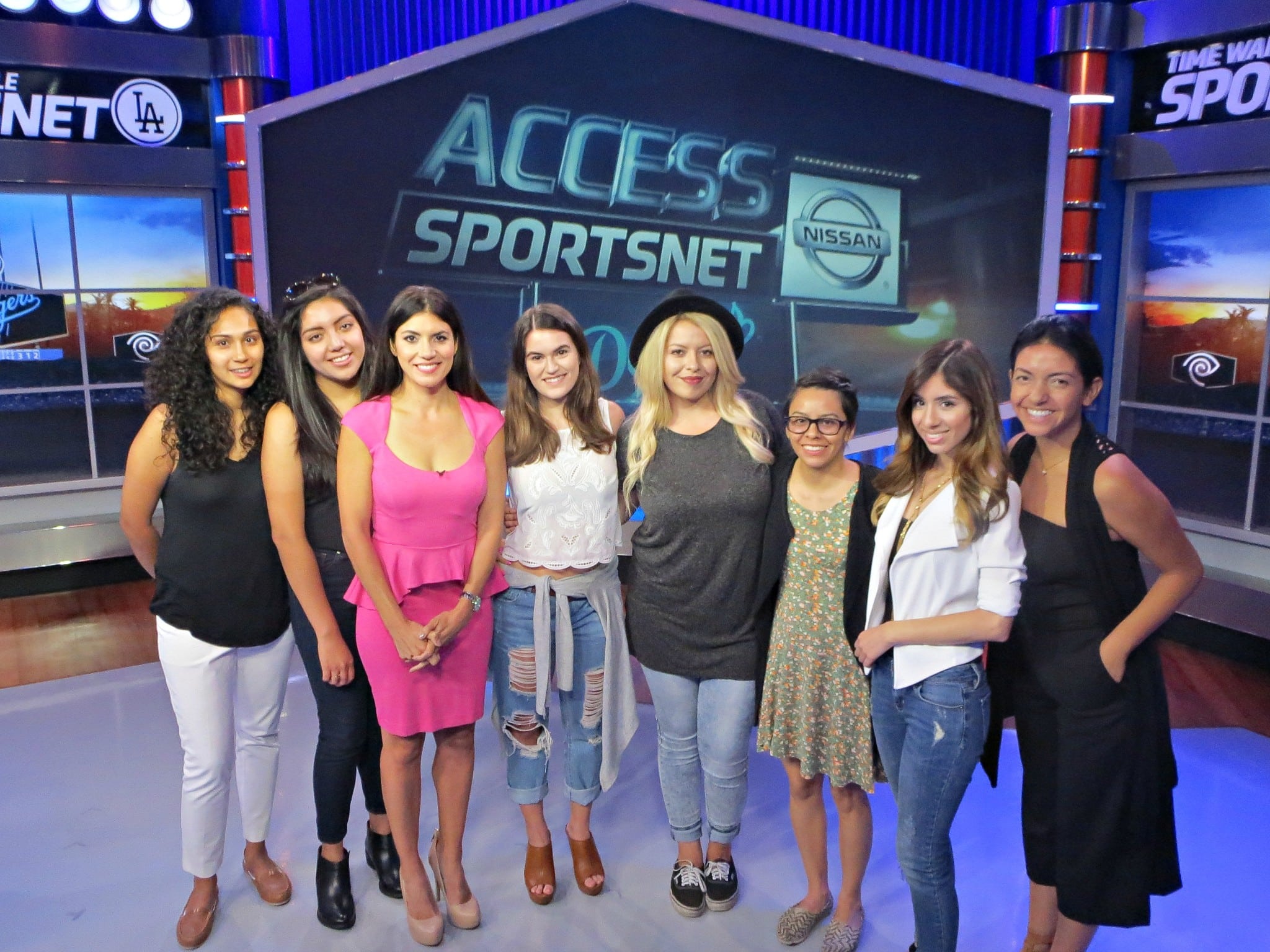 When in-game reporter for Time Warner Cable SportsNet LA Alanna Rizzo hosted a group of aspiring female journalists at the studio earlier this month, naturally her status as one of the limited number of female on-air sports reporters came up.
The response was not sugarcoated.
"There's no advantage to being one gender or another," she told the group of students from the School of Journalism at Cal State Northridge and Fullerton College in California. It's on you to be prepared, professional, know your subject matter and ask the appropriate questions. "Be someone prepared to do a job… people respond to professionalism and preparedness," more than whether you're a man or a woman.
The real caveat? The job is taxing on your time. The schedule is incredibly demanding and there are many sacrifices that affect your personal life. First, "you must be prepared to move," Rizzo told them. To a new–and likely remote–locale. Very few people are able to start in Los Angeles on air, as it's the number 2 market in country, she said. You've got to go to smaller markets, and possibly do three or four jobs at a time—and accept that you're not going to make money right away. Rizzo characterized it as a bit of a "one-woman band" scenario.
But there's a lot of value going to a community like Wichita Falls, where Rizzo went herself, because you have to produce, write and cut everything on your own. A reporter for the LA Dodgers, Rizzo stressed that baseball in particular requires constant work during the season. From February to October, you're working every day for 8 months, she said. "And if you don't want to move or pay your dues or not make money at the start, it's not the business for you."
Demands on your schedule aside, there are certainly some preconceived notions out there when you're a female sports reporter. The main challenge: "People immediately assume she doesn't know what she's talking about… and is not necessarily qualified to speak on the subject," Rizzo said. All women in the industry will face the "perception that they're hired to be eye candy." Yet so many are just as competent than a male counterpart, and in many cases more so, she emphasized. "Unfortunately, it's a man's world in the sports industry… it's still very sexist." So "it's incumbent upon you to prove them wrong."
Of course, the lack of equal pay for women is another obstacle—not just in sports journalism, but across the industry generally, Rizzo noted. "There are very few women in this industry making more than a million a year," she said, citing Fox Sports' Erin Andrews as one outlier, "yet there are many men with same amount of service time" who've crossed that threshold.
Being on-air poses particular challenges for women, Rizzo said. You're "always trying to stop Father Time," as you're competing with younger women who are coming up behind you. "Television is a visual medium, naturally," so there's going to be that element of pressure. The sad reality: There are very capable women who tend to get pushed aside. But if you put the work in, "I think in time, you gain respect not only from the public but from your colleagues," Rizzo said.
The most important message, she stressed, is that a strong work ethic is imperative—especially in our world of 24-hour cable networks and new digital news outlets cropping up constantly. And use social media responsibly, she added. Rizzo has more than 53,000 followers, but she's not afraid to block 10 people on Twitter a month. Disrespectful, racist, and off-color comments are not tolerated. "I tell people that I'm blocking them and why. I don't tolerate it. I have zero tolerance policy for that," she said. And when you post photos of yourself barely clothed on social media, that's a representation of who you are—and future employers can find them. "Be cautious of that… you're representing yourself… and it's out there."