A Look at Cable Advertising for Holiday Programming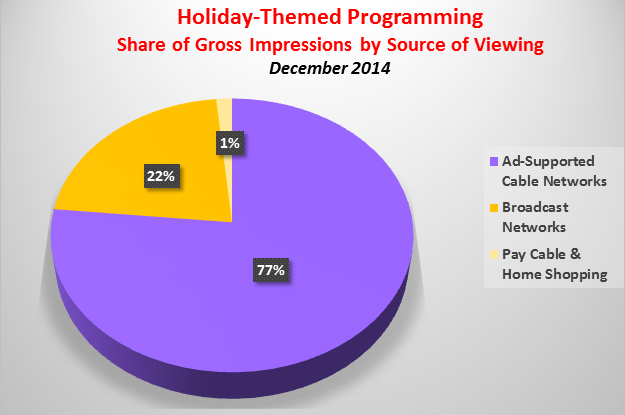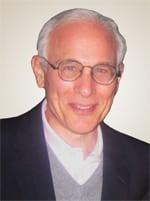 By Jonathan Sims
The holiday season is upon us–a time for not only giving, but also spending. It is, after all, one of the highest grossing periods of the year for nearly every business. According to the National Retail Federation, an estimated $630.5 billion will be spent on holiday shopping this year, which is 3.7% higher than the year before. Of course, businesses will want to reach holiday shoppers and what better place to do so than through advertising on holiday programming?
As the holiday season kicks into full effect, consumers will be looking to spend on their family, friends and themselves; what better way to reel in those customers than to advertise in spots where they will most likely be watching? After all, the holiday season is chalked full of joyous shows and movies.
But what programming reaches the largest audience? Ad-supported cable television.
According to Rentrak (for the broadcast month of December, 2014), there over 800 holiday themed telecasts, all of which fall into one of three major sources of viewing:
1)    Ad-supported Cable Networks;
2)    Broadcast Networks;
3)    Premium Cable & Home Shopping Networks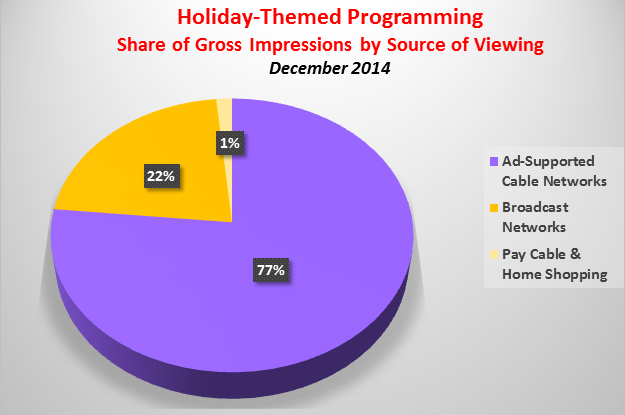 But it's ad-supported cable television that takes the largest slice of the holiday pie. Ad-supported cable television accrues over three-fourths of all gross impressions associated with holiday-themed TV programming, meaning the best place to advertise and engage potential customers is through local cable television.
Out of local cable television, it's holiday themed movies that accrue the most impressions. According to Rentrak TV Essentials Data, over 37% of cable network programming is dedicated to Holiday Movies, followed by Comedies, Romance Movies and Kid & Animation.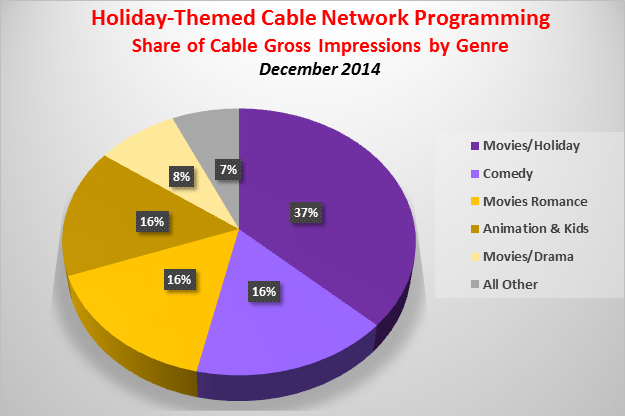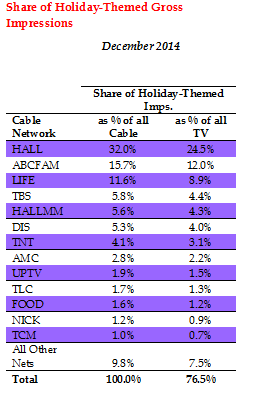 When you look at the "Big 3" holiday cable networks, it's clear that holiday-themed programming plays a crucial role in their overall December programming lineups. Hallmark Channel, for example, devotes practically half of their programming minutes to holiday-themed programs.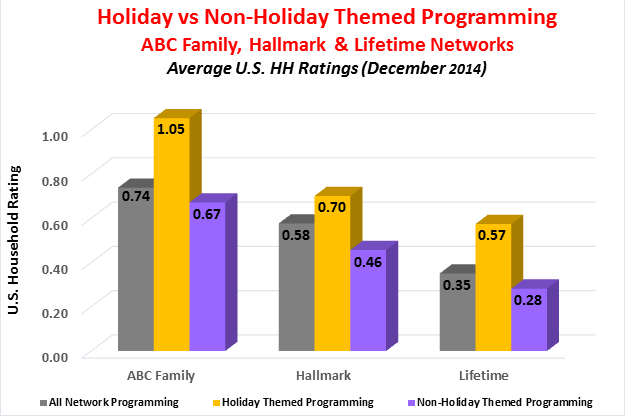 So how does the importance of advertising tie into holiday programming? We estimate that 4% of Viamedia's company-wide advertising dollars this year will go to holiday-themed programming. Last December, 1,500 clients ordered nearly 75,000 30-second spots on holiday programming across 70 Viamedia markets which is practically our entire nation-wide footprint.
Not surprisingly, the networks that delivered the greatest number of Gross Impressions also received the greatest level of local cable advertising support. The four largest local cable advertising categories comprise 60% of all advertising investments, and are all associated with the Holidays, such as year-end automotive sales and retail & grocery shopping: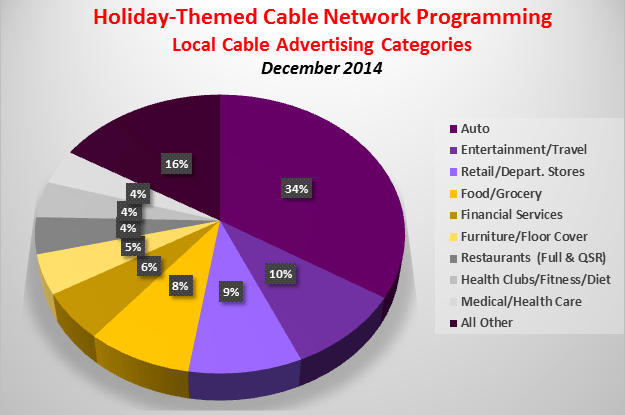 As family and friends gather together to enjoy the holiday season, there is sure to be good food, good company and more than enough holiday-themed programming on cable to take everyone through December and into the New Year.
(Jonathan Sims is vice president, media research, for Viamedia. He also served as vice president, product management at TRA, Inc. as well as head of corporate research at Comcast Spotlight.)