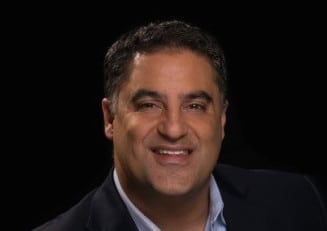 When you sit down with The Young Turks' Cenk Uygur, you know you're going to get some passionate responses. The main host and cofounder of the progressive Internet commentary program gave us his take on what's wrong with cable news today and how TYT is navigating the multiplatform world. He got so excited about our conversation about Facebook Video and live streaming, he whipped out his phone and created a live video of the two of us then and there (it went from about 200 views live to more than 5,000 today).
With so many platforms available for content, does it make it more difficult to break through the clutter?
There's no over-saturation at all. At least for us. Here's how I know that. Every new platform we go on, we add new viewers. We don't cannibalize. On YouTube we were at 100 million views a month and we started adding more and more platforms—Comcast Watchable, Firetalk, Pluto, Twitter's new video platform and probably most importantly Facebook's video platform—and now we're up to 150 million views a month. In the old days, you had a limited pool of content, it was on TV and it was a zero-sum game. In the new days, there's an ocean of content online, so there are more places you stake your flag in the ground, the more people you're going to collect.
Is it hard to stay top-of-mind on YouTube with so many young stars emerging every day?
You would think, the older you are online that it might grow into a disadvantage at some point given how young the online audience is, but that has not been the case for us. In fact, it's been an enormous advantage. I feel a little bad for people starting now because it's much, much harder today than it was before. You're going to run into our sorting advantage, our search advantage, our algorithm advantage. It makes it awfully hard to compete with people who've established themselves like us. When you do a search for a news story, you're very likely to hit a Young Turks clip because of all those advantages I laid out.
We see Vice launching a cable network this month. Is there any desire for Young Turks to go to the linear platform?
Yes. I have a love-hate relationship with TV. I am deeply perturbed by their inability to get out of a rut that they're in. It's amazing to me that some portion of the TV industry can't see the handwriting on the wall. On the other hand, I love TV. You let us do talk shows for you and that's our strength. We deliver the best talk show in the world, whatever platform you're in. Would I like to do a TV show produced by the Young Turks? Hell yeah. Would I like to host one? Well, it's a little bit more mixed. My time is very limited. If it's a show that I love and once a week, something along those lines, we can work on. But more importantly we're ready to produce not just one, but a slew of shows for television. It's still—if done right—a wonderful platform.
How do you do it right?
By taking all the traditions and throwing them in the garbage. The first thing we do is burn every teleprompter in the room. Teleprompters are killing TV. It's so fake. It's why people under 35 (aren't taking cable), it's not just because they can't afford it, it's not just because they grew up watching other platforms—those two are overwhelmingly true, but it's not the only reason why. They're used to watching stuff that's authentic online and then they turn on TV and get wall-to-wall fakeness, more than the stomach can bear. If you brought the authenticity of digital platform onto TV, I am positive that the audience is thirsting for it—not just the younger audience. Bring authenticity and passion.
There seems to be a lot of buzz over Facebook's video plans. Young Turks has worked with them. What are your thoughts?
We were one of the first partners of Facebook Video. We love it. It's had great success. In 6 months, we went from 2 million views to 50 million views on their platform, explosive growth like we haven't ever seen. Now there is a second and even newer addition to Facebook's offerings, and I think we're very early on this and people don't quite yet understand the power of it. Facebook Live Stream. Just in the past 2 weeks, I've seen explosive growth on it. I was just kidding around on it and did a video on my grievances with hotels last week at CES. I threw it on there, thinking like Periscope it would get a couple hundred, maybe a thousand views. And it did, it got a couple thousand as I was streaming it live. And then I watched it explode afterwards. That silly little video on hotel towels and soaps wound up reaching over a million people. On YouTube now we average more than 125K views per video, but that took 10 years to get to. On Facebook, just these live streams that aren't produced at all, they'll get to 20,000, 50,000, 100,000 views. That's amazing growth. There's a world of potential out there.