3 Questions with AT&T's Jeff Weber on Hispanic Programming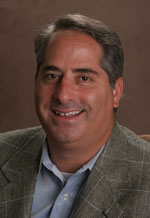 AT&T's Jeff Weber
In celebration of Hispanic Heritage month, AT&T U-Verse and Disney Channel have partnered to launch an interactive channel designed to highlight Disney's secondary audio programming (SAP) feature in Spanish. The goal is to educate bilingual customers—as well as those interested in their children learning Spanish—about the SAP feature, which is available for most of Disney's programming. The interactive app is available through Oct 28 on channel 86 exclusively for U-verse customers. CableFAX spoke with Jeff Weber, president, content & advertising, AT&T Home Solutions on Hispanic TV content and the new SAP tutorial.
What is the significance of Spanish programming on U-verse networks?
We're one of the fastest growing major TV providers, and with our growth, we have customers with more diverse interests in the content they want to watch. Our goal is to bring customers the content they want, for a good value, and many of our customers want Spanish-language programming. AT&T has been able to deliver a better experience with our diverse Hispanic programming packages, multiscreen content and interactive in-language TV apps.
Tell us about the interactive app and the SAP feature in Spanish.
We understand that many households are bilingual, or have interest in having their children learn another language. We worked with Disney Channel to launch our first interactive channel designed to highlight Disney's secondary audio programming (SAP) feature in Spanish, available exclusively to all U-verse customers. The channel will feature video clips of shows such as Jesse and Phineas and Ferb, trivia and polls which will be updated on a weekly basis, a weekly sweepstakes, a SAP tutorial tab, and an order now section for customers interested in more Spanish programming.
Has the U-verse subscriber demo changed over the years? If so, how is that affecting U-verse programming and marketing strategy going forward?
We're continually evolving our strategy based on the needs of our customers. As the demand for Hispanic content grows, we've responded by introducing new programming, features and multiscreen content to meet these diverse needs. For example, in the past year we:
·
Featured a variety of options that allow you to bundle U-verse TV Spanish-language packages with U-verse Internet, U-verse Voice and/or AT&T wireless services for significant monthly savings.
·
Announced new multi-year, multi-platform content agreement to deliver Univision content across all of AT&T's platforms, including U-verse TV, online, smartphones and tablets.
·
Offered a free preview for Hispanic Heritage Month that gave customers free access to all of the channels in Paquete Español, as well as HBO Latino and Encore Español.
·
Delivered the popular Santa Tracker interactive U-verse TV app in Spanish and English.
·
And launched a new Disney secondary audio programming application.