2017 Faxies & Best Sellers Recap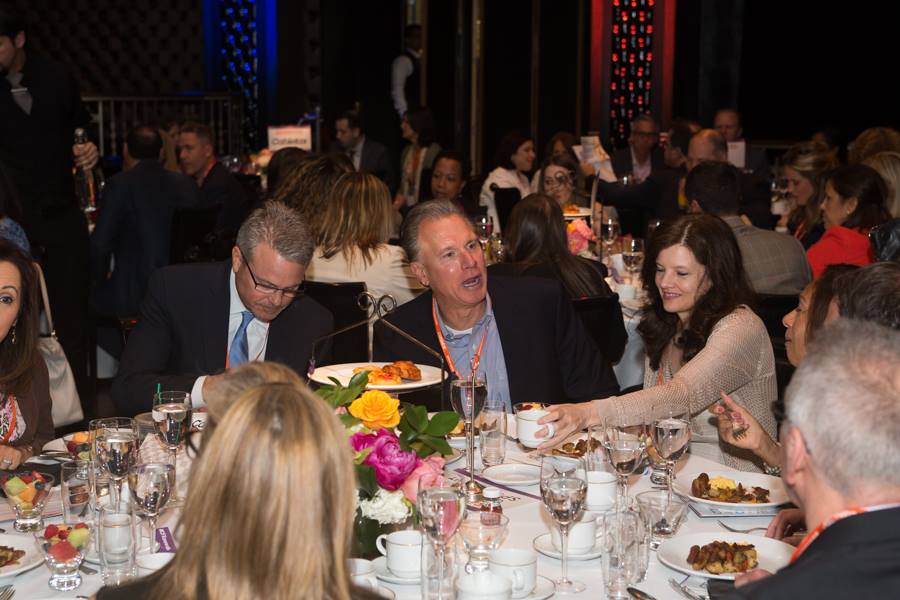 It was a morning full of revelry at Cablefax's Faxies and Best Seller Awards Friday, where four were inducted into the Sales Hall of Fame and several PR and marketing campaigns were feted for their creativity and results.
There were some laughs, such as when Big Ten Network's Jordan Maleh quipped that he didn't know how proud he should be to accept the Faxies for "Shoestring Marketing." BTN partnered with OYO sports to contract stop motion artist Jared Jacobs to create nine adorable stop motion videos to re-create iconic football plays. The videos were a hit, generating over 28,000 interactions across Facebook, Twitter, and Instagram, and bringing in over 800,000 views. BTN's shoestring tip? OYO figures are much more affordable than Legos, said Maleh, BTN's director of digital marketing and communications.
There were more serious notes as well, such as when Cable Hall of Fame inductee Mark Kang, INSP's svp, worldwide distribution, called on the audience to make content with a conscience. "Your work influences directly what people, think and how they act," he said to the crowd gathered at the Edison Ballroom in New York City.
Crown Media Family Networks svp, program publicity Pam Slay took home the PR Exec of the Year honor—and the skilled publicist made sure to mention in her acceptance speech her pride that Crown was in the running for PR Team of the Year and Marketing Team of the Year. PR Team of the Year ended up going to National Geographic, which has had a busy time promoting big events like "Mars" and "Before the Flood." Nat Geo global communications evp Chris Albert talked about how the team views it as a privilege to work for the brand that's focused on science, rattling off a Neil deGrasse Tyson quote: "The good thing about science is that it's true whether or not you believe in it."
Epix received the Marketing Team of the Year for work that included promotion of its first original scripted series, while Alexandra Shapiro of NBCU was named Marketer of the Year. Check out the full list of winners below.
Sales Hall of Fame
Sandy Ashendorf
EVP, Content Distribution
EPIX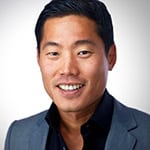 Mark Kang
Senior Vice President of Worldwide Distribution
INSP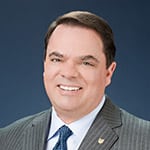 Steve Mandala
EVP, Advertising Sales
Univision Communications Inc.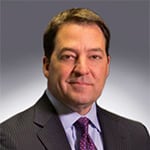 Roland Trombley
SVP & GM
Comcast Spotlight
Best Sellers 2017
Affiliate Salesperson of the Year (Below the VP Level)
Winner:
Killian Beldy – Crown Media Family Networks
Affiliate Salesperson of the Year (VP and Above)
Winner:
Joe Felber – NBCUniversal
Digital Sales Leader of the Year
Winner:
Sales Team of the Year | National Sales
Winner:
Salesperson of the Year (Below the VP Level) | National Sales
Winner:
Ashley Easteadt – Crown Media Family Networks
Salesperson of the Year (Below the VP Level) | Regional Ad Sales
Winner:
Erin Arend – Discovery Communications
Salesperson of the Year (VP and Above) | National Sales
Winner:
Lisa Fischer – UP TV and ASPiRE
Cablefax FAXIES 2017
Acquisition and Upgrade Marketing
Winner:
GALLEGOS United – XFINITY Interruptions
Finalists:
Boingo Wireless – Boingo Broadband International Launch
DigitasLBi – XFINITY X1 Voice Remote Engagement DM
GALLEGOS United – XFINITY Beautifully Bilingual
Advertising Campaign for a Network
Winner:
Finalists:
truTV – "Funny because it's tru" Campaign
USA – "We The Bold" Campaign
Advertising Campaign for a Single Program
Winner:
BET Networks – The New Edition Story, An Epic 3-night Miniseries Event
Finalists:
Pop – Baywatch Teases
TLC – Too Close to Home S1B
Viewpoint Creative – A+E 60 Days In Season 2 Promo Campaign
Affiliate and Partnership Marketing
Winner:
Turner Entertainment Networks – AT&T and CONAN Comic Con 2016
Finalists:
A+E Network – Roots and 23andMe Partnership
Big Ten Network – BTN Tailgate
Discovery Communications – Discovery Channel 2016 Shark Week
INSP – Comcast VIP Screening of Savannah Sunrise at Rossmoor
Brand Image and Positioning Campaign
Winner:
Boingo Wireless – Boingo All In: I Love LA
Finalists:
Burrell Communications – XFINITY: Unplug and Connect
GCI – Alaska Born and Raised campaign
Mediacom – "Spirit of Mediacom" TV
The Weather Channel
Community Relations
Winner:
Altice USA – Altice Connects
Finalists:
Telemundo – El Poder En Ti
Nickelodeon – Nick Jr. Beyond the Backpack
Cox Business – Get Started Tucson
Corporate Social Responsibility / Green Campaign
Winner:
WE tv – 2016 Black History Month PSA Campaign
Finalists:
Nickelodeon – Nick Jr. Beyond the Backpack
Sprout – Kindness Counts
TLC – Give a Little
Integrated Marketing Campaign
Winners:
NBCUniversal – 2016 Rio Olympic Games Resource Site
Turner Entertainment Networks – iHeartRadio Music Awards presented by Capital One
Finalists:
A+E Networks – USAA and HISTORY Pearl Harbor Anniversary
Burrell Communications – XFINITY X1 Voice Remote: Speak Your Mind
Investigation Discovery – The Vanishing Women
National Geographic – MARS
NBCUniversal – TV Everywhere "TV Always. All Ways."
Telemundo – El Poder En Ti's #YoDecido PSA Campaign
Marketer of the Year, VP Level and Above
Winner:
Alexandra Shapiro, USA/Syfy
Finalists:
Joni Fernandez, Univision
Jennifer Giddens, Sprout/NBCUniversal
Jennifer Sarlin, TLC
Marketing Campaign
Winner:
SundanceTV – "Project Five by Five" Presented by Visit Seattle
Finalists:
BET Networks – BET Awards 2016
Crown Media – Countdown to Christmas 2016
Sprout – Sprout Talks Tech
TLC – Too Close to Home S1B
truTV – Impractical Jokers Ultimate Block Party at Comic Con
Marketing of a Continuing Series
Winners;
Discovery Communications – Investigation Discovery's A Crime to Remember: Activations You Won't Forget
USA Network, Universal Cable Productions & Here Be Dragons – Mr. Robot Virtual Reality Experience
Finalists:
Big Ten Network – BTN Tailgate
HBO – Game of Thrones Campaign
Syfy – The Expanse: Enter The Future
Syfy – The Expanse: Expanse Recat
The Weather Channel
Marketing of a New Series or Show
Winners:
HBO Multicultural Marketing – Insecure
Sprout – Floogals
Finalists:
BET Networks – The New Edition Story, An Epic 3-night Miniseries Event
EPIX – Berlin Station
History and A+E Studios – Roots
National Geographic – MARS
Ovation TV – Versailles Series Launch
Pop – Nightcap Campaign
USA Network & Ludomade – COLONYTV.COM
Marketing of a Special or Documentary/ Documentary Series
Winner:
Finalists:
CNN – Finding Jesus
Investigation Discovery – The Vanishing Women
Marketing Team of the Year
Winner:
Finalists:
Boingo Wireless
Crown Media Family Networks
Pop
TLC
Media Event
Winner:
Bravo – Below Deck Mediterranean Launch Party
Finalists:
Crown Media – South Street Seaport Tree Lighting Event
ESPN – 2016 ESPN Upfront Event
Pop TV – Nightcap Premiere Event: Crosby Hotel
Turner – FilmStruck Launch
Media Relations Campaign
Winner:
Hallmark Channel – Countdown to Christmas
Finalists:
Cox Business- Get Started Tucson
ESPN – Jessica Mendoza Joins Sunday Night Baseball
Hallmark Channel – Kitten Bowl
National Geographic – Before the Flood
National Geographic – MARS
Oxygen Media – Strut Press Kit
Multicultural Marketing
Winner;
Gravity Media – XFINITY ILD Campaign
Finalists:
BET Networks – The Quad HBCU Campaign
Burrell – The Next G.O.A.T. – Greatest of All Time
ESPN – Cultural Positioning Presentation Kit
HBO Multicultural Marketing – Mapplethorpe: Look At The Pictures
International Media Distribution – 2016 Mediaset Italia/Verizon Special Offer Marketing
Nonprofit Partnerships
Winner:
Finalists:
Discovery Communications – Animal Planet's Puppy Bowl Cares Social Meme Generator
GCI – Monthly Nonprofit Program
National Geographic – Gender Revolution
Oxygen Media – The Prancing Elites Project Season 2 | Prancify Your Profile To Promote Equality
Ovation TV & The Ovation Foundation – Creative Economy innOVATION Grant Awards
Telemundo – El Poder En Ti's Historias de Heroes
TLC – Give a Little Campaign
PR Executive of the Year, VP Level and Above
Winner:
Pam Slay, Crown Media Family Networks
Finalists:
Tom Caraccioli, Outdoor Sportsman Group
Chris Delhomme, VH1 + LOGO/ VIACOM
Liza Burnett-Fefferman, VH1 + LOGO/ VIACOM
Alex Slater, Clyde Group
PR Stunt
Finalists:
Bravo – Vanderpump Rules Pub Crawl
National Geographic – MARS
UP TV – McGhee Family Viral Photo Re-creation
PR Team of the Year
Winner:
Finalists:
Hallmark Channel – Countdown to Christmas: Network Program Publicity Team
Showtime Networks
USA and Syfy
VH1 + LOGO
Press Kit
Winner:
National Geographic – MARS
Finalists:
Bravo – "Imposters" Season 1 Press Kit
Golf Channel – "Summer of Golf"
National Geographic – Killing Reagan
Syfy – The Magicians, Season 2
Programming Stunt
Winner:
UP TV – GilMORE The Merrier Binge-a-thon
Finalists:
Investigation Discovery – Premiere New Year
LOGO – Friendsgiving
NBCUniversal – Sprout – Black History Month
The Weather Channel – The Weather Channel – Programming Stunt
Public Affairs Campaign
Winner:
A+E Networks – Critics' Choice Awards #See Her Award
Finalist:
Altice USA – Meet the Leaders
Shoestring Marketing
Winners:
Big Ten Network – Big Ten Network's Minifigures
Finalists:
BET Networks – TRAP Karaoke Powered by BET Awards 2016
Boingo Wireless – Boingo Broadband International Launch
Pop – Nightcap Campaign
UP TV – GilMORE The Merrier Binge-a-thon
Social Media During a Program
Winner:
BET Networks – The New Edition Story
Pop – Orwell Games
Finalists:
National Geographic – Gender Revolution
UP TV – GilMORE The Merrier Binge-a-thon
Social Media Marketing
Winners:
Nickelodeon – Legends of the Hidden Temple Instadventure
Finalists:
BET Networks – The New Edition Story
Bravo – Odd Mom Out – Robo Acclaim Trailer Customizer
Hallmark Channel – Countdown to Christmas 2016
Hallmark Channel – Kitten Bowl IV
Layer3 TV Acquires Majority of Customers Through Social Media Marketing!
truTV – #truTVisAThing Brand Awareness campaign
Sweepstakes and Games Marketing
Winner:
INSP – State Plate VIP Sweepstakes
Finalists:
RCN – 2016 Customer Appreciation Sweepstakes
USA Network & Ludomade – COLONYTV.COM
USA Network – Mr. Robot Digital Easter Eggs
Tchotchke
Winner:
Showtime Networks – Twin Peaks Log Pillow
Finalists:
BET Networks – The Quad Lounge Premiums
Bravo Media – Imposters Season 1 Mailer
DigitasLBi – Comcast Business Quick Service Restaurant Dimensional Mailer
HBO – Vice Principals Paddle
Trade Show Marketing/PR
Winner:
INSP – INSP Brings Taylor Hicks to The Independent Show
Finalist:
Virtual Reality/Augmented Reality Marketing
Winner:
Crown Media – Six Flag's Santa Wild Sleigh Ride
Finalists:
American Heroes Channel – Blood & Fury: America's Civil War
Syfy – Incorporated: Incorporated VR
The Weather Channel – "Window to Weather" Campaign
Turner Entertainment Networks – AT&T and CONAN Comic Con 2016
USA Network, Universal Cable Productions & Here Be Dragons – Mr. Robot Virtual Reality Experience