U.S. E&M Spending to Reach $720 Billion by 2020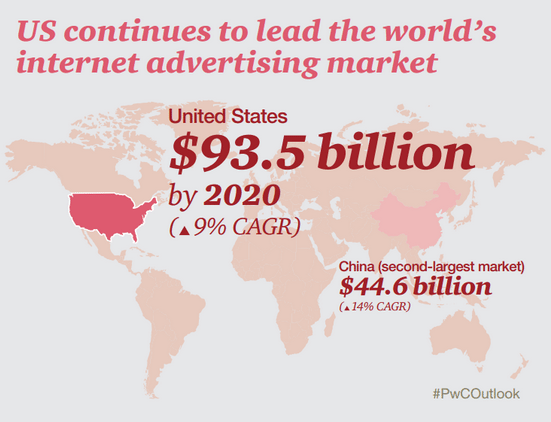 PricewaterhouseCooper's annual Global Entertainment and Media Outlook for 2016-2020 forecasts that the U.S. entertainment and media sector spending will reach $720 billion by 2020, up from $603 billion in 2015. On a global scale, the report said the E&M revenues will rise at a compound annual growth rate (CAGR) of 4.4 percent over the next 5 years to $2.1 trillion in 2200, up from $1.7 trillion in 2015.
Additional highlights from the Outlook:
*Internet advertising in the U.S. leads the world, with $59.6 billion in revenue for 2015. It's expected to rise to $93.5 billion by 2020.
*By 2017, Internet advertising will overtake broadcast TV advertising for the first time in the U.S., reaching $75.2 billion. But at the same time, broadcast TV advertising will remain healthy with a 2.8 percent CAGR and $70.4 billion by 2017.
*Mobile advertising will make up 49.4 percent of total Internet ad revenue in 2020. That's up from 34.7 percent in 2015.
*Mobile video Internet ad revenue shows the most astonishing growth: It is projected to rise from $3.5 billion in 2015 to $13.3 billion in 2020—a 30.3 percent CAGR. 5G networks will likely accelerate the shift to mobile consumption of video.
*The TV and Video sector, which includes VOD and OTT services, is expected to rise from $121.4 billion to $124.2 billion in 2020, with a .5 percent CAGR.
*Electronic home video sales, at $11.2 billion in 2015, eclipsed box office sales, which were $10.3 billion—and that was two years earlier than last year's Outlook projected.
*Video games revenue will rise from $17 billion to $20.3 billion by 2020. The Outlook expects a real sales drive for virtual reality in 2017 and 2018, and predicts that VR on mobile devices will go mainstream in 2016 with cheaper headsets.