Survey Shows Low Satisfaction with Comcast, TWC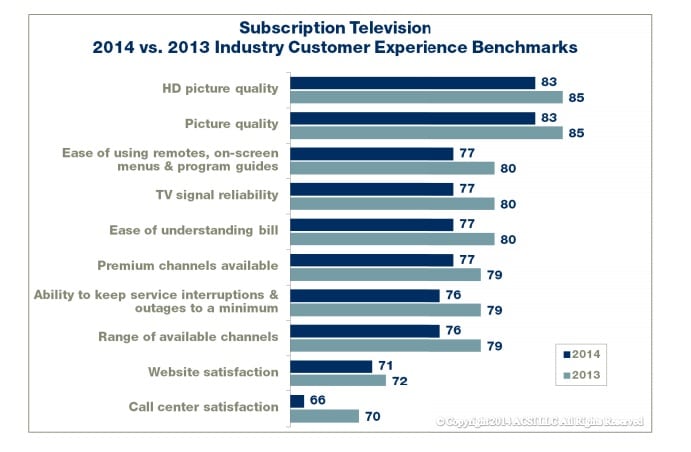 Look for this study to be used in comments on the proposed Comcast-Time Warner Cable merger. The just-released American Customer Satisfaction Index ranks the MSOs as having the most dissatisfied customers.
Satisfaction with pay TV fell overall, but it was worse for cable. DirecTV and AT&T saw a -4% and -3% year-over-year dip, respectively, but still tied for the best ACSI scores of 69. Verizon FiOS (68) and DISH (67) follow. Cox's 63 (-3%) is the best score for a cable company. Comcast fell 5% to 60 and TWC had the biggest loss, 7% to 56. Subscription TV overall fell 4.4% to 65 on the 100-point scale.
The Internet side of the business is even worse, with customer satisfaction with ISPs averaging a score of 63. That's a 3% decline versus last year and the lowest score for a category on the Index. Verizon FiOS Internet led the category with a score of 71. An aggregate of smaller broadband providers, AT&T and CenturyLink each scored a 65. Cox was the best of the cable bunch, despite falling 6% to 64. Once again, Comcast and TWC had the weakest customer satisfaction scores, with Comcast down -8% to 57 and TWC falling 14% to 54.
Among wireless phone providers, Verizon Wireless separates from the pack after climbing 3% to 75. T-Mobile (69), Sprint (68) and AT&T Mobility (68) are tightly grouped behind. Customer satisfaction with cell phones improved 2.6% to 78 in the study, while wireless phone service remained at 72. Customer satisfaction with fixed-line telephone service fell 1.4% to an ACSI score of 73, but is the most satisfying of all types of telecommunications. Chalk that up to only the most loyal staying as customers.
"The Internet has been a disruptor for many industries, and subscription TV and ISPs are no exception," says Claes Fornell, ACSI Chairman and founder. "Over-the-top video services, like Netflix and Hulu, threaten subscription TV providers and also put pressure on ISP network infrastructure. Customers question the value proposition of both, as consumers pay for more than they need in terms of subscription TV and get less than they want in terms of Internet speeds and reliability."
The ACSI uses data from interviews with roughly 70,000 customers annually as inputs to an econometric model for analyzing customer satisfaction with more than 230 companies in 43 industries and 10 economic sectors, as well as over 100 services, programs, and websites of federal government agencies. ACSI results are released throughout the year, with all measures reported on a scale of 0 to 100.