SCTE Energy 2020 Launches Key Metrics Standards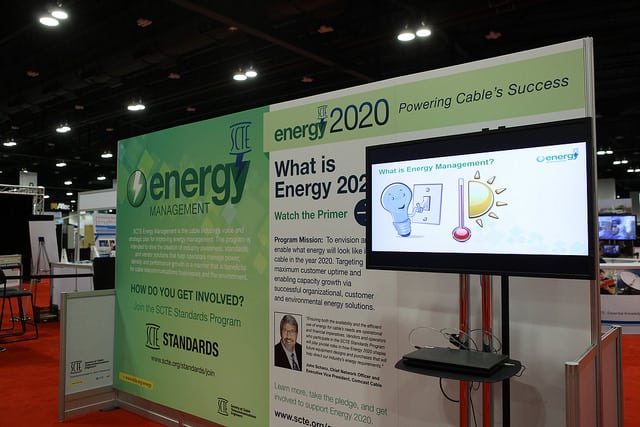 SCTE released a first wave of standards that will be critical to cable's Energy 2020 program. The four standards, created by the Energy Metrics, Data Collection & Reporting Working Group, are designed to enable the industry to benchmark energy usage, create the metrics, baselines and measurement functions needed to accurately assess current energy consumption and predict power requirements for future services, Dan Cooper, VP of critical infrastructure for Time Warner Cable and chair of the SCTE Standards Energy Management Subcommittee, told us. 
First up, "Performance Metrics for Energy Efficiency & Functional Density of Cable Data Generation, Storage, Routing, and Transport Equipment." The standard gears toward cable operators and aims to allow a fair evaluation of their equipment, Cooper said, noting energy efficiency has become an important differentiation as MSOs choose vendors. The "Energy Metrics for Cable Operator Access Networks" measures how effective changes in the access network service impact energy consumption from both a high-level and functional operations perspective. Power hasn't been a priority until now, Cooper said. "It's amazing to see how you can become efficient when you don't use as much power."
The "Cable Operator Energy Audit Framework and Establishment of Energy Baseline" is an auditing of power consumption and the accurate establishment of baseline energy measurements for cable operators inside and outside the plant, excluding customer-powered equipment. It's a holistic look at a company's energy consumption, according to Cooper. He expects to have some baseline metrics established by SCTE Cable-Tec Expo (Oct 13-16 in New Orleans). Finally, the "Edge and Core Facilities Energy Metrics" aims to help operators measure how effective changes in the service impact energy consumption and improve performance operationally, financially and environmentally for edge and core facilities.
These specifications need to be established as part of operators' operational procedure, Cooper said. "It's not just an one-time installment." In addition, the metrics and baselining standards provide the starting points and consistent measurement criteria that will allow cable to map network engineering and operations activities against the industry's Energy 2020 goals, he said. "While these standards collectively will contribute to reducing energy usage, what's equally important is their value within our Energy 2020 ecosystem," said Mark Dzuban, president and CEO of SCTE.  "These are among the first in a comprehensive set of standards that are designed to inform purchase decisions for new hardware to drive lower per unit energy costs and consumption," he said.