Q2 Video Trends: Carousel Content Lists, More Network Apps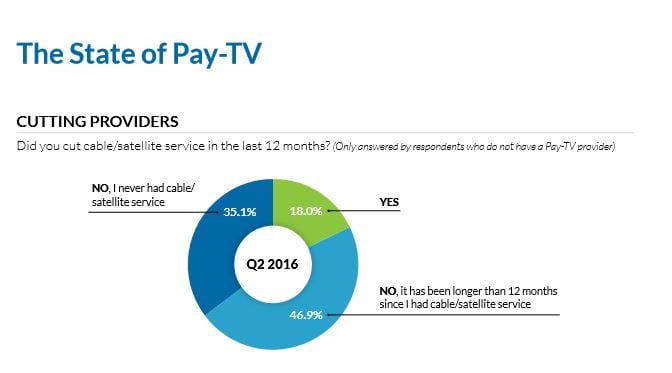 Digitalsmiths' Q2 2016 video trends report revealed trends in the pay TV industry including increased interest in carousel-like content lists, a rise in SVOD subscription sharing, a growing adoption of TV network apps and an increase in pay-TV providers' TVE offerings. The report, released August 30, covered key topics across pay-TV, VOD, PPV, OTT, TV Everywhere, connected devices and content discovery. TiVo-owned Digitalsmiths surveyed 3,114 respondents ages 18+ in the US and Canada for the 14th time, giving pay-TV providers a look at consumer behaviors and trends.
The report stated 77.2% of respondents are "satisfied" or "very satisfied" with their pay-TV service in Q2 2016, which has remained stable over the past two years. However, millennials will be more inclined to choose a pay-TV provider that offers a more personalized, user-friendly viewing experience. Analysis showed 67.7% of millennials are interested in using carousels, as compared with 56.1% of non-millennials. Services such as Netflix, Hulu and Amazon Prime are driving consumer desires to focus on content discovery and viewer personalization: 80.8% of those respondents who want carousels said they plan on switching to an online app or rental service. 65.0% of Netflix subscribers want carousels incorporated into their pay-TV service, as compared with 52.5% of those who do not subscribe to Netflix. These statistics demonstrate the importance of improved content discoverability.
With the rise of SVOD, TVOD and OTT services, cord-cheating—or using another's password to watch a service–increased 2.8% from Q1 2016, up to 57.2%. SVOD adoption has risen 29% over the past two years, with 63.9% of respondents using an SVOD service on a monthly basis this quarter. As the number of respondents using an SVOD service has risen, so has the act of sharing services: 10.4% of respondents share access with a paying subscriber for an SVOD service. Convenience, lack of commercials, cost, ability to watch certain shows/entire seasons and better selection are the top five reasons respondents watch SVOD content. The rising costs of SVOD services parallel the rising number of respondents dodging payments.
As the number of WiFi-enabled devices grows (up 3.1% from last year), so does the number of TV network apps offerings for cable-cutter subscribers. The number of TV network apps downloaded on consumers' iPad, tablet and/or smartphones has increased 2.4% from last year, up to 30.2% this quarter. The top five TV network apps are CNN, ABC, HBOGo, CBS and WatchESPN. Of those respondents who have a TV network app downloaded, 65.1% use the app on a weekly basis—a 12.6% rise in two years. It comes as no surprise that as TV network apps adoption has surged, so has the number of pay-TV providers' TVE offerings. Digitalsmiths reports the state of TVE awareness, adoption and viewing/engagement has experienced significant growth over the past few years, with 48.2% awareness (up 16.1% over three years), 26.2% adoption (up 4.5% over two years) and 57.6% engagement (up 15.2% over two years).
Conducted every quarter since 2012, Digitalsmiths provides key trends on consumer behavior in the pay-TV industry via statistical breakdowns and analytical recommendations. For the entire 2016 Q2 report, follow the link here.