NCTA Rolls Out COVID-19 PSA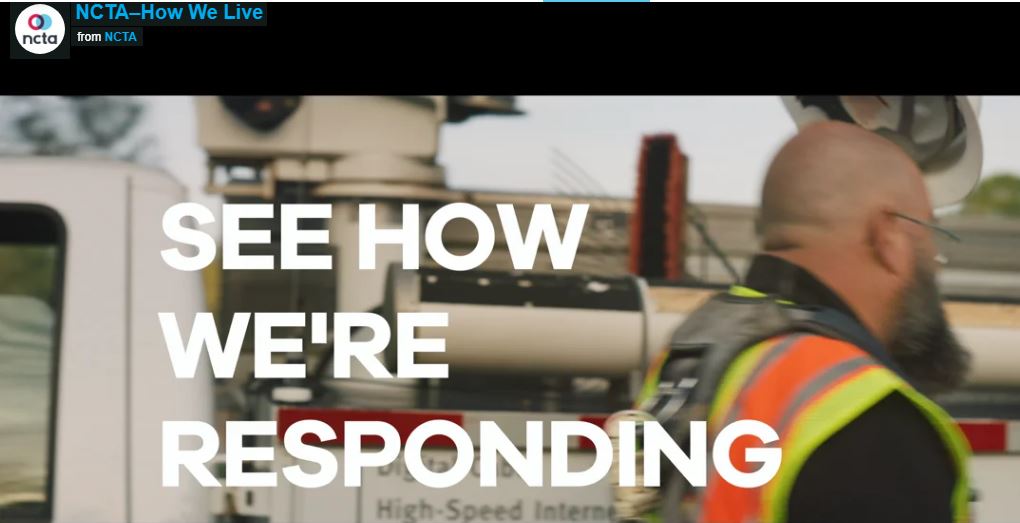 Get ready to see a TV spot highlighting the cable industry's response to the COVID-19 pandemic. The 30-second ad from NCTA is being provided to the association's member companies to air on cross channel and available ad inventory. NCTA is also doing a minor paid media buy on connected TV services, including Hulu, Roku and Philo. TV is a bit of a departure, as in recent years most of NCTA's paid media efforts have relied on digital media placements.
During this time of social distancing, it's kind of amazing to see that the ad features footage filmed last month of employees from Mediacom in Gulf Breeze, FL, and Cox in Las Vegas. "At the beginning of 2020, we began scheduling video shoots and fortunately were able to get to Las Vegas and Florida to capture crews working on broadband projects, essentially right before all travel and the country started shutting down. NCTA in fact had halted all non-essential travel around this same time but we deemed these projects as essential," said Brian Dietz, NCTA's svp, strategic communications.
With the presidential election looming, NCTA had already planned to create some digital and video content for 2020 about the work cable ISPs are doing to build out the digital infrastructure. But once it was clear that the country would be forced to stay home and rely on broadband like never before, NCTA pivoted to a spot showcasing the industry's commitment to keeping consumers connected. "Along with our other COVID response efforts, including the internet dashboard, we are both informing the public about what we are doing to keep people connected plus reassuring them that this is our top priority," Dietz said.
DMI is the creative agency behind the spot (NCTA has used the firm for years) and Baltimore-based Mozell Films is the video production company that managed the field shooting, production, etc. The spot shows people connecting through technology, with a voice declaring, "It's how you get to work. It's how you get to school. It's how you stay fit, how you stay informed. It's how you say I love you." The ad is part of NCTA's continued efforts to show what the industry has done to build a national infrastructure—and to fight back against calls for utility style regulation. The cable association launched a digital story and three videos in 2018-19 that featured Eagle Communications broadband construction project in St. Francis, KS. NCTA has had topical campaigns focusing on the digital TV transition, net neutrality and parental controls among other issues. In 2006, NCTA worked with political consultant Fred Davis for a multi-media campaign called "Cable: A Great American Success" story that included TV spots.
As for the industry's broadband networks, companies continue to report that they are holding up well. Comcast released updated stats this week showing that the initial rapid rise in network use has plateaued in most markets. On Xfinity Mobile devices, WiFi use is up 49% and dependence on LTE data has declined 19% since March 1. Comcast previously reported a 24% increase in WiFi and 10% decline in LTE on March 30. NCTA's most recent weekly dashboard shows that downstream peak growth was flat for the second week, up 0.65% for the week of April 4, while upstream peak growth decelerated for the second consecutive week (up 0.71% for the week of April 4, compared to increases of 7% and 4% the previous two weeks).