Low-Cost Broadband—Ideas from Boost Mobile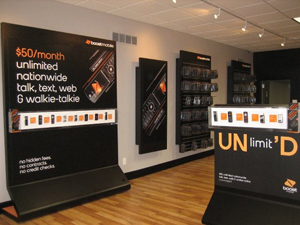 Pre-paid unit Boost Mobile serves the cash-stretched market
Low-cost broadband, potentially a huge market for cable ISPs, is still an underserved market that many providers don't fully understand. Comcast, Cox and other cable ops are offering programs that target low-income families with school-age children, offering a combo of discounted broadband service, low-cost computers and free training programs. Others, including AT&T, are partnering with nonprofits to provide affordable options. But are other opportunities being ignored?
CableFAX chatted with Boost Mobile vp Andre Smith at CTAM Summit last month to get some ideas on how to serve the cash-stretched market. He was on a panel at the conference focusing on low-income households. Boost is Sprint Nextel's prepaid unit and offers low-cost wireless and mobile broadband services.
The reality is customers in the low-cost broadband market don't have a lot of money, Smith said. For example, they see a credit check and they might run away. That means providers need to have a simple and easy sign-up process at stores. "You've got to realize it's cash-based customers" and many of them think about near-term finances.
One strategy to drive loyalty is to reward customers every time they pay their bills on time, Smith said. Boost Mobile has a "Shrinking Payments" mechanism: for every 6 on-time payments, Boost will lower the monthly payment by $5. Payments don't have to be consecutive so if customers miss a payment they don't have to start over. The on-time payments made to the account will still be credited towards the next savings milestone.
Smith mentioned during the panel discussion that local retailers, which process the initial sale and monthly replenishments, are hugely important to Boost Mobile. Specifically, he told us the monthly replenishment piece is probably something cable companies can leverage if cable becomes more plug-and-play. Having an easy-to-use, un-subsidized product plays an important role in creating customer "stickiness." "You want some skin in the game."