Jackie Joyner-Kersee on Closing the Digital Divide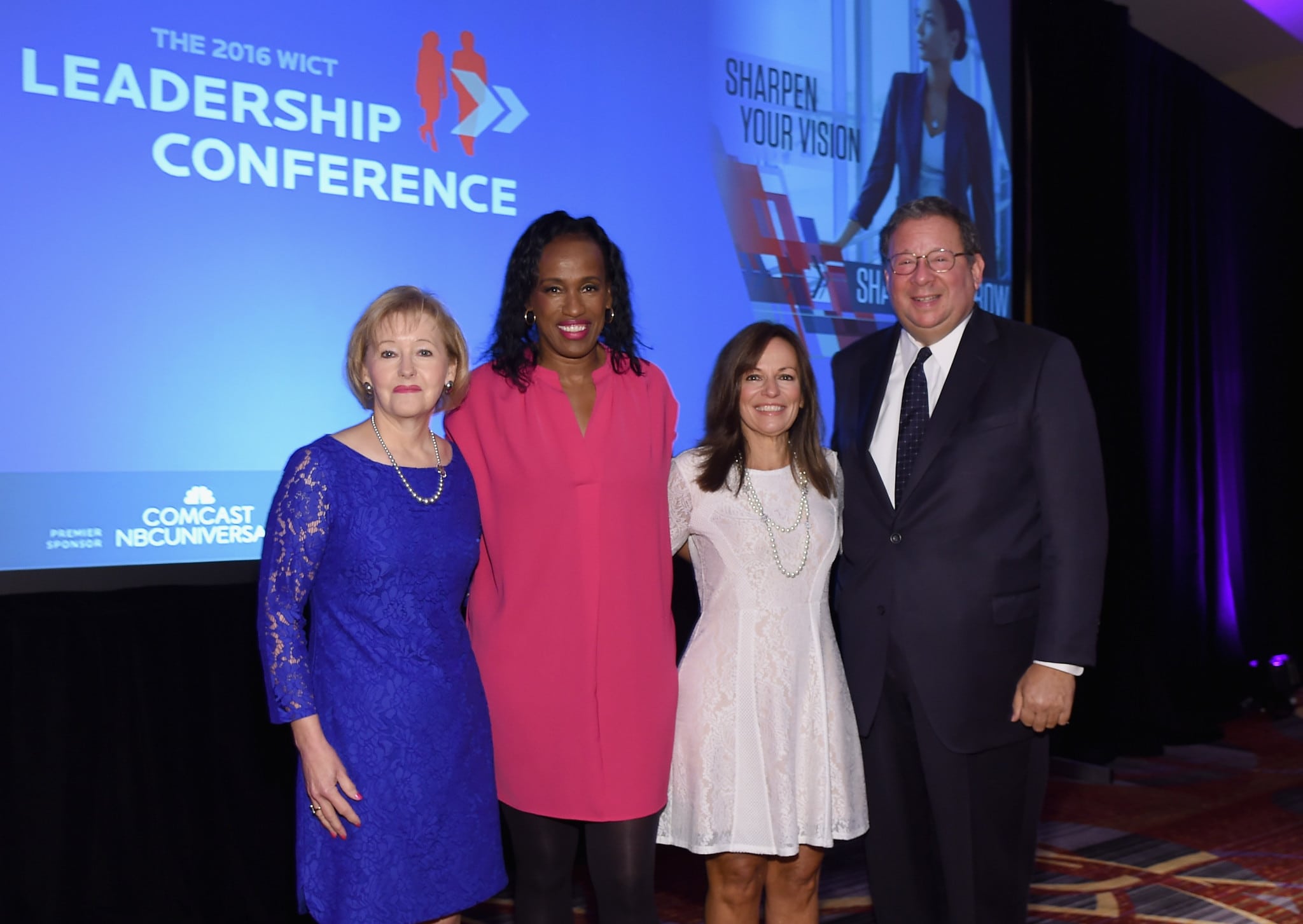 Comcast's David Cohen presented Internet Essentials national spokeswoman Jackie Joyner-Kersee with a generous gift for the Olympian's community center in her hometown of East St. Louis, IL, during the WICT Leadership Conference this week. The donation, consisting of 20 new computers, 2 additional printers, a 3D printer, a promethean board, big screen TVs and free WiFi service, was a complete surprise to Joyner-Kersee, who has been touring the country with Cohen to promote Comcast's low-cost broadband service program. We caught up with her after the session to chat about the gift and what it means to her.
How do you feel about the gift from Comcast you received on stage? There were a lot of tears.
You know the gift from Comcast was a surprise. It was overwhelming for me as I'm standing on the stage thinking, What is David about to do?! We've been traveling for Internet Essentials and talking about the digital divide. And for them to have done this behind my back to connect with my people, it's just a blessing—to really help our kids to compete in the 21st century. And Comcast is providing that. I mean, he just went on and on! I am just so grateful and so blessed. I just love what I do, and try to inspire others to be the best they can be. I was talking to my facilities and operational guy about three weeks ago. We were saying, it would be good if we could do some stuff like this and that… but I was just trying to figure out how fast our broadband is! I had no idea they were going to do this and it's just great on many levels. Because what they're able to do is empower young people and families to compete and have access. And having it at the center will allow them to have access to continue to become the great leaders that I hope they become.
On stage you described how you yourself grew up with a community center in your hometown of East St. Louis, and that that center was instrumental to your growth. Has it come full circle now?
Growing up with the community center, I didn't realize the impact that it was going to have on my life. But it made such a strong difference in my life, by setting a foundation. And when that center closed, I knew how valuable it was to me. Throughout my life work it was always [saying], can I reopen that one? But that wasn't meant to be. Building ours [The Jackie Joyner-Kersee Center] from the ground up with the support of so many different people, to me, I think people will use this as a beacon of hope in the community—but it is, it is the pride and joy of the community. Because most people, when they think of East St. Louis, they can't imagine the structure and the architecture of it, and that it is a sign of excellence. People in our community see that 'good can be here.' And that's difference that I hope we continue to make, from the standpoint of the inside—I'm talking about the staff and the people that are working there who are going to instill greatness into our young people and families.
So it's presence, just being there, is powerful—and raises expectations.
Right, you raise your expectation. It's like when you go into a clean house, you want a clean house. We partner with Head Start. We have a Head Start wing… where we're able to impact because we work together. I go in and do physical stuff with the kids. They all want to race, but they don't want to stop. There's a start and a stop! (laughs) To have state of the art stuff is unbelievable.
Can you talk about your Internet Essentials tour? Any observations about the communities you've visited?
You know sometimes we take for granted that we have Internet. And there's a whole group of people who don't even have access to it. I'm hearing the stories… One family out of Florida was talking about how the son was getting letters from college coaches recruiting, and the mom wasn't really sure—but now they're able to fill out those applications and get information back. And when we were in Oakland and dealing with seniors—how great this is for them to stay connected to their grandkids and their families to see what they're doing. They used to do that by writing a note. But now they can do FaceTime, they can do a lot of stuff. So for me, the access and also the Internet Essentials package—it's affordable and people are buying into it and they're seeing where it's making a difference. So you're leveling that playing field, but you're also bridging that digital divide. And then you find that a young person goes home and convinces mom, dad, grandma—whoever their caretakers are in their family—and teaches them, because sometimes older generations are intimidated by that stuff. I'm just hearing about the difference, and how grateful people are to Comcast.