Getting Interactive With Addressable at DirecTV's Inaugural Upfront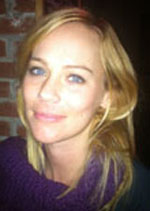 Community Ed Kaylee Hultgren
As I approached Manhattan's Center 548 for DirecTV's first ever upfront last night, I was unsure what to expect. I knew that the satcaster would be touting addressable advertising—but that's about it.
Right off the bat, attendees were shuffled through an extremely lengthy check-in process (which I tweeted about, naturally). The event was already communicating "unsatisfactory," and we hadn't even walked through the doors. There were a few nice touches while we waited, though: model-like event staffers passed around glasses of champagne for those of us bored to pieces in the A-H last names line. And a magician-for-hire meandered the queue with card tricks, disappearing coins and some truly baffling maneuvers with guests' watches. I still have no idea how he did that!
When I neared the front of the line it became clear (well, sort of) why it was taking so long. Each guest had to answer a series of questions in order to receive a truly personalized experience. When you watch a movie, do you prefer Snow Caps or Twizzlers? Vodka, beer or whiskey: What's your fancy? Are you single or married? Some attendees had already answered these questions, which had been emailed to guests with the original invite (ehem, still awaiting the official invitation, DirecTV). But I imagine many such as myself had to take the quiz on the spot. Then we were outfitted with square-shaped DirecTV bracelets which, we learned later, were programmed to our specific tastes. An interactive, addressable advertising demo. Not bad for an inaugural upfront.
Once inside, it was a bit of upfront business as usual. The obligatory PowerPoint presentation was painted with familiar brushstrokes: We have the affluent audience; we have the scale. DirecTV, of course, has an engaged sports audience, which execs did not fail to mention. They watch 35% more sports than the average viewer, according to Keith Kazerman, svp, ad sales.
Kazerman said that its new addressable product provides "second-by-second" data. And he stressed that the company practices what it preaches. "We have legitimate clients that are using [addressable]," he said, including 4 out of its top 5 US advertisers. The total client count is in the dozens. The platform is available nationally on 46 networks in more than 11 million households and consists of targeted ads downloaded to a consumer's DVR for live and playback viewing. Also, by 4th quarter the satcaster will have dynamic ad insertion and TV Everywhere capabilities.
But on to the demo: At each bar there was a spot on which to place your hand, which triggered a personalized greeting displayed on the screen behind your bartender. "Good evening, Kaylee! Will you be having the usual—Vodka?" It was an episode of Star Trek Next Generation—minus the soothing voice. Later, a gazelle-like staff member hawking movie candy handed me Twizzlers when she approached. It's like she knew me!
Perhaps to solidify the company's commitment to sports, it brought NFL all stars Eli Manning, Hakeem Nicks and Nick Mangold to the stage. And to keep the party going for a good while it produced all star DJ Calvin Harris for a lengthy set. But the real treat was the personalization part. If DirecTV has its way, companies will anticipate consumers' needs before they themselves even think of them. And advertisers will be thrilled.