FreeWheel: Digital Ad Views Increased 28% YOY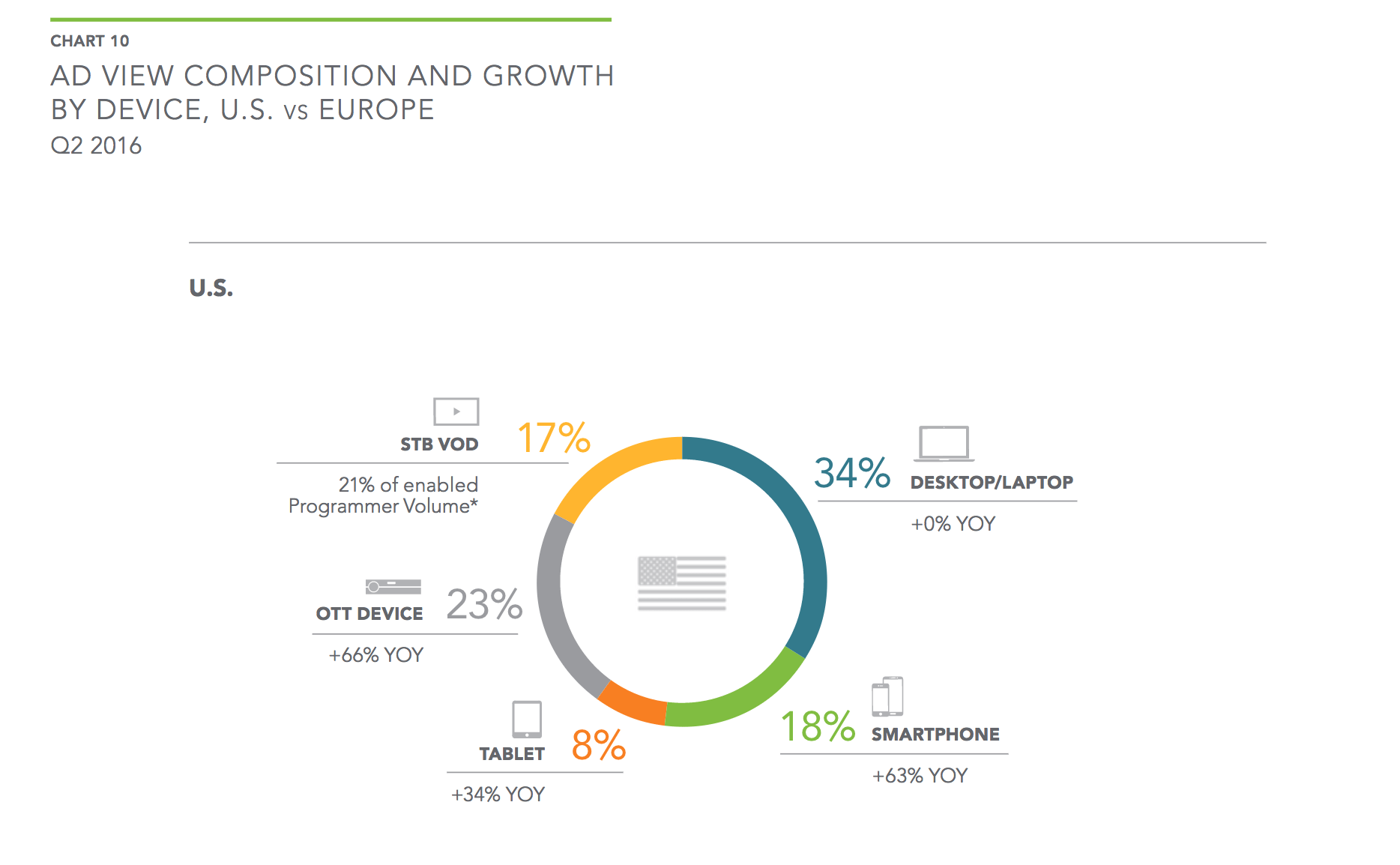 Premium video views grew 24% year-over-year, with ad views increasing by 28%, according to the 2Q 2016 FreeWheel Video Monetization Report. One of the key growth drivers of monetization of premium video in non-linear environments was long-form (20+ minutes) on demand content: long-form ad views grew 37% compared to the year prior, which means that it's eclipsed the growth of ad views in live content (23% growth) for the first time since the report looked at data from live streams. Ad views for short-form on demand content increased 25%, the report found.
Still, though live ad views had softer growth, they still account for 19% of ad views for U.S. programmers. Clippable short-form content contributed 27% of ad views, and 50% was from long-form content. When looking only at digital pure-plays, monetization has largely come from short-form content (79%). Not surprisingly, just 1% was from live, and 11% from long-form.
Taking into account devices on which monetization occurs, the desktop is losing market share. In Q2 2015, it had 62% of ad views in the U.S. One year later, that's down to 34%. The mix is now far more diversified. Approximately 23% of monetization came from an OTT device (a 66% increase from last year), 18% came from a smartphone and 17% came from set-top-box VOD. FreeWheel expects that STB number to grow even further as MVPDs increase their use of dynamic ad insertion on the platform.
Looking at types of content, entertainment content continues to drive monetization in the U.S. market, and it's showing strong growth as well: an increase of 26% YOY. Sports was even stronger: it saw a 44% increase in ad views compared to last year. Within that category, short-form clips accounted for 24% of ad views—13% on-demand, and 11% live. Entertainment, meanwhile, accounted for 53% of ad views.
The monetization report also looked at ad breaks and ad load for on-demand content versus live. Live streams serve an average of 26% more ads per break, as live streams continue to mirror linear ad breaks. On demand content sees 3.8 ads per mid-roll break, while live content sees 4.8 ads.
Lastly, the report concluded that 85% of all TV-style viewing occurred after authentication with MVPD credentials. The rates have been at 60% or higher since Q2 2015, but FreeWheel expects an uptick in Q3 due to the Olympics.