Facebook's Jacobson on Hollywood vs Silicon Valley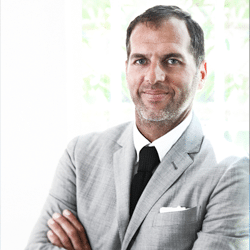 Facebook head of market development Matt Jacobson joined the social media company 12 years ago as employee number eight. Having spent years at Fox on the syndication sales side, he's familiar with both Hollywood and Silicon Valley and at NATPE Tuesday, he outlined some of the differences between both. "The one thing about working in tech is that things happen fast. Change happens very fast," he said.
Compare that to "American Lion," an upcoming miniseries on HBO about president Andrew Jackson that is from Jacobson, Lionsgate and "Narcos" co-creators  Doug Miro and Carlo Bernard. "We've been at this for five years now on Jackson, which is considered fast in HBO vernacular," the Facebook exec said. "It's happening and it's great. But it's slow."
Another difference between the two worlds can be seen in meetings. If you have a meeting with Facebook, it's going to happen, Jacobson said. "We're literally on an island. There aren't the Johnny Appleseeds of agents that come around," he said, complaining that a recent meeting with a studio took six months to schedule. "We also are disciplined about how we run meetings," he said, describing how conference room space is for set times and there is someone waiting to use it when you're done. Meetings are entered with a desired outcome, someone owning the agenda and end pretty quickly at Facebook, he said.
Lionsgate TV group chairman Kevin Beggs, who interviewed Jacobson on stage, acknowledged there are problems with the meetings in Hollywood. "Meetings in the creative community are kind of placeholders for a meeting that might happen," he said, describing how back-up lunches are set up for meetings that may not happen.
Long-time media exec Jacobson identified one change that seems to be consistent across both Hollywood and Silicon Valley. "The era of bullies and assholes is kind of over in business," he said. "There was some real value in being [mean] at studios in the early days… It's not OK anymore."