Curtain Lifted: Many are Holding Applause on AT&T's DirecTV Now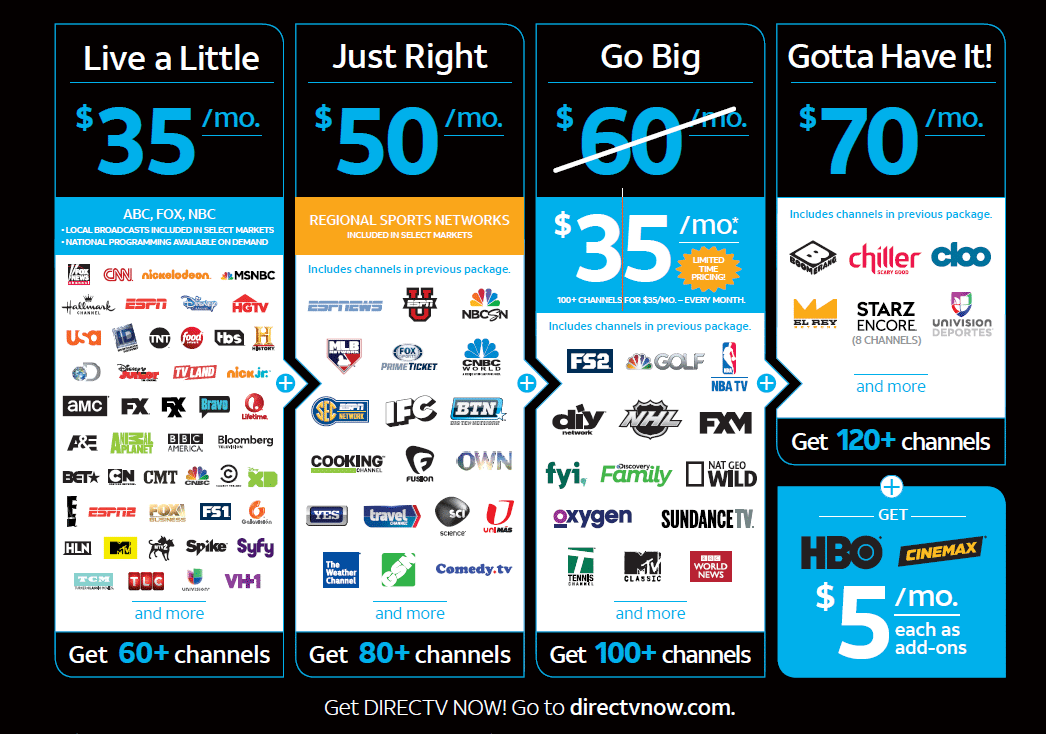 The reviews are in a day before DirecTV Now launches, and no one's socks appear to be blown off at this point. "We see no real threat in DirecTV Now" is the headline of a Wells Fargo Securities research note. "DirecTV Now: Not Ready for Prime Time," proclaims a Fox Business review, which points to the lack of CBS, NFL football and DVR functionality. Reviewer Steve Tobak's bottom line is that it looks to be a pretty good service, but will be better later. "Probably much later," he writes. Telsey Advisory Group's Tom Eagansuggested the launch could potentially have a greater impact on DISH's Sling TV. "We do believe its price and features will create a more competitive OTT market for other services such as: Sling TV and the soon-to-be-announced Google Unplugged and live Hulu offerings," Eagan wrote. Similarly, Wells Fargo sees it as competition for the Slings and Sony Playstation Vues of the world.
Not everyone is dismissing the new OTT service. In a Moffett Nathanson note, the analysts criticized the market's oversimplification of the service as a "cable killer' before it launched, which then morphed into "AT&T blinked" after Mon evening's reveal that $35 for 100 channels is a limited time offer that will jump to $60. "We can't help feeling that the market's sigh of relief may be premature," said the blog post. "No, we don't expect DirecTV Now to be such a runaway hit that it wrecks the market as we know it. But it would be a mistake to dismiss it as a non-event at its new pricing. It is still dangerous… both to the ecosystem and, most of all, to AT&T itself." The problem, the analysts wrote, is that the basic $35/month, 60 channel package appears to have just about everything, from ESPN, to the general entertainment nets, to the 3 main news nets, to Disney, Nick, Nick Jr and Cartoon. "By stacking their base package with all the best networks—likely a requirement for getting the programming contracts at all—they still have the same problem that was highlighted initially. Put simply, they aren't going to make any money," Moffett Nathanson's analysts said. Telsey's Eagan suggested the service would likely be profitable after promo pricing with the 80+ channel package going for $50, though he notes it's unclear with that $35/month 100-channel promotional pricing will expire. In the meantime, it's given everyone something to ponder and plenty of notes for Hulu and Google as they gear up to present their own OTT offerings. We should get a full rundown of how various MVPD CEOs see DirecTV Now during next week's UBS investor conference.