Comcast's Xfinity On Campus Lands at More Schools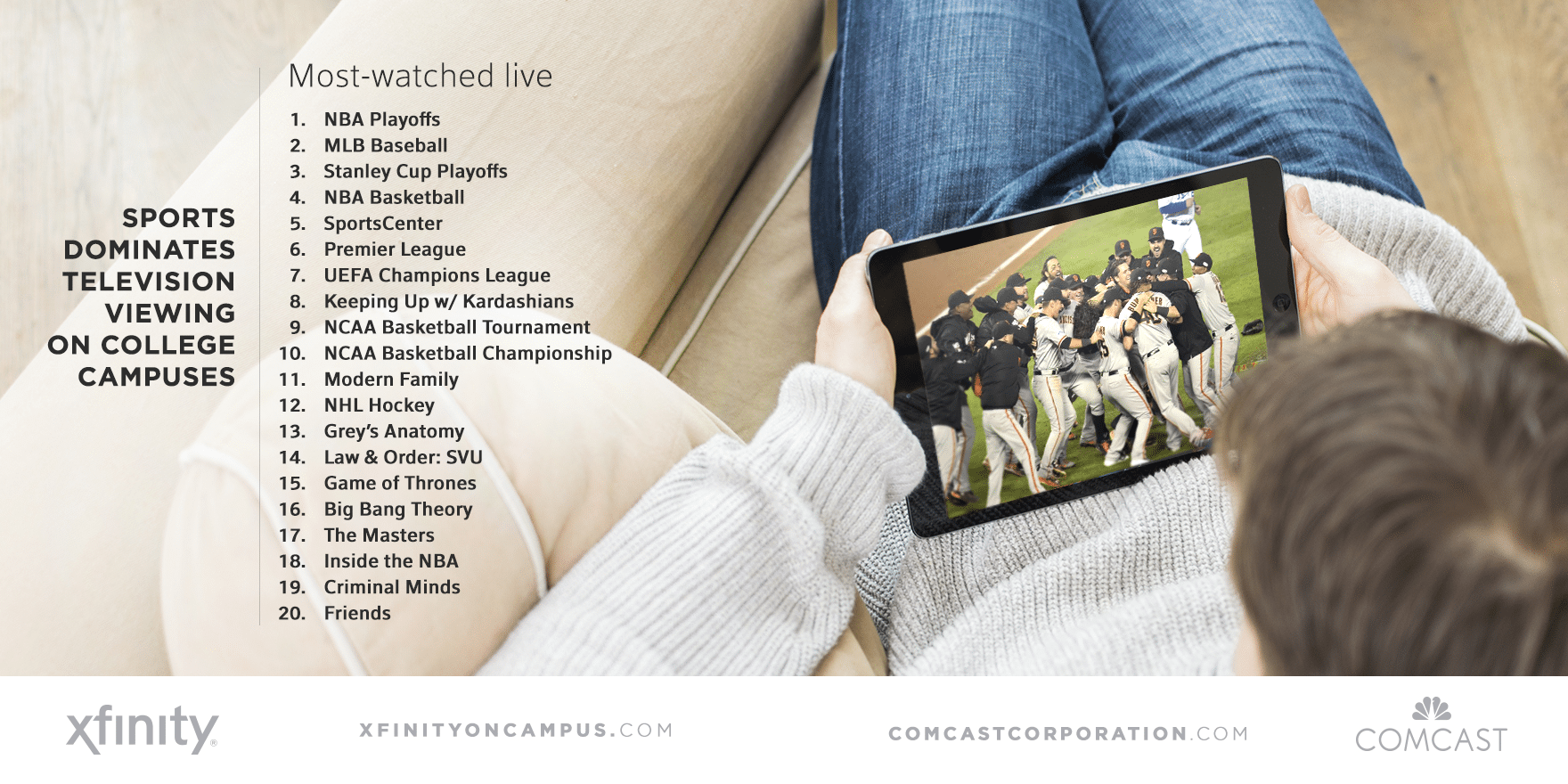 With a new school year upon us, Comcast is growing its Xfinity on Campus service from 7 schools last fall to 27 today. The service lets students watch live TV across screens and was the basis for Comcast's recently launched streaming video service Stream. On Campus offers a window into millennials viewing habits.
"Those audiences still watch a lot of TV, but they just grew up in an on demand world, where they want the movies and shows they love to be available 24/7 on whatever screen they happen to be looking at," Comcast Cable consumer services evp Marcien Jenckes said.
Some millennial stats from On Campus: Internet video services are valued more highly that cable and satellite subscriptions, with 72% citing Internet video as one of the most valuable services. 58% said the same about HDTV. More than 70% of millennials stream movies on a monthly basis. Broadcast networks as well as ESPN, NBC Sports, TNT, TBS, ABC Family and Comedy Central have proved popular with students. Laptops are being primarily used for viewing.
"The interesting thing is that if you give students live content, they'll watch it," said Comcast Cable video services exec dir Jeremy Andreoli. Students watch live programming almost twice as much as VOD content (62% vs 38%). Of the top 20 shows that Comcast tracks, sports makes up more than half and accounts for 78% of total viewing. "There's a misnomer that students aren't watching live TV and that's not the case."
New this year, On Campus viewers will use the Xfinity TV app, giving them cloud DVR and the ability to download content to view without an Internet connection. Last year, On Campus had its own dedicated app, but the Xfinity TV app offers more features.
With Xfinity On Campus, universities pay for a bulk offering of channels and make it available to all students. However, students can add on premium services (a sports package, Showtime, etc) and pay for those on their own. Jenckes estimated that north of 15% of students across the schools signed up for some ancillary service last academic year. "We're curious to see how that will play out this year with a greater number of schools and being more established on some campuses," he said.
While there don't seem to be any immediate plans to make On Campus available through devices such as Roku or Chromecast, it does have hybrid deals with schools that allows students to connect TVs to traditional set-tops. Comcast isn't the only college players. "Middle service providers" such as Philo have launched over the years when cable didn't keep up with students' changing viewing behaviors, Jenckes said. "If we're doing our job the way we should be doing our job and meeting our customers' needs, there isn't necessarily a need for that middle service," he said. "I like those services. I think they feel a need. But hopefully in our case, we're doing a good enough job that they may no longer be necessary to augment our offering."
Schools with Xfinity On Campus include Benedictine College, Carnegie Mellon, Dartmouth, University of Delaware, Morehouse College and Yale.