Brand-Building With NASCAR: Arris Seeks Greater Exposure of its Retail Product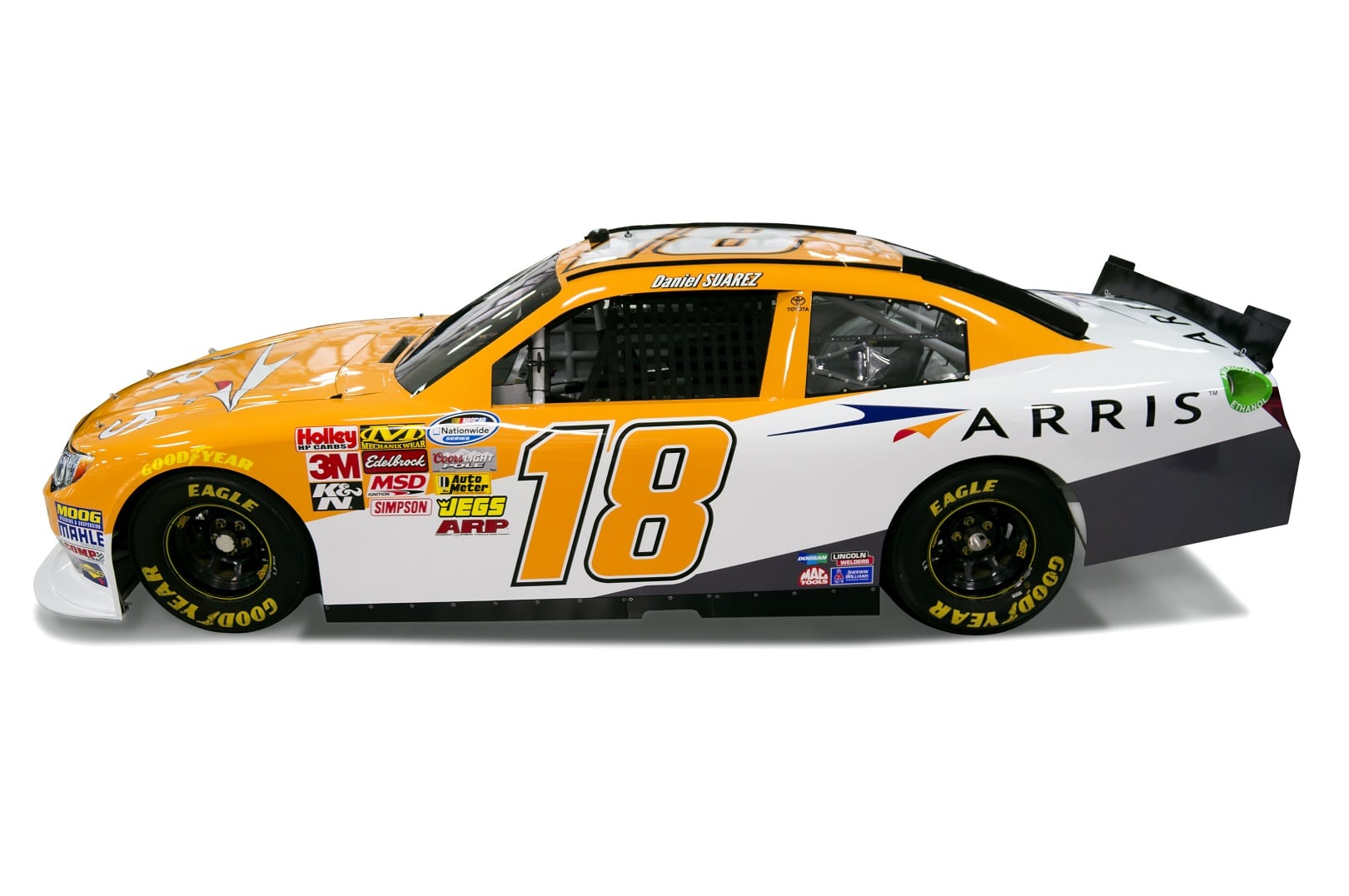 This week Comcast announced a 10-year title sponsorship with the NASCAR Nationwide series. And other distributors, including Time Warner Cable and Charter, have sponsored cars and drivers in the past.
But it's not just cable operators getting into the business.
Last month, Arris announced that it will sponsor drivers Carl Edwards and Daniel Suarez of Joe Gibbs Racing (JGR) in 2015, who will compete in the NASCAR Sprint Cup Series and NASCAR Nationwide Series, respectively. Arris will also support a diversity initiative launched by JGR and Escuderia TELMEX, both significant global customers of the tech vendor, which will develop Mexican and Latin American drivers in the NASCAR Toyota Series in Mexico and other JGR racing series.
"It's not that unique for a cable company to be involved in NASCAR. It's just very unique for a technology vendor to be involved in it," said Ron Coppock, Arris President of Worldwide Sales. "That shows that we are willing to take a risk, think outside the box and establish a brand."
Indeed, brand building was a key business driver behind the partnership. Arris's acquisition of the Motorola Home group a little over a year ago pushed the company beyond the operator space and into the retail market—an area Arris never played in before. "The Motorola brand is one of the top 10 brands in the world, and of course we're no longer Motorola. That particular brand goes away after a certain amount of time," Coppock said. Currently its products are co-branded, but Arris is contractually obligated to do away with that in time. "We have to quickly establish Arris from a retail standpoint," he said.
The problem is that despite it being a multibillion dollar company, it doesn't have a whole lot of brand recognition. "We have grown the company 3X over the last 5 or 6 years," Coppock said. "And we're a large factor in our industry. But no one knows us." He considers the partnership with NASCAR a "coming out party" of sorts, which, with the help NASCAR's extremely loyal clientele and fan base, he hopes will make the company more of a household name. The sponsorship is just one element of Arris's marketing and co-branding campaign, a spokesperson said. In the coming weeks, it will launch a new consumer website and co-branded packaging, all to highlight Arris's retail modem product.
It's also security for an uncertain future. "We're in a changing video environment, and we really don't know what's going to happen long-term, in terms of over-the-top video, what operators may do in respect to next generation video devices," Coppock said. "Some of that might go the retail route—I can envision that happening… The fact of the matter is we need to be proactive in plowing the ground out there and establishing Arris as a player."
NASCAR fans may be the ones to do it. They're all about the driver and the team, and the company's collateral tends to play very well, Coppock said. Since the announcement, praise from fans has been pouring in, from pics taken with Arris modems customers discovered in their homes, to simple thanks for sponsoring their favorite driver.