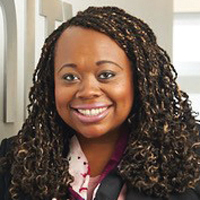 It's been a tale of two titles for Murphy, who spent much of the past year launching Comcast Business products before transitioning to leading the Keystone Region's sales & marketing team. Her team became one of the most successful regions for Comcast Business' SmartOffice video monitoring, WiFi Pro analytics system and VoiceEdge cloud-based phone system. Her new role is something like matchmaking, pairing those products with just the right sales channel. When she has the opportunity to engage in diversity programs, she personally loves executive shadowing. "I think programs like these help us avoid methods of choosing individuals who look like us or share a similar background or upbringing," Murphy says.
How can diversity be better incorporated into the recruiting process?
As a company, we have made a commitment to increasing diversity at all levels of our workforce, with measurable targets to get us there. In order for us to reach our aspirational target of 50% women and 33% people of color, we have become more deliberate in the talent attraction and recruiting process. We are also focused on diversifying our recruiting pool through partnerships like the one we have with the National Black MBA Assn., giving us immediate access to diverse talent from a variety of industries.
Can you share a successful diversity program at your company or one you've observed at another company or organization?
I personally love executive shadowing or bootcamps for high potential mid-career professionals. I like these types of programs for two particular reasons: (1) it sends a clear message to the employees that we are serious about career advancement and (2) it gives executives exposure to the hidden gems in their organization and requires executives to be active participants in that employee's advancement. I think programs like these helps us avoid methods of choosing individuals who look like us or share a similar background or upbringing.
What questions is the industry not yet asking in its efforts to be more diverse and inclusive that it should be?
I think the industry needs to start asking: What are we doing to address the barriers that exist for women of color? It appears that women of color and men of color are advancing into the c-suite at very different rates and what can or what should we be doing about it? How do we make the cable industry's field operations more appealing to younger workers? What does the industry need to do in order to more fully gain and/or embrace the exponential business benefits of diversity and inclusion?