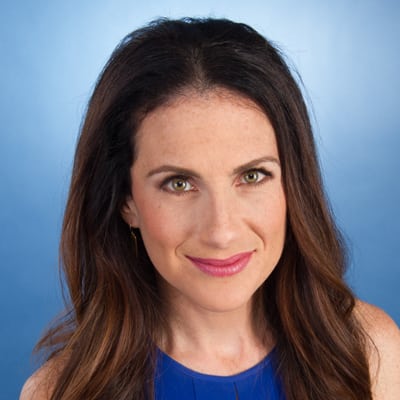 Zimmett has been instrumental in developing immersive weather segments by turning data into tangible information through multi-reality technology and creative storytelling. This June, she managed a team that aired an Immersive Mixed Reality technology that created a hyper-realistic tornado headed directly for The Weather Channel HQ in Atlanta. "The continued cord-cutting of linear TV is redirecting content more and more to other distribution platforms," Zimmett says.
What are your thoughts on the industry's current response to the #MeToo movement, and its treatment of men who have been accused of sexual harassing and/or assaulting women and men? Are there other steps you feel should be taken?
It is critical that the #MeToo movement addresses not only the physical abuses of power in the workplace, but also the emotional and psychological ones perpetrated against women. It is admirable and important that so many media companies are taking very serious steps to punish individual assaults against women in the workplace. But it will be a much longer process—likely one that will last a generation or more—to eradicate the inherent prejudices against women that seem to be ingrained in so many corporate cultures.
Do you see any potential backlash to the #MToo/Time's Up movements?
There is always a risk that our national attention span gets diverted to the newest social movement and loses all the momentum that has been created by brave men and women over the last year. It would be an injustice to stop pushing on the status quo and allow corporate cultures to languish in old, bad habits.
What's a recent example of a step forward for women in the media industry?
Moving more women into leadership roles in the media industry is key. A recent example is the Weinstein company putting Lauren Zalaznick at the helm as an adviser of their overhaul. That appointment exhibits a level of willingness to change the culture of a corporation.
Who is an inspirational woman you admire, and why?
Amy Rosenfeld, senior coordinating producer at ESPN, is a woman who inspires me. Not only has she risen to the top of a field that is dominated by men, but she is viewed by her peers as the kind of leader you not only want in the foxhole, but you also want to take out to dinner. To be able to walk that line between wartime and peacetime general—and be well-regarded by peers, executives, and your staff—seems to be rare in the highest levels of media, for women or men.
What's been the most dramatic change in your sector of the business today vs. three years ago?
The continued cord-cutting of linear TV is redirecting content more and more to other distribution platforms. The exciting aspect of this is the ability to reach new audiences; however, it also forces networks to be more creative in budget allocations because you may have to spread one platform's budget across others.
If there were a reality show based on your office, what would it be called?
"Real Meteorologists of Atlanta"