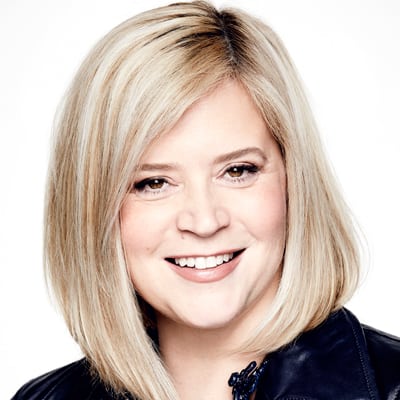 Mangham is the brains behind Pop Now, Pop TV's app that debuted last July, bringing the network TV Everywhere capabilities. It also offers free promotional content and is off to a strong start. Currently, Mangham's working on brand-defining campaigns for shows including "Schitt's Creek" and the upcoming "Florida Girls." The Harry Potter fan cites J.K. Rowling as a woman she admires. Noting Rowling went from being a single mother on welfare to one of the wealthiest women in the world, Mangham says the author inspires her to "get to my son's flag football game and still rock it at the office."
What are your thoughts on the industry's current response to the Me Too movement, and its treatment of men who have been accused of sexual harassing and/or assaulting women and men? Are there other steps you feel should be taken?
This is such an amazing time… and a difficult one. The Me Too movement is so far overdue and such a healthy step forward for women in all industries. And I, like many women, have my own Me Too stories from years past. I fully support the women coming forward with their experiences of assault and harassment. There is a sea of change happening and this is the moment that will shift the course of everything we do. I've also got stories of strong, smart and talented men who served as great mentors and friends throughout my career. I would be lying though if I didn't admit that I struggle with the rush to judgment and this new sense of "guilty before proven innocent." I do feel that there should be steps in place. What those steps are, I'm not sure, as we need to be careful not to take steps backward, but forward, in empowering women to continue to speak up and out.
Who is an inspirational woman you admire, and why?
I really admire and respect J.K. Rowling and her story. If a single mom living on welfare can work hard enough and smart enough to become one of the wealthiest women in the world… well, then I can figure out how to get to my son's flag football game and still rock it at the office. Oh, and I happen to love Harry Potter. Shh, don't tell.
If there were a reality show based on your office, what would it be called?
"Playa Vista, 90094"