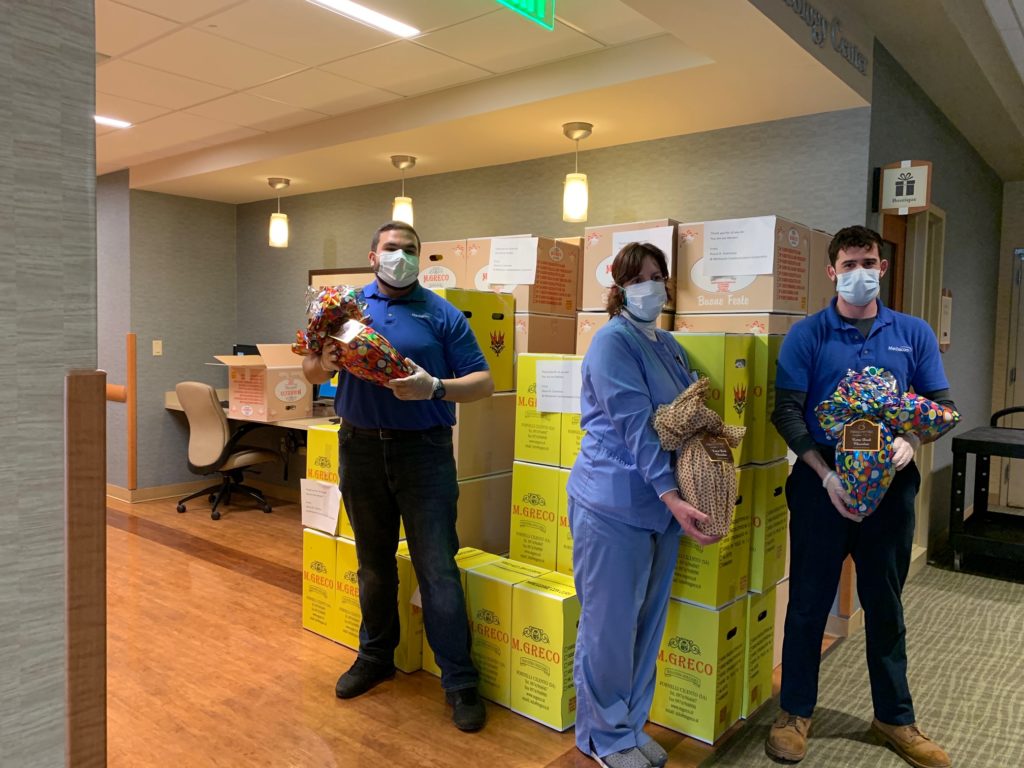 From the FCC's Keeping Americans Connected pledge to completely transformed work policies, cable companies rapidly responded to the COVID-19 pandemic. Mediacom has gone above and beyond in its reaction to the deadly disease, taking enormous steps to protect and help both employees and customers.
With the company's headquarters in New York, top brass had an inkling early on that COVID-19 would be severe and quickly moved to take action. "This area was another semi-epicenter, people were testing positive, the hospitals were overwhelmed," says Italia Commisso Weinand, EVP, programming and human resources. "We were pretty much ready. We shut down New York, and we bought ourselves some time because Midwest and Florida and Georgia were not being affected as quickly. We were able to establish policy."
The company rapidly shifted its call centers to remote work, securing 1,100 laptops for call center employees. "Our biggest call centers are in Des Moines and Florida, but we do have call centers in Arizona, Minnesota, every one of our regions have a call center to support local operations," says Tapan Dandnaik, SVP, customer service and financial operations. "We wanted to get those people transitioned to working from home as soon as possible, knowing that this thing was really fast-coming and hotspots were really climbing."
When testing became widely available in Georgia, Weinand encouraged employees to get checked out. All 367 employees in the state were tested for coronavirus, with the results lining up with the fact many people are asymptomatic. "I'll never forget, I'm in my kitchen watching television, and I'm watching my computer and getting the results back, and the CDC announces that 35% of folks that are testing positive didn't know they had it. I looked at my numbers, and they matched the CDC numbers.," she says. "That in itself should be really scary to people, especially young people. Most of them were under 45."
Mediacom not only avoided layoffs, but also was able to hire new employees virtually. The company repurposed and retrained its front counter employees after stores closed, and has waived copays for all telehealth appointments for employees.
Though the FCC pledge expired June 30, Mediacom is keeping those initiatives in place throughout the end of August. It raised its Connect2Compete service speeds from 10Mpbs to 25Mbps and made it free for the first 60 days. It also paused monthly data allowances, and beginning with the September billing cycle through the end of the year, it will provide 100 gigs of additional data to any customer that exceeds their monthly allowance for free.
Mediacom shifted installs to self-install, and 85% of sales were shipped from a centralized shipping facility, limiting the amount of gear a tech carried with them. "We also quickly modified our service and installation processes, we wanted to make sure the techs were not entering the home and they were performing work outside the home. We were also limiting the amount of time the technicians had to go inside the home," says Dandnaik.
In one of the company's largest markets, Des Moines, IA, the school district and Mediacom partnered up to provide free internet to 1,800 student homes. "I said get us the names and we'll do our best to get them connected as quickly as possible," says Steve Purcell, Group VP. "It's really a hybrid between our normal Connect2Compete where people would call up and sign up for it if they met the free and reduced lunch program. The schools were fairly confident that some people would not take that action and call and directly to get set up, so that's the gap they were trying to fill."
Mediacom covered all the labor and modem costs, resulting in a nearly $400K project. As a result of the program in Des Moines, another eight communities in the Iowa region reached out, and there are ongoing discussions in Springfield, Mo., and a program in place in Columbus, Mo. "It's been a unique way for us to create relationships and fill gaps for our local communities, especially for the lower income households in the public school districts," says Purcell. "The number one thing with the Connect2Compete program was we stepped up immediately when asked if we could fill the gap. And we didn't hesitate to jump in and help out."
– Mollie Cahillane
Fast Facts
Mediacom is providing free internet to thousands of student homes across Iowa and Missouri in partnership with the school districts.
Mediacom has not laid off any employees, and instead retrained people to fill remote customer service roles.