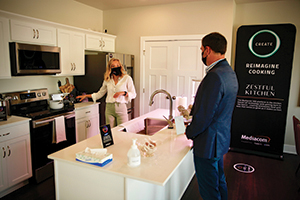 Mediacom helped show the world 10G internet is a real possibility.
Cable providers are always thinking one step ahead, formulating predictions of future network capacity at least daily, if not hourly. Since 2019, the farther-off milestone has been 10G, an initiative representing the availability of simultaneous 10Gbps speeds.
Associations like NCTA, CableLabs and SCTE have been hard at work on both the technology itself and creative ways to communicate what the 10G initiative is to those living outside of the connectivity circle. When it came to deciding on how to test the tech in the field, the associations all agreed: they wanted to get people talking.
A suggestion was made that a smart home be outfitted with next-gen tech that would benefit from 10G, and Mediacom was chosen to bring the idea to life. A house was purchased in Ames, Iowa, and the operator began working with CommScope and others to transform 10G from a laboratory concept into a tangible product. The original plan was to hold an event in late spring of 2020, but the unveiling was pushed to September of last year due to the pandemic.
There was a certain appeal to debuting the 10G home in a rural market. The exhibit put more than 70 internet-enabled devices, including a Samsung QLED 8K Smart TV and the Double Robotics Telepresence Robot, on display to a demographic that typically isn't the first to receive the latest and greatest in top-notch broadband and the technology it enables. Fiber-to-the-home, which has been embraced as a future-proof delivery method for strong broadband services, is typically first deployed in densely-populated areas. Ames doesn't fit that category, claiming only 66,000 residents.
"One of the messages we really wanted to deliver was that 10G is in our minds the very good alternative to a fiber-to-the-home kind of scenario. And one of the problems with fiber-to-the-home is this issue of how long it takes to get built and the fact that almost everywhere it's actually been built… they build it where the density and the demographics make sense," Mediacom SVP/CTO JR Walden says. "This is a technology you can take to rural America."
Mediacom essentially upgraded the entire neighborhood surrounding the smart home to 10G. That network is still live, but there were a number of hoops to jump through before the switch could be flipped.
"We have a lot of customers who own their own modems, so when we were preparing for DOCSIS 4.0, you've got to get rid of these old DOCSIS 2.0, 3.0 modems," says Mediacom SVP of government and public relations Tom Larsen. "You've got to coax all these neighbors to give up equipment that they've had forever."
Finding the right mix of technologies to place in the home was a challenge in itself, and one that Mediacom thought it could get that much more right by asking for help. The team called in the cavalry: former CableLabs CTO Ralph Brown. He retired back in 2019, but kept a hand in the industry by forming Brown Wolf Consulting.
"He knew all the right technologies, all the right people to call and had lots of contacts outside the industry, in the consumer electronics realm," Walden says. Those who toured the home were shown holographic 3D images on a Looking Glass light field display, connected with doctors through the latest in telemedicine from UnityPoint Health and offered a deeper look at how 10G can transform the growing world of esports.
As for when 10G will become widely available, it is anybody's guess. Each operator has to make its own choice on when to push forward with the technology. Ultimately, deployment will come down to a question of customer demand. "One of the things that remains outstanding is: are we building the network for customer demand, or are we building the network to market symmetrical speeds to customers?" Walden says. "It's hard to do both at the same time."