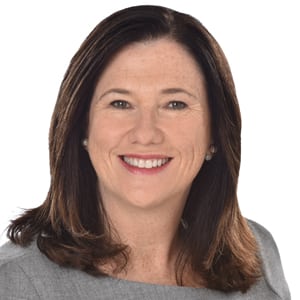 Years in Industry: 23
Education: Bridgewater State College; Suffolk University Law School
Motto I Live By: "Success is not final, failure is not fatal: it is the courage to continue that counts." –Winston Churchill
McLaughlin's team of several thousand employees ranked as a 2018's Top Workplace in DC by The Washington Post and, under McLaughlin's leadership, the Beltway Region's Comcast Business team made multimillion-dollar investments in several cities to expand the company's fiber-based network. In addition, the region's military hiring initiatives expanded through a partnership with the Dover Air Force Base to launch a class of virtual care agents comprised of residents of Delaware and military reservists, veterans and their spouses.
What item in your home or office most "sparks joy" in you? Everything in my home sparks joy, or else it wouldn't be there!
Best brand campaign you've seen lately? I love the new Xfinity ads with Amy Poehler, especially the one with her dog in the Xfinity Store.
How do you stay motivated in your job? I try to always remember that it is an honor to have my job, and I am lucky to be able to come to work each day and work with a great team to help make a difference for our customers.
Favorite podcast: I like "This Is 50" because it features content that resonates with where I am in life now.
What quality do you look for when promoting someone? It really is a combination of ambition and intellect.