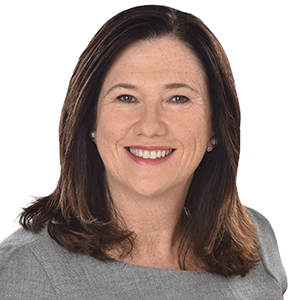 It's never easy being a manager, learning the inner workings of every member of your team and finding a way to bring each of them to their full potential. Mary McLaughlin has been doing that for a team totaling more than 5,500.
Acting as svp of Comcast's Beltway Region, McLaughlin brings all of these personalities together and drives them toward a unified purpose: transforming the customer experience and delivering Comcast's products to more than two million customers in Maryland, Virginia and DC along with portions of Delaware, North Carolina and West Virginia.
"It is critical that we have clarity around our objectives and that we consistently communicate with each other about what's important and what we need to focus on in order to accomplish our mission," McLaughlin says. "We are fortunate to have a great team in the Beltway Region with many strong leaders who work together to help inspire and engage the larger organization."
She aims to empower these leaders to take ownership and exemplify the standard of "Passion, Ownership, Excellence." It allows her to continue challenging her employees to invest in themselves, a move that lets them contribute to company success while feeling pride about their workplace.
"For me, it's always about continuing to build on the progress we've made and taking it to the next level every time," McLaughlin says. "It's about leading with the customer experience— listening, learning and acting upon customer feedback, as well as continuing to develop and mold our next generation of exceptional leaders."
Whatever McLaughlin's doing, it's working. With her at its head, the Beltway Region has grown to achieve remarkable business and customer service results. It ranked as a Washington Post 2018 Top Workplace in DC, while also scoring a Maryland Daily Record "2017 Innovator of the Year" honor for Xfinity Mobile. She also helped open 10 new Beltway Region Xfinity stores, including the flagship Studio Xfinity DC store. It's an incredibly influential market given the number of politicos who reside in it.
McLaughlin is quick to redirect any praise to her employees, saying that they're the ones doing the hard work. It's up to her to make sure they have what it takes to get the job done.
"It's all about putting people first and meeting my employees where they are, both personally and professionally, to ensure they have the tools, training and support to succeed," she says, noting that this allows the employees to best serve the customer while feeling fulfilled themselves. "Having this mindset in place helps us continue to drive a workplace where diversity and inclusion are front and center—from talent management to the way we support and leverage our six Employee Resource Groups."
It's all about support, allowing the employees within her region to know that they're coming to a workplace where they will be celebrated for who they are and what they bring to the table.
She's not all work and no play. Just as she supports her employees, she finds the time to take a step back from the job at hand. She's actively involved in many organizations, serving on the Global Board of Directors for WICT. "Mary is an influential and highly engaged leader who serves as a role model for those around her," says WICT president/CEO Maria Brennan. "A WICT 'Woman to Watch' and Global Board leader, Mary's commitment to achieving gender equity in the industry and passion for developing a diverse pipeline of talent is evident in all that she does."
"When not in the office, I love traveling and staying active, including yoga, running and gardening," McLaughlin says. "I also enjoy spending quality time with my husband and two children, and being a 'home away from home' to three Midshipmen from the United States Naval Academy."
– Sara Winegardner
Fast Facts
McLaughlin was an Assistant Attorney General for Massachusetts before joining Continental Cable in 1994.
Under McLaughlin's leadership, more than 6,500 volunteers participated in 85 Comcast Cares Day 2017 projects across the Beltway Region, providing more than $950K worth of volunteer hours in one day.
She spent three years at Adelphia as an area vp for New Hampshire, New Hampshire, Eastern NY before joining Comcast in 2006.