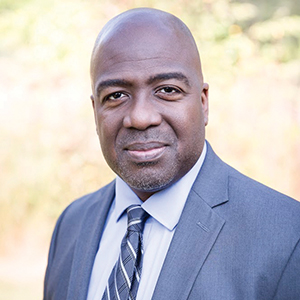 Years in Industry: 26
Education: Bachelor's in Television Production, Columbia College (Chicago)
Cross was elevated in January 2019 to his current post, becoming the first African American general manager in Chicago regional sports network history. His first year on the job included guiding the transition out of the net's existing agreements with the Cubs and the net's new place as the exclusive local home to every Blackhawks, Bulls and White Sox telecast. Cross is Chicago through and through, attending college in the city and beginning his TV career at SportsChannel Chicago in 1993 as a producer and eventually put in charge of producing pre/post-game shows during the once-in-a-lifetime Michael Jordan Bulls championship era.
The COVID-19 Pandemic forever changed my perspective on:
The fact that we are completely connected to each other in ways we never imagined.
Without sports on TV, I have…
continued my primary focus of watching our network's content. At NBC Sports Chicago, we have dedicated our primetime window to classic games featuring the Bulls, Blackhawks and White Sox. More often than not, I'm watching those games. Like so many other fans, I lived through those moments and the sense of nostalgia is very powerful in times like this.
Last content I streamed:
My three sons are huge Marvel movie fans, so in order to spend time with them, we streamed all of the superhero movies—one movie a day. We watched the films chronologically as they took place within the overall story, not by release date. It was a fun twist. My wife and I have also been binging on NBC's "Parks and Recreation."
Is cable recession proof?
I'm not sure anything is truly recession proof, but I firmly believe people have an insatiable need for content. If it is a supply and demand question—I see no end in sight on the demand side. During times like these that demand is even higher. At the same time, we also have to understand that people have multiple options to receive that content. I still believe cable is a very good value for the enormous amount of content it has to offer, but I also know that everyone's situation is different. The market has adapted to those differences.
Working from home has taught me…
that it is more challenging than I first thought. Maybe we shouldn't even call it "working from home." What we're doing now seems to fall into an entirely different category. Not only are we working from home, but our children are doing their schoolwork from home, all of our employees are working from home and they are also looking out for the well-being of their families. We have simply learned how to adapt during this time and more importantly, we are looking out for one another more than ever before.
Last show binged not on your networks:
"Godfather of Harlem"
What product could you not live without?
Everyone will probably say their cell phone and I would agree, but for me—I like to cook for my family and a cast iron skillet is essential. You can feed the world with top-notch cast iron!