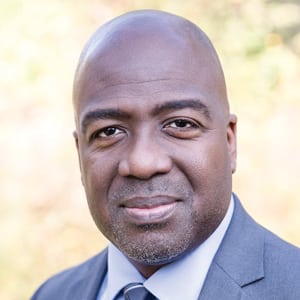 In addition to formulating the creation of NBC Sports Chicago's entire content department, Cross has led and successfully executed the network's push to expand the number of media platforms to reach the ever-growing and evolving Chicago sports fans base. Cross reminds those hoping to break into the industry, "Don't expect audience loyalty right away; it has to be earned."
What's a recent example of a step forward for diversity in the industry?
The biggest step forward is the fact that movies and television shows with a diverse cast are resonating with all consumers more than ever. The success of movies such as "Get Out," "Black Panther" and "Crazy Rich Asians," and television shows like "Black-ish," "Luke Cage," "Empire" and "Queen Sugar" have proven that the market and interest is there. In fact, a recent report released earlier this year from UCLA noted that in 2016, films that had a cast that featured between 21-30 percent minorities had the highest median global box office. It also pointed out that scripted television shows featuring a cast with at least 21% minorities scored the highest ratings among minority audience in the key 18-49 demo. In white households, ratings were highest for scripted shows that featured greater than a 40% minority in its cast. There's still a lot of work to do in the entertainment industry in regards to minority participation as a whole, but it is no longer accurate to say the lack of diversity is market motivated. The numbers show that the audience is there. We all have to continue to do a better job of getting people in positions to bring even more diverse concepts and stories to life.
What's your best advice to someone just entering the video content/distribution industry?
Be laser-focused on the precise audience you are trying to reach. Every targeted audience has content needs that are either not being sufficiently satisfied or the content is non-existent. It should be your mission to fulfill those needs better than anyone else. Don't expect audience loyalty right away; it has to be earned. Your job is to deliver focused, target audience-specific content at all times to earn and keep your market share.
What's been the most dramatic change in your sector of the business today vs. three years ago?
The biggest change in our sector over the past three years is how our viewers are consuming our content. That fact that we are now able to provide a live stream for our pro team partners' live games caters to today's consumer lifestyle. We have seen substantial growth on our digital platforms compared even just one year ago, which includes providing our viewers with an increased level of short-form videos, new social media program franchises, and team-specific podcasts. Bottom line, it's our responsibility to be innovators and continue to provide Chicago sports fans with the local sports content they crave when they want to consume it and where they want to consume it.