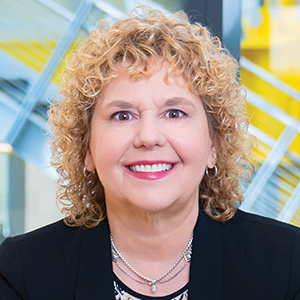 Years in Industry: Cable – 13, Telecom/communications – 35
Education: BA, George Washington University; JD, George Mason University School of Law
These four have hands in nearly every corner of Comcast's business. They're constantly working to transform its offerings, with Stemper's division most recently introducing Comcast Business At Home for customers with employees working remotely. Rigdon ensures Xfinity customers always have the freshest content, and Croney ensures the money is there to fund every effort. Zachem will be saying goodbye to Comcast at the end of the year. She has retired after 13 years with the company, but is serving as an adviser to Tom Reid through 2020. During her tenure, she helped create a highly-regarded government affairs team in Washington and throughout the states.
What product could you not live without?
My coffeepot – I have to have good coffee every morning otherwise my day cannot start!
When restaurants open back up, my first stop will be…
Philadelphia – I just love the city's mix of restaurants – if you don't know that… you are really missing out!
How has the pandemic shaped the industry's future?
It reinforced our commitment to our customers – our broadband networks performed so well allowing all who could do so, to learn and work from home, and our content continued to entertain and even in ways that we could have never imagined.
What about travel used to annoy you but that now you actually miss?
People!
Last show binged not on your networks:
"Breaking Bad" – I missed it the first time around.