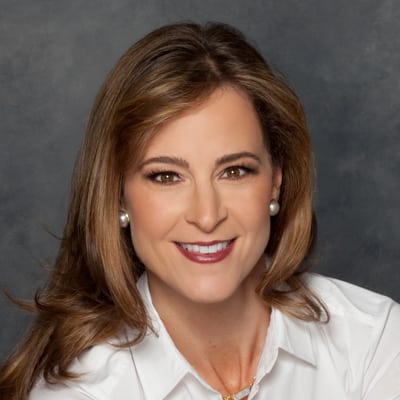 Sports air year round, but the biggest season for Storms this year was the 22 days from Super Bowl Sunday on February 3 through the Pyeongchang Olympics Closing Ceremony on February 25. During that stretch, Storms and her team led more than 233 million Americans to tune into sporting events across all platforms. She knows that engaging sports fans entails tugging on heartstrings. NBC produced comprehensive mini-movies featuring Chloe Kim, Lindsey Vonn and others that helped drive interest in the Games. Storms realizes there may be backlash to Me Too, but notes, "the most important part is that the conversation is happening."
What are your thoughts on the industry's current response to the Me Too movement, and its treatment of men who have been accused of sexual harassing and/or assaulting women and men? Are there other steps you feel should be taken?
The Me Too movement has started a critical conversation in our industry and now it needs to change to a paradigm shift. Our industry needs to continue to act swiftly but at the same time start to embrace fundamental changes in what have been common and accepted practices. It is time for a new model and we need both women and men at the highest levels of the industry to signal those changes.
Do you see any potential backlash to the Me Too/Time's Up movements?
By definition, backlash means that there are a large number of people having a strong or adverse reaction. Whether it has been vocalized or not, that has likely been happening. But the most important part is that the conversation is happening and the dialogue continues. And with communication comes better understanding and growth.
What's a recent example of a step forward for women in the media industry?
We are seeing more gender balance in the industry as a whole from when I started in media 20 years ago. I think we are also seeing critical support from both men and women to women in the industry through mentoring, training and opportunities.
Who is an inspirational woman you admire, and why?
Indra Nooyi, former chairman and CEO of PepsiCo. Her job was her passion and she had a capacity for knowledge that I have never seen before. At the end of the day she was demanding and wanted her employees to be their best, but was tremendously compassionate and caring. One day my parents called me in tears as they had received a personal note from Indra thanking them for "me," for raising me well and for making me the person I am today. She has been transparent of the challenges of being a female CEO, and been a strong supporter of women helping each other in business.
What's been the most dramatic change in your sector of the business today vs. three years ago?
The explosion of women in tech, IT and operations.
If there were a reality show based on your office, what would it be called?
"The Real SportsNuts of Stamford"