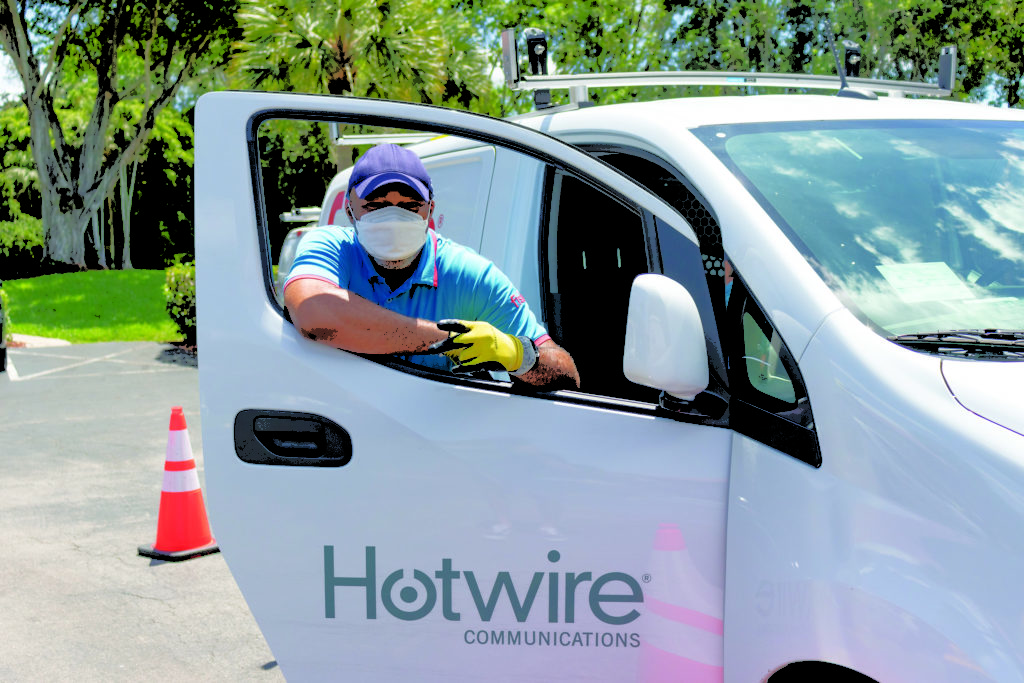 When a company's top brass walks the walk on community service, it doesn't take long for that attitude to spread to everyone in their corporate orbit.
That's certainly the case with Hotwire Communications' husband and wife team Chairman Michael Karp and President/CEO Kristin Johnson Karp, who have injected their own personal commitment to philanthropy into company culture.
Education is a particular area of passion for the couple. They founded Belmont Academy and Belmont Elementary Charter Schools in Philadelphia, and now Hotwire supports two different organizations supporting women in STEM—Code Art Academy and Girls Who Code. The company also sponsored Code Art's Miami event letting young girls from across South Florida participate in a fun day of coding activities, including highlights from advanced young girl coders, a friendly coding competition, and STEM workshops and activities. Hotwire also reaffirmed a sponsorship commitment to Girls Who Code in Salisbury, North Carolina, which gives young girls a 10-week training program to teach them programming language.
"Women make up one half of the population, and if you take one half of the good ideas off the table, you'll be losing so much brain power and talent," says Johnson Karp.
Her mantra is that by 2020, at least 30% of Hotwire's employees in the technology sector should be female. "The idea that we're not encouraging, supporting and offering a clear path to more females in STEM is disparaging. It truly takes half of the entrepreneurial, inventive and innovative minds out of the mix, and it's not good for society as a whole," says Karla Nelson-Thatcher, Hotwire's director of public relations, media & events.
But boosting the number of women in tech is not the end of Hotwire's commitment to education. The Kendall Federation of Homeowners Associations in downtown Miami operates its own scholarship program titled Operation Turnaround, which rewards middle and high school students who have remarkably improved their academic work. Hotwire introduced the "Fision Fiber Optics Powering the Future Scholarship," a $1,000 scholarship for the homeowners group that provides money for college as well as a laptop computer and an invitation for the recipient to shadow and intern at the company. Hotwire also offers scholarships to two students at charter high school LBA Academy in Hialeah Gardens, Florida, and non-profit KidSafe in Boca Raton.
Some of the company's most inspiring work stems from its support of individual employees, fostering the spirit of giving from within. If an employee wants to enter a local fundraising event such as a 5K or a bike ride, Johnson Karp pays the entrance fees and matches the fundraising efforts. In the event the employee can't raise the minimum goal for the event, she has made it a habit of paying the rest out of her own pocket just to encourage the effort to get out there and participate.
"These things have to be holistically part of who we are as adults and citizens of a community, so [Johnson Karp] does her part to support it…,'" Nelson-Thatcher explains.
With Hotwire, it's not about choosing to serve its communities. It's simply ingrained in its DNA.
– Sara Winegardner
Fast Facts
Invested more than $27 million into the local community through job creation and service provision.
Over 16,000+ community service hours donated annually through Employee Volunteer Program.
Involved in more than 100 non-profit organizations based in locally serviced communities.