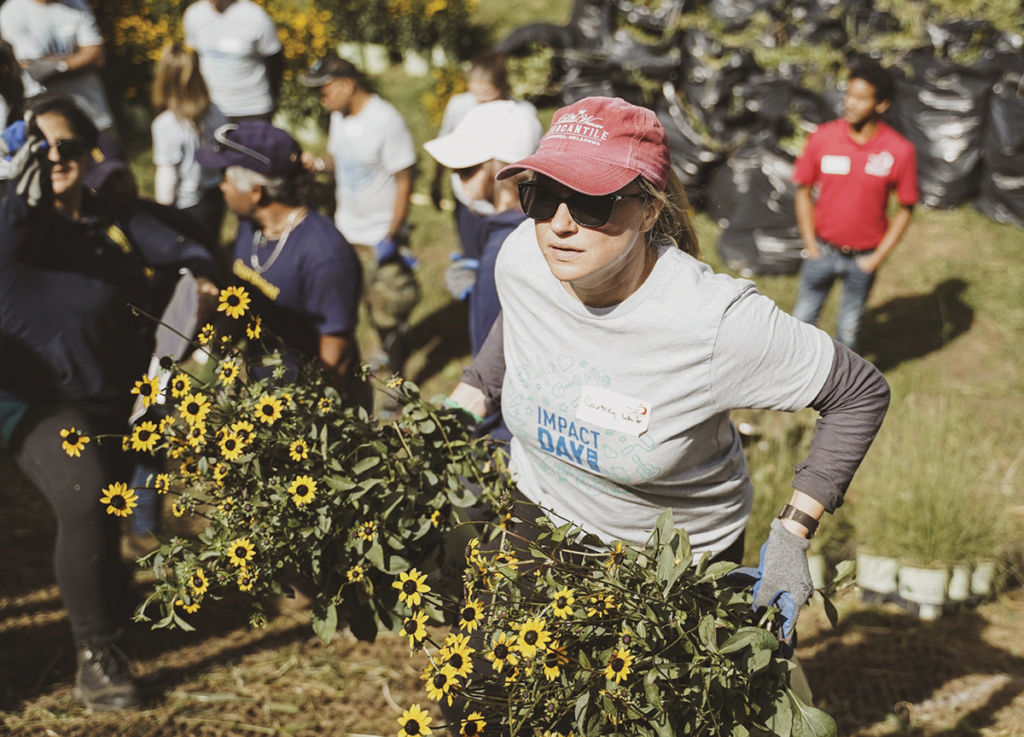 While many companies have philanthropic initiatives, few set aside an entire day to make a difference. Discovery's annual Impact Day originally started out as a celebration for the company's 25th anniversary in 2010. Now in its 10th year, more than 4,000 Discovery employees across 34 countries and five continents engaged in over 220 projects in 2019.
"It was really created around a celebration of the creativity and innovation that existed around the company, but also a desire to give back to the communities around where we live and work," says Alexa Verveer, group SVP, public policy & corporate/government affairs. "Discovery has always been a mission-driven company."
Impact Day is something all Discovery employees can participate in, from entry level execs to talent. Food Network's Trisha Yearwood has built homes in Tennessee along with President Jimmy Carter and wife Rosalynn Carter. Discovery's Miami office all supported the Mexican American Council, an organization that supports the migrant population of South Florida. The team gave a donated building a complete facelift, providing a space for after-school programs and educational resources.
"It's such a beautiful organization, and the beauty is we've been able to continue our relationship with them," says Mirelys McCloud, Discovery's director of people & culture. "It was a complete transformation, the employees were so moved. They were able to see the impact that they'd made in this community."
While Impact Day doesn't necessarily have a single theme, the 2019 iteration largely focused on the company's RISE initiative (Reducing Inequality, Supporting Empowerment). "It's about trying to promote social mobility through ensuring that people around the globe have access to basic human needs," says Verveer. RISE-affiliated projects included partnerships with No Kid Hungry and Feed the Children.
"By really trying to drive some additional attention and support for causes that are related to our people and planet initiatives, we think we can fulfill the goal of not just having an impact but an exponential impact," says Verveer.
Discovery's commitment to bettering the world extends beyond its one day of philanthropic service. In partnership with No Kid Hungry, the US-focused campaign "Turn Up: Fight Hunger" is working to provide one billion meals for kids living with hunger in the US over the next five years. Project CAT (Conserving Acres for Tigers) works alongside with World Wildlife Fund to support a global effort to double the number of tigers in the wild by 2022. The efforts extend to programming as well. Documentary "TIGERLAND" premiered in March and is now available on Discovery GO.
Discovery also has an online digital wallet accessible to each employee, and on certain days employees can donate funds placed in by Discovery to thousands of non-profit organizations across the globe. "We're making sure we're supporting these corporate initiatives, but simultaneously recognizing that our employees have their own passions and causes that are important to them individually," says Verveer.
Planning for 2020's Impact Day is underway, with organizers expecting it to be bigger and better than ever. "One of our guiding principles is to be purposeful, particularly as our industry evolves in the rapid way that it is," says Verveer. "We win with purpose, and Discovery recognizes that winning isn't about forgoing philanthropy, but it's embracing it. We're moving the needle in terms of making an impact, but what we're also doing with these initiatives is attracting and retaining talent, and fulfilling the expectations of our viewers and our customers."

– Mollie Cahillane