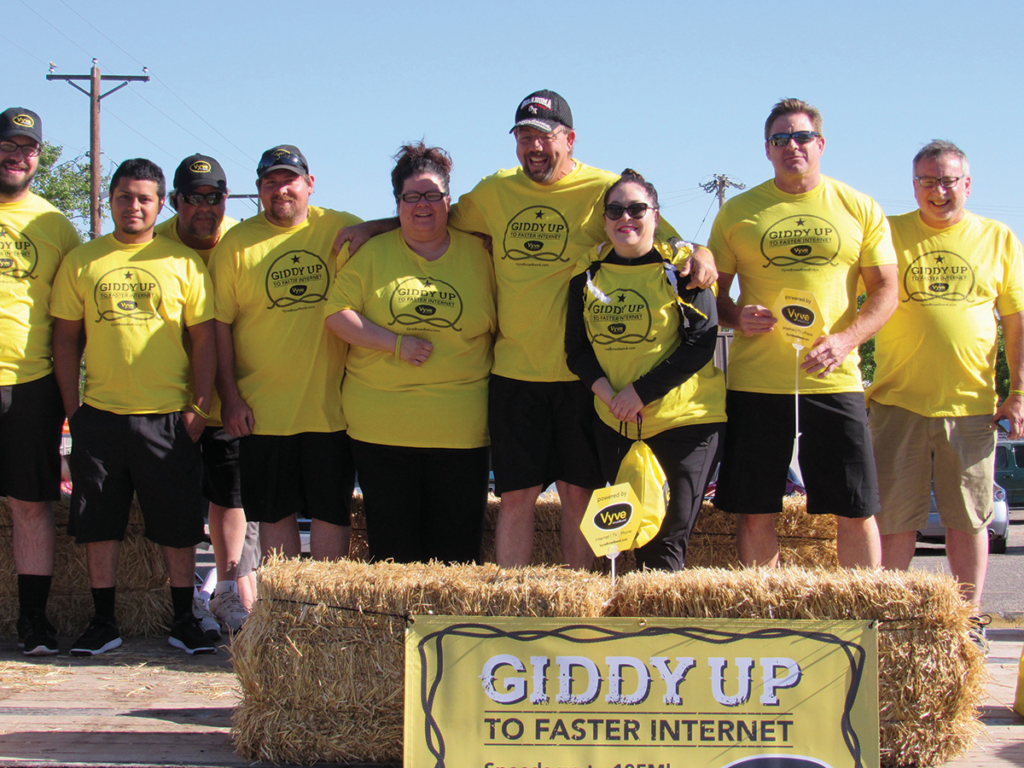 Not many people can say they've helped build a brand from the ground up, but Vyve Broadband's Diane Quennoz earns that claim to fame. The MSO's head of marketing had spent years in the service provider side of the house, before joining Vyve to help start the company seven years ago.
"We came together as a really small company and bought some distressed assets. [We] wanted to build a really next-generation, broadband-first company," says Quennoz. "We basically rebuilt the network and launched the brand. So, I actually created and developed the Vyve brand, the name, the identity, the whole nine yards."
It's not easy launching a broadband network in rural America, simply because it's hard to market. "I can't run TV [spots] because I have 90% waste. You can't really buy radio, because you're going to buy a lot of waste," Quennoz explains. "If I buy in Oklahoma City, to reach my markets I'm now in another MSOs property."
First, Quennoz and the team had to build the identity of Vyve Broadband, starting with understanding the MSO's customer base. "Understanding the customers, really building it on a solid foundation of who we are, who we're serving, who's invested in us, and what would be an identity, a name that can actually carry on and bring forward in rural America and stand out," says Quennoz.
Helping Vyve grab attention is its color palette, a bold yellow. "A lot of companies in our space are either blue or red," she explains. "We wanted to stand out, and we wanted a color that was very welcoming and neighborly." Quennoz understands the importance of being a strong presence in local, rural markets. Vyve paints the town yellow in its markets.
"We had to do all the unexpected places to reinforce the brand, to put the brand everywhere our customers were," says Quennoz. That includes posters in Dollar General and a branded entrance to the Shawnee Mall in Oklahoma. "We did a lot of local, because we couldn't just run TV spots and say 'Hey, we're Vyve.' Because nobody could see that. We had to be very creative."
The company works very closely with its schools, and can be seen at high school football and basketball games. That includes Vyve's well-known annual Christmas card competition, where schoolchildren under the age of 13 compete to design the company's holiday card. Quennoz says she came up with the idea six years ago when a technician's daughter thought that Vyve needed a mascot, and drew a picture of an emu with a Vyve logo shirt on it. Now, the competition is national with a strong social media presence, and the winner earns an iPad, and the child's teacher gets $200 in art supplies for the classroom.
With local media buys a challenge, Vyve relies heavily on social media. Plus, it fits Vyve's mission to be where its customers are. "Our customers want to be able to reach us 24/7… they're online, they want to chat, we have echat. They're online, they want to purchase a product, we have ecommerce," she says.
Quennoz's responsibilities are only set to get bigger. Next up? Building the Vyve brand all over again following the company's acquisition by GTCR and Mega Broadband Investments, which will combine Vyve, Northland Communications and Eagle Broadband under the Vyve name. "Even if you have an existing identity and brand, you have to really reintroduce it to a lot of employees," says Quennoz. "One of the common cores that kind of threads amongst all of us is connected to our communities. As we reidentify and bring Vyve back to the forefront, it's bringing in all the empathy that was at Eagle and at Northland, and ensuring that we don't lose what they've been building years on. We're going to be rolling it out throughout the year, and we're going to start in our southeast properties and we're going to roll all the way over to Washington State."
– Mollie Cahillane
Fast Facts
Vyve Broadband doubled the size of the company through its acquisition with Northland Communications and Eagle Broadband.
Vyve was founded seven years ago through the purchase of distressed assets, and will soon serve a market from the Carolinas to Washington State.
The company sponsors various local sports teams and high school football games through Friday Night Vyve, and it also gives away popcorn at local basketball games.