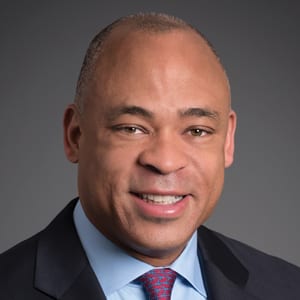 Snowden, a longtime adviser to Michael Powell, has become one of the NCTA's top assets. A sought-after speaker at industry and policy events, he's pretty much an ambassador for the industry. When it comes to inclusion and diversity, he said it's fairly straightforward. "Once you commit to doing it, the process is not hard or complicated. You just have to do it and it starts with insisting that is a part of the organizational philosophy," Snowden says.
What does your company/organization do to ensure all employees feel included?
It starts at the top for us with setting an expectation from our CEO all the way down the line. We hold frequent and regular all-hands meetings, in which we share goals and objectives and celebrate the achievements and life passages of our staff members. In addition, we're proud of numerous staff-based programs that encourage our employees to engage with each other in areas of interest, such as health and fitness, cooking, language study, and personal and professional development. Throughout the course of each year we commemorate affinity months, staging reflective and insightful presentations that honor our diverse employee communities. We're also fortunate to be able to host frequent visits and appearances by business and industry executives who participate in conversations with all of our employees, providing the opportunity for NCTA staff to explore the many facets and aspects of our industry. For a team of just 100 people here in Washington, DC, we pursue a lively and celebratory approach to inclusion that's part of our staff DNA.
How can diversity be better incorporated into the recruiting process?
Once you commit to doing it, the process is not hard or complicated. You just have to do it and it starts with insisting that is a part of the organizational philosophy. We ask ourselves key questions as we recruit new staff members. Are we using the broadest network of distribution channels to advertise opportunities? Are we making the most efficient use of technology, digital, and social media to reach potential employees, where they live? Do we have close enough ties to organizations that offer diverse internship candidates that might matriculate into employment prospects? How are we doing on pay equity? And, importantly, are our own staffers motivated enough by their work experience at NCTA that they will help us in reaching members of their own communities, to encourage a flow of quality candidates? In addition to addressing those critical questions, our team works hard to track and understand best practices in recruitment and hiring, so we can learn from others as well.
Can you share a successful diversity program at your company or one you've observed at another company or organization?
You don't have to look far to find successful diversity programs throughout our own industry! The work of the Emma Bowen Foundation and T. Howard Foundation, in identifying diverse young people with an interest in our business—and then placing them as interns with the companies that comprise our workforce—is a role model for any industry seeking to improve its own diversity and inclusion. The ability of WICT and NAMIC to equip women and people of color with tools for professional careers, is second to none, and leads the way for diversity, equity, and inclusion throughout American enterprise. At NCTA, we're particularly proud of our celebration of affinity months. Through employee-based planning of events and activities that commemorate months dedicated to African-American history, Hispanic Americans, Asian Americans, Jewish Americans, Women's History, the LGBTQ community and others, we engage our entire employee base throughout the year in programs that not only foster inclusion, but that also educate, enrich, and inspire NCTA employees with knowledge of the lives and communities of those around them.
What questions is the industry not yet asking in its efforts to be more diverse and inclusive that it should be?
What are the barriers and key steps needed to move diverse candidates into the C-Suite and onto Board positions? What workforce changes can we make to encourage women and people of color to stick with cable careers for the long term rather than departing the industry at mid-career? What additional steps should we be taking to ensure work/life balance? What are best practices for diversity, equity and inclusion, in businesses beyond the cable industry? How can we prepare our workforce for increasing automation and advancing technologies— such as Artificial Intelligence and Machine Learning—to equip employees with skills they will need to navigate this environment? How should we be preparing our companies and workplaces for the increasingly diverse workforce of the future?
Which current television show/s best embrace diversity?
"Power" (Starz), "Billions" (Showtime), "Sesame Street" (HBO & PBS), "Pose" (FX) and "Animal Kingdom" (TNT)