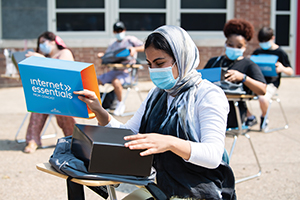 As its internet adoption program turns 10 this year, Comcast continues to seek out ways to bring broadband to more homes.
While providing low-cost broadband is a huge part of Comcast's commitment to digital equity, it's just the tip of the iceberg.
A new initiative to install WiFi in community centers to enable remote education in low-income families, the 10-year anniversary of its Internet Essentials program and the hire of a new executive to focus on digital equity are among the reasons Comcast is taking home Cablefax's inaugural MSO Digital Equity Award.
The company's Internet Essentials program has connected more than 10 million people from low-income families to low-cost, high-speed internet at home—most for the first time. The program also has provided low-income Americans with 150,000 free or heavily subsidized computers.
"Connectivity alone isn't enough. We must address the root causes for why people do not purchase, or adopt, internet service," says Broderick Johnson, newly minted EVP, public policy and EVP, digital equity, at Comcast Corp. "There are a range of reasons, including homelessness or housing insecurity, literacy issues, language barriers, relevance of having internet service at all, and the lack of digital skills. These factors are all part of the equation."
In 2020, Comcast launched Lift Zones, which provide free WiFi connectivity for the next three years in community centers across the country for customers and noncustomers alike. Students, veterans, seniors, and other adults can go to a Lift Zone to get online and do schoolwork, look for a job, learn digital skills, or connect with family and friends. In 2021 alone, Comcast estimates the Zones will enable students to complete more than 25 million hours of school work, helping to make a big dent in the "homework gap," Johnson says.
In addition to its current initiatives, Comcast is committed to investing an additional $1 billion over the next 10 years to reach up to 50 million people from low-income families with the training, tools and resources needed to succeed in the digital world.
The funds will include investments in critical areas such as additional support for Comcast's Lift Zone initiative; new laptop and computer donations; grants for nonprofit community organizations to create opportunities for low-income people, particularly in the areas of media, arts, technology and entrepreneurship; and continued investment in Internet Essentials.
"Lift Zones have been really well received. What we found from working with our nonprofit partners is that there are many reasons why students and individuals may not be able to either have or use an internet connection at home," Johnson says. "We pledged to open more than 1,000 Lift Zones in underserved communities by the end of this year, and we are making great progress. You can expect to hear more from us about this effort very soon."
To help more people acquire digital skills, Comcast is partnering with a host of organizations that share its commitment to creating a more connected world. Partners include Per Scholas, NPower, Genesys Works, Reboot Representation, Coded by Kids, and Build.
Additionally, the company is investing in the next generation of creators through programs such as NBCU Academy, Sky's 'The Edit' program and NBC's Female Forward program. It's also elevating next-gen entrepreneurs via initiatives like Comcast RISE, which offers grants, marketing services and technology upgrades to help small business owners boost their operations. LIFT Labs gives select entrepreneurs access to Comcast NBCUniversal's network of partners, brands, mentors, and product experts to foster rapid breakthroughs in connectivity, media and entertainment.
"We really take a holistic approach when it comes to digital equity, but at the core it is about connectivity, technology, and skill building," Johnson says.