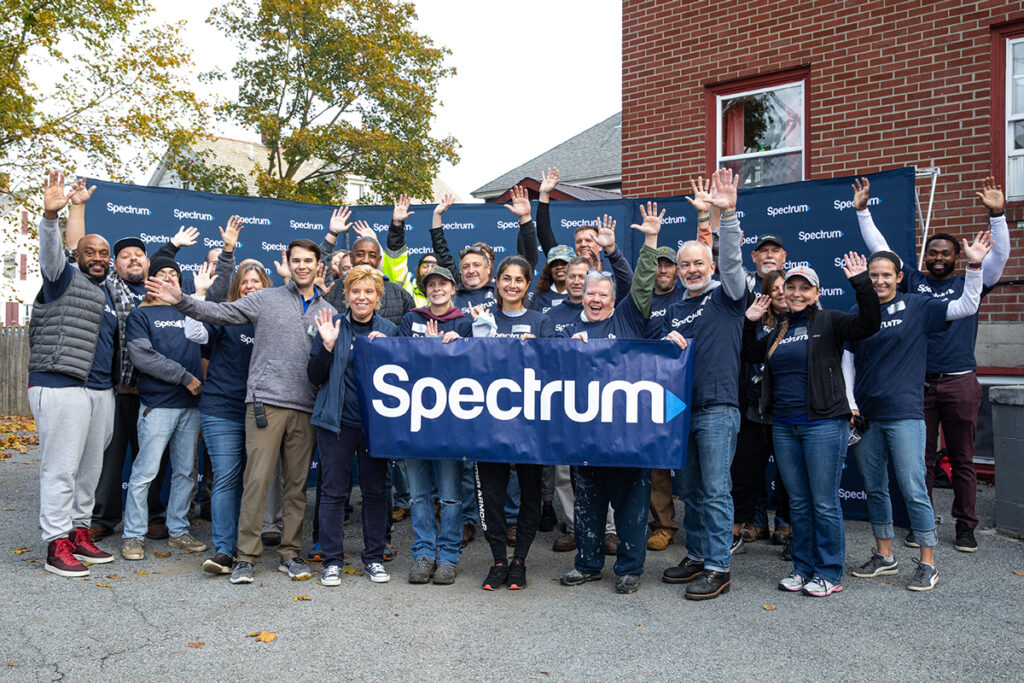 Charter Targets Broadband Adoption Roadblocks
By Cathy Applefeld Olson
When it comes to closing the digital divide, Charter doesn't just talk the talk. For years, the company has been digging deep to uncover and help solve for a range of barriers to broadband adoption.
As EVP, Government Affairs Catherine Bohigian puts it, "One of the biggest learnings of the pandemic is really a question: When broadband is both available and affordable, even free, why do millions of families still not get online? It raises the importance of addressing barriers to broadband adoption like the cost of computers, digital literacy, digital relevancy, housing insecurity. If we want 100% of the country fully participating in digital life, we need solutions that address 100% of the barriers."
Case in point, the company in September 2021 launched the philanthropic initiative Spectrum Community Assist, a $30 million, five-year program working to revitalize community centers in rural and urban areas as well as invest in job training programs in underserved communities across its footprint.
"Through the life of SCA, we will improve 100 centers across the country, impacting an estimated 50,000 local residents," Bohigian says. "Additionally, because broadband is a critical component of a community center's infrastructure, Charter offers each community center its advanced 1 gigabit internet service. In 2022 alone, we will complete revitalization projects and support for job training in markets located in 20 markets."
Among some of the most recent beneficiaries of Community Assist are Fayetteville Urban Ministry in Fayetteville, North Carolina, and IMPACT Community Action in Columbus, Ohio—each of which received $50,000 earmarked for improvements to the facilities.
"Spectrum's partnership helps widen the reach and brand for those in need," says Johnny Wilson, executive director of Fayetteville Urban Ministry. "When citizens can see a business not only fund a project but actually place boots on the ground within the project, that exemplifies the greatest version of giving back through time, talent and treasure."
Notes Bo Chilton, CEO of IMPACT Community Action: "IMPACT Community Action's mission is to fight poverty by providing hope-inspiring help and real opportunities for self-sufficiency. This grant from Spectrum will help teach critical skills and techniques to help Franklin County residents overcome significant barriers to self-sufficiency."
Charter also offers philanthropic support to community organizations through Spectrum Digital Education grants, which provide computers, digital education classes and technology labs. The company recently announced an additional $1 million toward the 2022 initiative, bringing its total investment in the 6-year-old digital literacy program to $8 million.
Of course Charter is not taking its foot off the gas when it comes to building out its broadband network to underserved communities. Charter was a day-one participant in the Emergency Broadband Benefit and Affordable Connectivity programs and has participated in most state broadband grant programs where it operates. During the past four years, Charter expanded its network to reach 4 million new homes and small businesses, approximately 1 million of which are in rural areas. That's just one of the reasons Spectrum Internet has been consecutively ranked as one of the "Best Rural Internet Service Providers" by U.S. News & World Report.
There's plenty more work to be done. "We must continually innovate. Given our investments in rural expansion, Charter's engineers are also creating solutions to help solve rural problems. Imagine the freedom that would be available to a farmer who is able to monitor the livestock remotely, or to utilize license plate recognition to open gates—seemingly small things can give people flexibility and a lot of time back," Bohigian says.
If governments, providers and stakeholders continue working together, "we can close the access gap for good," she adds. "Every person connected means more maningful connections, more innovative products, more flexibility, and more opportunity."
Fast Facts
24 the number of states Charter won RDOF support for
100 nonprofit organizations in 22 states and D.C. have benefited from Spectrum Digital Education grants and in-kind contributions
71% of non-broadband users say they aren't interested in broadband at home, per a 2021 Pew Research Center report