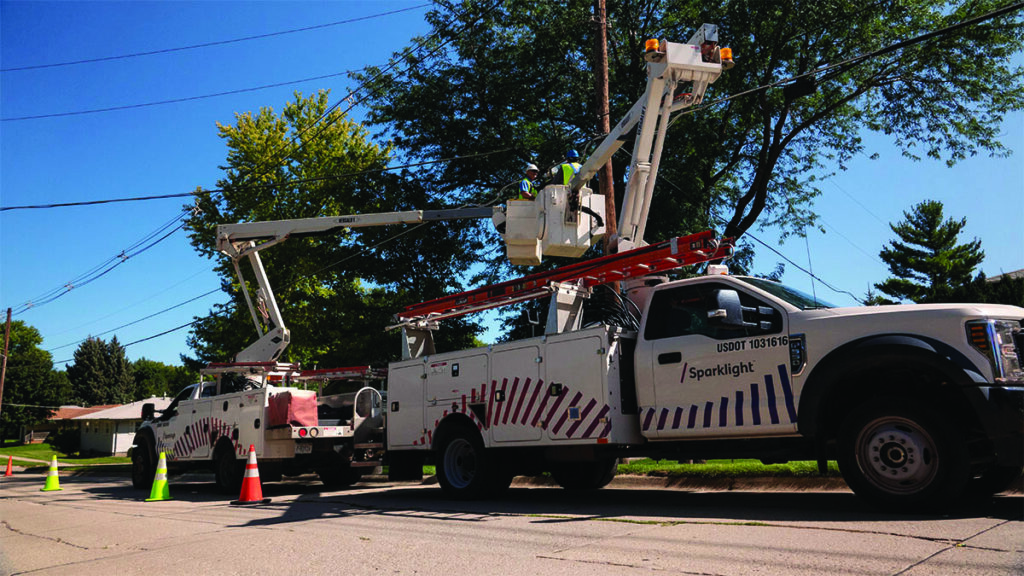 When its peers were looking at shrinking video margins and painful programming negotiations, Cable ONE was shifting its focus to high-speed data. Viewed by many as a bit of an experiment, the MSO is showing through steady ARPU growth that this is a long-term path forward vs a trial.
"Our goal has always been to provide value to our customers—$55 for 100 Mbps service represents that value; our WiFi ONE service amplifies it; and our reliability, combined with our local office presence and 24/7 tech support magnifies it even further," says CEO Julie Laulis. "Our associates live and work in the communities we serve, so in most cases we are supporting our friends and neighbors."
Laulis, who replaced Tom Might as CEO last year, has learned the business from the ground up. She got her start as a customer service rep for Hauser Communications (Arlington Cable Partners) in 1984. "Our industry is so dynamic that boredom is not a potential threat, and growth is plentiful—for both people and companies," she says.
That's a principle Cable ONE has tried to embody, with the average company tenure at about 10 years—above a US average of four years. Management's appreciation of its more than 2300 employees was on stage—literally—in June, when COO Mike Bowker brought nine frontline employees to NYC to accept the Cablefax MSO of the Year honor. "It's these folks who actually earned MSO of the year," he said, introducing a group that ranged from sales to HR to technical support.
One of the company's key tenets is "You Make Cable ONE" and that extends to the communities served, with associates spending thousands of hours each year volunteering. It's that spirit that Laulis singles out when she reflects on her proudest moments at the company, recalling Cable ONE's recovery from natural disasters such as Hurricane Katrina in 2005, the Joplin tornado in 2011 and last year's Hurricane Harvey on the Texas Coast. "During and in the aftermath of these devastating events, the very best of our associates and company comes out," she says. "The teamwork, support, and concern of our people for their fellow associates and the communities that have been impacted truly exemplify the Cable ONE spirit."
Last summer, Cable ONE closed on its $735 million NewWave Communications acquisition, adding customers in Arkansas, Illinois, Indiana, Louisiana, Mississippi, Missouri and Texas. The integration has included rolling out 1-Gig speeds in those systems. But the company also has been focused on making sure NewWave employees feel like part of the team. "We're fortunate in that NewWave's culture was very similar to that of Cable ONE, and I think these efforts went a long way in letting NewWave associates know that we shared a common ground," Bowker says.
Part of the employee integration has included incorporating NewWave managers and tech into Cable ONE training programs so that best practices from both companies can be brought into operational strategy. "Our mantra since the acquisition of NewWave has been 'Stronger Together' and that truly has come to fruition," Bowker says.
From an operations standpoint, Cable ONE continues its emphasis on internet. That means not only increasing speeds, but ensuring network reliability and technical support to ease customers' busy lives, Laulis says. While the company's de-emphasized video, it does offer OTT options, such as Netflix and Hulu, directly to customers through its TiVo DVR. "We would be open to other partnerships as well, as long as it makes economic sense for both Cable ONE and for our customers," Laulis says.
Looking ahead, Cable ONE continues to keep an eye out for M&A opportunities, with Laulis saying the company will prudently explore options that would help "further cement our role as a natural aggregator of non-urban cable assets." But she doesn't think scale is needed to deliver a quality product, with the company instead always looking for ways to make customer happier. "Although our customer service scores remain high, our focus is on creating exceptional customer experiences that set us far apart from our competition," she says.
– Amy Maclean
Fast Facts
Cable ONE is among the 10 largest US cable companies, serving nearly 800,000 residential and business customers in 21 states.
The company's Gigabit service "GigaONE" is available to residential customers across more than 98 percent of its legacy footprint, making more than 200 communities across the country Gigabit cities.