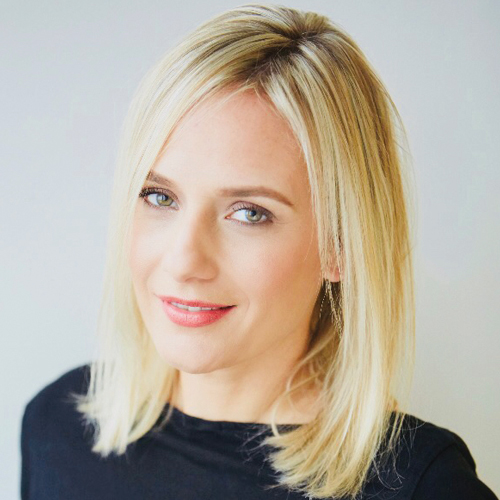 Innovate. Disrupt. Connect. That's how Trentacoste creates commercials that feel like content—from Comedy Central's hand model mockumentary "Handy" to '70s-style ads to run during Paramount's "American Woman" to activations showing why Twizzlers should replace plastic straws in a bit for "The Daily Show." Not surprisingly, she would advise her 13-year-old self to embrace her weirdness, "Because one day, she'll use all of that to fuel a pretty fantastic career."
What advice would you give your 13-year-old self?
I would tell my 13-year-old self to embrace every single thing that makes her different. Every bit of what makes her weird. Because one day, she'll use all of that to fuel a pretty fantastic career. I was a theater nerd, I was always acting and singing in plays, loved watching theater, would obsess on films and would frequently film myself alone in my room performing angsty anthems and passionate soliloquies. (It goes without saying that these were not qualities that inherently make you "cool" in junior high.) I was inspired by the process of creating, and specifically with theater, loved the idea of a group of people coming together to make art. And that is basically what I do for a living now! I oversee a team of over 120 creatives—writers, directors, producers—and we come together and we make something and we put it out into the world and then we move on to the next one—and I feel so grateful that I get to do that for a living. So I'd tell that 13-year-old to celebrate the quirky, the dramatic, the weird. It'd tell her that those qualities that make us different are actually our assets. I'd tell her to never let anyone undercut her value, or tell her how she should think or look or act. I'd tell her to use her voice and to be brave and that often times discomfort is where the magic happens. (I'd also tell her there's more to fashion than gigantic t-shirts and Doc Martens, but that's another story.)
What specifically does your company do to support and elevate the women who work there?
From an industry perspective, particularly in the creative and production arenas, the gender gap is glaring. I've been one of the few women on set for most of my career to date but I feel that changing, especially at Viacom where I see women leaders and mentors in all aspects of our company. Viacom is a very inclusive culture, one that fosters and celebrates diversity and you can feel that when you're here. We have great employee resource groups and mentorship programs, and I was afforded, via Viacom, the opportunity to participate in WICT's (Women in Cable Telecommunications) Betsy Magness Leadership Institute, a year-long fellowship with women leaders in the industry, which was a definitive point in my journey. Within my division, I'm very happy to say our head of production at Viacom Velocity is female and she has made it her mission to populate our sets with female directors and crews. We shot a series of PSA's for the #SEEHER initiative earlier this year and had 100% female crew on each shoot! That is a rarity and something we're extremely proud of.
How can the industry do a better job of recruiting women and ensuring they have a path to senior positions?
There's no arguing that there's systemic inequalities in the industry. It's been widely reported that a small percentage of Creative Director positions are held by women. As a person in that sector, I feel personally responsible to be an agent of change. It takes effort to make change, and each one of us needs to make it our responsibility. If you just hire individuals who have the traditional experience and the exact resume that ladders into the role, then we're just continuing the cycle. We have to embrace diversity of experience and thought. Perhaps most importantly, we need to bolster female creatives at the junior level in order to grow future leaders because currently, when we look at the most senior leadership, the gender disparity is most glaring. Equally important is appropriate parental leave policies. As a mom of three, I was fortunate enough to be able to grow my family and my career simultaneously. That is not the case for many, many women across all industries who are forced to make a choice.