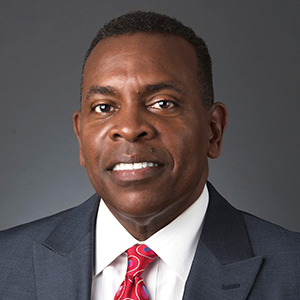 Years in Industry: 20+
Education: Bachelor's, Alcorn State University
Even in the midst of a pandemic, the region's customer satisfaction scores are higher than they've ever been before—a testament to the groundwork Pope and his team put in place. Pope has kept things running, including the region's business development training program for suppliers in the Greater New Orleans and Atlanta area. The two-year-old program, produced with Delgado Community College, moved to an online-only format due to COVID-19.
The COVID-19 Pandemic forever changed my perspective on:
Everyday life and what I took for granted pre-pandemic, the shared human experience.
How has the pandemic shaped the industry's future?
As always, we'll strategically pivot to ensure we're providing products, services and experiences that make life easier and more meaningful for our customers. And in keeping with our values, we'll continue actively caring for those around us as we're doing through our support of Keep Americans Connected, low-income Connect2Compete broadband program and various community initiatives.
Without sports on TV, I have…
Joined hands with Cox colleagues to help feed and thank area healthcare and frontline workers for the great work they're doing.
What about travel used to annoy you but that now you actually miss?
The in-flight magazine (we know that's not coming back) and Delta's Biscoff cookies.
The future of broadband is…
Our future! The world is becoming more connected than ever before as millions are now teaching, working, learning, playing and staying connected with each other from home. Broadband will make our new normal "normal."
When restaurants open back up, my first stop will be…
My favorite steakhouse!
My prediction for a new business or product that could emerge from the pandemic is…
[Laughing]: Designer face masks – for work, home and play!
"Tiger King" is a thing because…
It's an escape from the series we're all currently living – The Twilight Zone.
If I launched my own personal streaming service, it would be called…
Mama taught me better.
Working from home has taught me…
[Laughing]: That during video conferences, a nice shirt is a great cover-up for running shorts and flip flops.