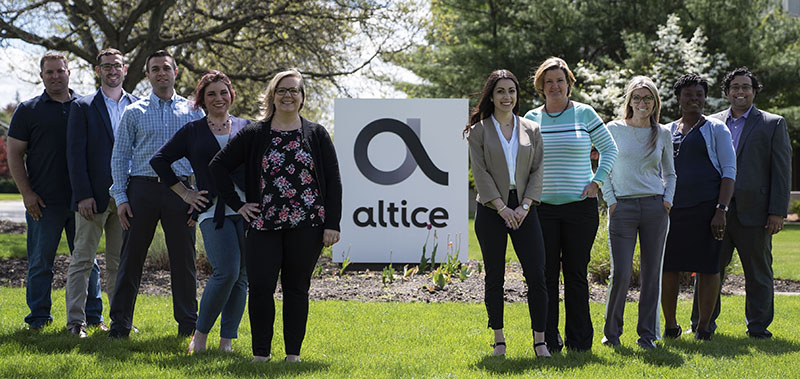 When Altice first came on the scene as the new owner of Cablevision and Suddenlink, there were plenty of skeptics. What does a European operator know about running US cable systems? Some believed that its business strategy would only be about cost cutting, instead of growth. But three years later, the company now known as Altice USA has earned its stripes.
"Having consolidated the businesses, integrated them and completed a lot of the cost efficiencies that we had committed to, we have been very focused on delivering on our growth initiatives" over the past 12 months, says Co-President & CFO Charles Stewart. "We feel that inside the company—this shift from being measured on the basis of cost efficiency to being measured on the effectiveness and implementation of our signature growth initiatives. That's where we always wanted to get anyway. Even three years ago, the idea was to take a holistic look at the company and change it so we could be in a place where we're more entrepreneurial, making decisions quickly and ultimately putting ourselves in a position to innovate and drive growth. Now, we're there."
Wall Street is taking notice, with the stock up nearly 50% this year. New Street Research analyst Jonathan Chaplin notes Altice USA had a complicated beginning as a public company, attributing most of that to troubles by Altice's parent company in Europe before the US arm was spun off into a separate company. "After a difficult start, Altice USA management have demonstrated that they can continue to grow subscribers and revenue with margins that are well above their peers in the industry," he tells Cablefax. "Altice is breaking new ground in other areas too. Their recently launched box and guide are fantastic, their recently launched addressable advertising platform looks exciting, and if their fiber deployment delivers on its promise, Altice should be able to expand margins further while reducing capital intensity to levels not seen in this industry yet."
Then there's wireless, with the company gearing up soon to launch a full MVNO offering through a deal with Sprint. It represents one of the ways Altice has approached things differently than its US counterparts, with Charter and Comcast's MVNO with Verizon more of a reseller arrangement.
Another standout for the company has been its Altice One all-in-one gateway, which was built on the expertise Altice had gathered as an international operator. "However, we recognize that each market is different and we have to innovate further. This is why for the Altice One in the US we went for a brand new UI that we wanted to be much more future proof in terms of what was happening here in terms of OTT… And then we inherited a fantastic asset from Cablevision in the cloud DVR," says Altice Co-President & COO Hakim Boubazine.
Most recently, Altice USA made news with its acquisition of news content company Cheddar. "It's almost like a hand and glove type acquisition," Stewart says, explaining how it helps expand Altice's existing international and hyper local news properties to a national and business news category. "Plus, our efforts have skewed more linear. Cheddar is more of a digital first company, so those are very complimentary. Our audiences tend to skew older. Theirs skew very young," he says.
When a company takes over ownership of an existing distributor, it usually rebrands. But thus far, Altice USA has opted to keep the Optimum and Suddenlink names, with Boubazine explaining that the brands were well regarded and had good momentum. "The priority was to transfer other things—the network, customer experience, innovative products," Boubazine says. Transitioning a brand can be risky, and it didn't make sense initially. But it sounds like Altice USA could be looking to rebrand in the near future.
With Altice USA building its reputation through innovative services and improved customer experience, "we're reaching that critical mass and tipping point where it would make a lot of sense to change brands to generate more synergies, but also to create that halo brand that I think people will aspire to," Boubazine says. Stewart notes that the Altice logo already appears on value-enhancing offerings such as Altice One, new retail stores, mobile and even its advertising business. Altice USA may be on its way to becoming a household name.
– Amy Maclean
FAST FACTS
Altice acquired Suddenlink in December 2015 and closed on its Cablevision acquisition in June 2016.
Advanced advertising is a signature growth focus for the company. This spring it launched the first and only addressable OTT/connected TV ad product at a household level with national reach that is powered by fully authenticated household data.
Altice USA has made Diversity & Inclusion a top focus. This year it achieved a perfect score on the Corporate Equality Index, the Human Rights Campaign Foundation's national ranking that recognizes workplaces with policies and practices that create inclusive environments for lesbian, gay, bisexual, transgender and queer employees to thrive.