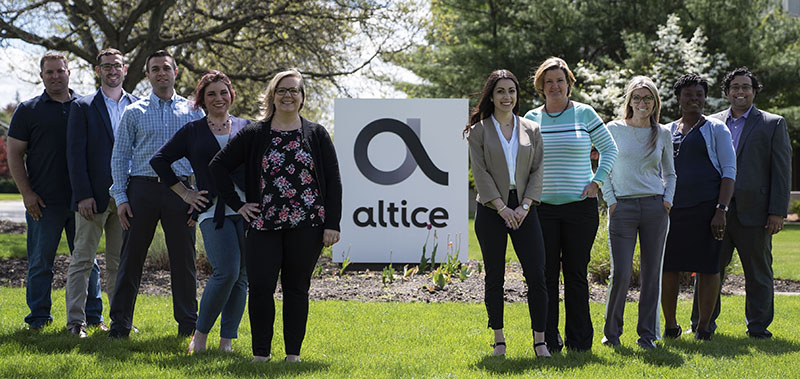 When it comes to cable companies on the cutting edge of technology, Altice USA is making a name for itself. From its ambitious five-year plan to deliver fiber to the home across its footprint to the establishment of a home hub for customers, the MSO is making bold, strategic moves at the speed of innovation.
As Altice decision-makers see it, the drive to innovate is a necessity. "When you look at the proliferation of devices as well as an increasing demand for speed and content, we need to future-proof our network so we can be ready for the change in consumer behavior that will result," Hakim Boubazine, co-president and COO of Altice USA, tells CFX.
"A consumer's needs, especially millennials, typically involve the convergence of media, technology and content along with the ease of mobility," Terry Cordova, EVP & CTO of Altice USA, says. "For example, as the need for data consumption increases we have the opportunity to develop new products and services to meet those needs such as our fiber to the home deployment, expanding our outdoor WiFi network and increasing both our residential and business product portfolio. The challenge lies in meeting those needs at the right time."
The all-service area fiber-to-the-home deployment builds on the existing HFC network and leverages proprietary technologies developed by Altice Labs. The company already has rapidly been accelerating broadband speeds in both Suddenlink and Cablevision territories; it acquired the former in 2015 and the latter in 2016.
"While other cable companies in the US are rolling out fiber in select cities or are making incremental network upgrades to deploy 1 gigabit service, we decided to focus on fiber to the home," Boubazine says. "That doesn't mean we won't continue to upgrade our current network—but we see the 10 gigabit future and our full-fiber network will be able to support the connected world of the future."
Boubazine adds the differentiated network will position the company to compete not just on higher speeds but on better quality of service "as we will see less incidents of service failures, less truck rolls and less calls which also enables us to operate at lower costs. Additionally, it also positions us strategically for other value added services such as when 5G comes to market."
In other innovative moves, Altice soon will launch its home communications hub. The product is based on "LaBox," which was developed by Altice Labs and has been deployed by the company in France, Dominican Republic and Israel.
"With this new service we will be able to deliver a significantly improved video product for our customers. In the end, it will be a better and more sophisticated aggregated experience for consumers," Cordova says.
For connectivity out of home, Altice deployed what it's touting as "the densest WiFi network in the nation," with more than 1.8 million hotspots providing coverage in the New York tri-state area. "The network is highly utilized—currently 4 million devices are registered to automatically connect to Optimum WiFi," he notes. "So we are really meeting consumers where they are and providing them with the connectivity options that they desire."
And that's not all. Altice USA chairman and CEO Dexter Goei recently stated the company is talking with select VOD services to integrate their content into the Altice pay-TV service—a task that no doubt will bring with it integration challenges and opportunities.
"We are very excited to include over-the-top products in our upcoming home hub as part of our TV service—it's part of our strategy to provide our customers with more choice and value, and a fully integrated entertainment and connectivity experience," says Boubazine.
While the addition of OTT services will require more complex integration, Cordova notes it's all about balancing technology challenges with opportunity. "The technology opportunities we face are about staying ahead," he posits. "What are the features and services that our customers want today, what will they want tomorrow, and what should we start building to support future usage, viewership trends and the scale of the company?"
– Cathy Applefeld Olson
L-R: Pragash Pillai, evp, operations; Mike Alexander, vp, infrastructure & WiFi; Hakim Boubazine, co-president & COO; Terry Cordova, evp & CTO
FAST FACTS
Altice acquired Suddenlink in December 2015 and Cablevision in June 2016.
The company more than tripled broadband speeds in its Optimum footprint, offering 400 Mbps service in the NY metro.
In its Suddenlink regions, Altice offers 1 gigabit speeds in approximately 60% of the service area, up from 40% before the acquisition.