By Chris Bastian, Senior Vice President/CTO, SCTE/ISBE
The cable industry has not shied away from investing billions of dollars in upgrading its network infrastructure and customer premises equipment to support greater Internet access speeds. When data over cable, even prior to DOCSIS, was first launched in the mid-1990s, residential speeds were less than 10 Mbps. Speeds have dramatically increased year-over-year so that today the industry for the first time is offering Gigabit speeds to residential customers. Delivering Gigabit (via HFC and fiber alike) will command much attention at SCTE/ISBE Cable-Tec Expo 2016. Below is the often-cited Nielsen's Law illustrating this speed trend: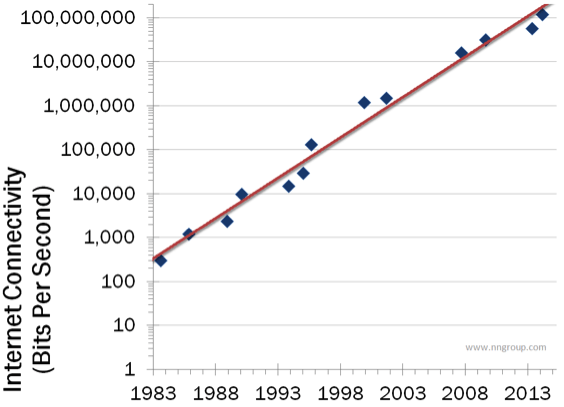 From: www.nngroup.com
Speed has continued to be the major and almost exclusive comparison criterion among internet service providers. The majority of marketing dollars spent by ISPs, cable and telco providers alike, is used to tout their claim that they have the fastest network. PC Magazine and the FCC's Measuring Broadband America program routinely measure and report out on which provider has the fastest network. Google was an early disruptor in promoting Gig speeds, and connecting up a few thousand customers in strategic markets. Municipalities occasionally try to enter the marketplace by launching a "GigCity." And customers routinely turn to the speed test application to baseline their Internet connection, as Ookla's almost 9 billion speed tests to date demonstrates.
But how fast is fast enough? What are the benefits to having a Gigabit connection in your home? Are there emerging applications, and for that matter off-the-shelf PC network cards, that can really harness that much speed?
In the 1980s and '90s, PC manufacturers had an analogous speed war. Remember the Intel 386 chip with 33MHz clock speed? Today's processors offer both GHz speeds as well as multiple cores, such as the Intel Core i7. Sure, the processor speed can still be a consideration when selecting your new PC. However, you don't see HP and Dell battling it out over processor speeds in their marketing. And you don't see PC users testing their peak processor speeds.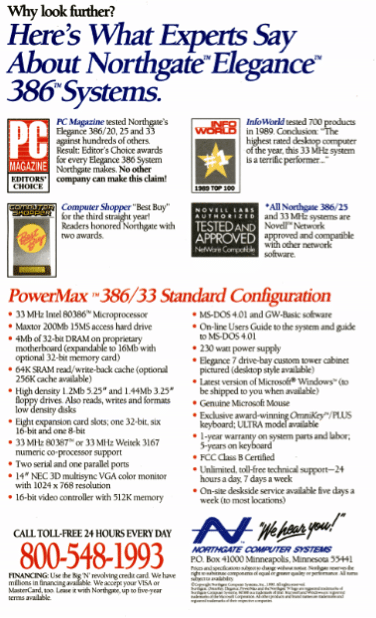 Northgate PC ad from 1990
For Internet access speeds, when will fast be fast enough? More and more, the network is not the bottleneck in delivering an Internet service, but instead the bottleneck has shifted to limitations of the service provider's server, the PC's network interface card, and/or the in-home network, including Wi-Fi.
There is also the difference between sustained speed and burst speed. Sustained speed has a dwell time of from seconds to minutes. Some applications may need just a burst of speed, lasting from milliseconds to a couple of seconds, to deliver services with the right amount of "snappiness."
The media and marketing attention needs to also consider other key metrics besides speed that are important to delivering a superior Internet service. Network architects and engineers are already aware of these other important attributes: Reliability and security are certainly key. Depending on the application, latency and jitter are also important metrics. As networks continue to evolve to support more customers and new applications, peak access speed is just one of the variables that must be accounted for.
The cable industry has always and will continue to invest in its networks to provide the best service to its customers. How much increasing speeds will continue to play a role in that discussion is subject to debate.