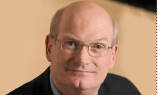 Cisco
Dwight Duke, Corporate SVP and President of Transition Network Systems at Cisco, credits his mother for much of his business acumen and appreciation of mentoring.
Advice from his mother "that really continues to stick with me is that the decisions you make and the way you behave creates your character."
More from Mother: Be very sensitive about how you are perceived; carry yourself in a way that brings energy to your organization; and care about people.
The first thing about mentoring is "you've got to listen…and you've got to get to know the person a little bit," says Duke, who's based in greater Atlanta.
One of Duke's success stories is Sherita Caesar, now a VP at Comcast, but who worked for Duke at Scientific-Atlanta. At a time when customers typically were not willing to pay for extra services, she was trying to launch a service business. This required no less than a change in organizational culture. "Dwight reminded me that sometimes cultures are slow to change,"
"I was really challenged about how I was going to tee up this opportunity with the customer," Caesar says. "Dwight kept insisting on [explaining] what's in it for them. It's about relationship-building with the customer."
Says Caesar: "I can be a little bit of a bull in a china shop when it comes to initiatives." Duke "encouraged [me to focus on] communicating." It worked.